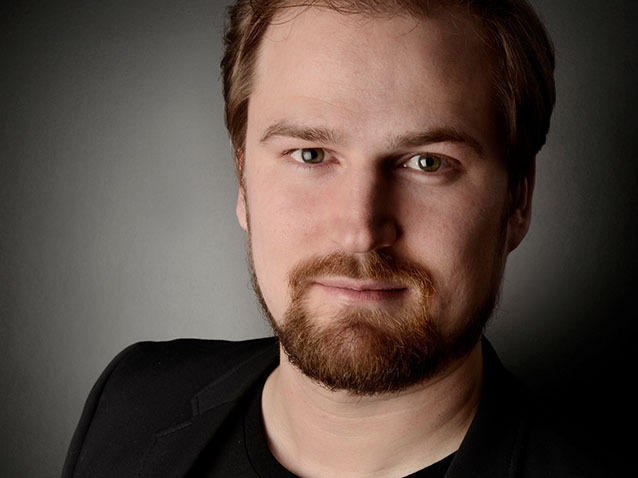 Agenda Professionnel
Dates
Roles
Places
the 25 of January, 2023
the 27 of January, 2023
the 29 of January, 2023
the 31 of January, 2023
the 02 of February, 2023
the 05 of February, 2023
Biography

StartOur artistsThe companyContact
sharesitemapsvenska
Daniel JohanssonTenor
During the spring of 2013 the young Swedish tenor Daniel Johansson appeared as Alfredo in La traviata at Grand Théâtre de Genève, Tamino in Die Zauberflöte at Palau de les Arts in Valencia and Alfred in Die Fledermaus as well as Narraboth in Salome at the Norwegian Opera in Oslo. As one of today's most interesting Swedish singers he has sung roles like Tamino and Rodolfo in La Bohème at the Royal Swedish Opera. His roles at the Norwegian Opera have included Rodolfo, Tamino, Macduff in Macbeth, Ein junger Seemann in Tristan und Isolde and Telemaco in Il ritorno d'Ulisse in patria. During the summer of 2013 he sang Pinkerton in Madama Butterfly at Teater Hedeland, Denmark and the last season included Nemorino in L'elisir d'amore at the Göteborg Opera, Rodolfo in Oslo and Tamino at the Royal Swedish Opera in Stockholm.
During the current season he appears as Rodolfo in La Bohème at the Finnish National Opera and at the Norwegian Opera he sings Alfredo as well as his first Don José in Carmen. He also returns to the Royal Swedish Opera as Pinkerton in Madama Butterfly and Alfredo in La traviata. In the summer of 2015 he will sing his first Hoffmann at the Bregenz Festival and during the autumn of 2015 he will sing Ein Sänger in Der Rosenkavalier as well as Rodolfo at The Royal Swedish Opera

Other notable engagements have included the title role of Faust at Folkoperan, Stockholm, Nemorino in L'elisir d'amore at Dalhalla, Lenskij in Eugene Onegin in Chautauqua, New York, and Alfredo in La traviata with Teater Hedeland. He has sung Jaquino in Fidelio in concerts with the Swedish Chamber Orchestra and Andrew Manze, Melot in the 2nd act of Tristan und Isolde in concerts with the Swedish Radio Symphony Orchestra and Daniel Harding as well as with Orchestre de Paris and Christoph Eschenbach. He appeared at the opening of the new Danish Radio Concert Hall in Copenhagen, singing Mozart's Coronation Mass under the baton of Adam Fischer and sang the Shepherd in Oedipus Rex with the Swedish Radio Symphony Orchestra and Esa-Pekka Salonen in Stockholm and Brussels. He has sung the tenor part in the chamber version of Das Lied von der Erde in Sweden and Finland.
In 2007 Daniel Johansson won the 1st prize in the Gösta Winbergh Award. He has received a number of scholarships from the Swedish Royal Musical Academy, the Anders Wall Foundation and others. Daniel Johansson holds the 2009 Birgit Nilsson Scholarship. During the spring of 2012 he was awarded the 1st prize as well as the public prize in the Wilhelm Stenhammar International Music Competition. Daniel Johansson studied at the University College of Opera in Stockholm.