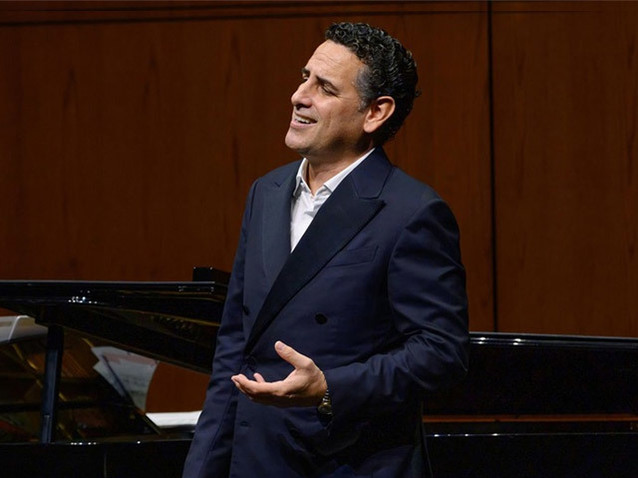 © A. Bofill
Normality comes back at Liceu – a kind of normality which we now know will never be a return to the past. This is being done in a brave, slow and difficult way, both for the staff and artists as well as for the audience.
Juan Diego Flórez was due to offer a recital at Liceu last May and, after the pandemic forced it to be rescheduled, it was eventually divided into two sessions, on the 21st and 23rd October, in order to accommodate every person that had bought a ticket in a maximum audience capacity in the theatre of fifty per cent.
He was accompanied at the piano by Cécile Restier, who had the opportunity to shine on her own in a number of short pieces which alternated between the songs. Juan Diego Flórez started – probably to actively engage with Beethoven's year – with three pieces by the composer from Bonn, Adelaïde, Der Kuss and Ich liebe dich. This was not a wise choice as Flórez, a great operatic tenor, is not a good Lieder singer. Every note was sung with correct technique and tuning, but the performance lacked the sense of intimacy and psychological depth from the Lied world. The three pieces by Richard Strauss that followed were better: Zueignung, Heimliche Aufforderung and Cäcelie.
Once the Germanic contribution to the concert was over, we moved into Italian territory, which Juan Diego Flórez navigates with significant more ease. He started with a light piece, the song Ma rendi pur contento from the Composizioni da camera by Bellini, before going into opera with Pollione's aria Meco all'altar di Venere, followed by the cabaletta Me protegge, me difende from Norma. Although Pollione is also probably not his ideal role, here the voice already sounded more splendid. The extensive and demanding Brezza del suol natìo… Dal più remoto esilio… Odio solo, ed odio atroce followed, from Verdi's I due Foscari. Here Juan Diego Flórez exhibited beautiful Verdian style singing, a field where he feels increasingly comfortable in. The programme then brought us into the French repertoire with Vainement, ma bien aimée from Le roi d'Ys by Lalo and a superb performance of Ah! Lève-toi, soleil ! from Roméo et Juliette by Gounod featuring the brightest top notes.
The recital formally ended back in the Italian repertoire with another impressive performance, that of the famous Che gelida manina from La Bohème by Puccini. The 'divo' recitals always have an extra part, however, – never announced but much anticipated – the encores, which were particularly generous this time. Accompanying himself at the guitar, which he played very decently, Juan Diego Flórez offered an Italian song, Parlami d'amore, Mariù, and various Latin American songs in Spanish: De domingo a domingo, Cielito lindo, El día que me quieras, La flor de la canela and Cucurrucucú paloma, which fired up an audience who remained standing for more. 
Accompanied again by the piano, Juan Diego Flórez gifted still another two luxurious encores. Firstly, the aria Pour mon âme from La fille du régiment by Donizetti, with its celebrated nine high Cs, which he managed, as always, impeccably. And, finally, he gave a surprising version of Nessun dorma from Turandot by Puccini, which brought the audience to an explosion of passionate applause.
Some things remain unchanged, and for now, audiences' fascination for great voices is one of them.
Xavier Pujol
Barcelona, 21st October 2020
Juan Diego Flórez, tenor. Cécile Restier, piano. Music by Beethoven, Strauss, Donizetti, Bellini, Verdi, Massenet, Lalo, Gounod, Respighi and Puccini. Gran Teatre del Liceu. 
(c) Photo: A. Bofill
the 24 of October, 2020
|
Print