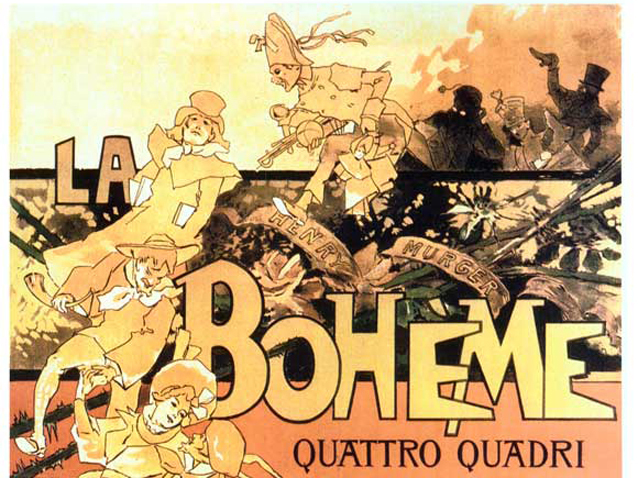 © DR
General informations
Composer:Giacomo Puccini
Librettist:

Giuseppe Giacosa

Creation date:

1896

Creation place:

Italy

Acts number:

4

Original language:

Italian

Opera House of original production:Teatro Regio di Torino
Original orchestration:

Cordes, 2 flûtes traversières, piccolo, 2 hautbois, 1 cor Anglais, 2 clarinettes, 1 clarinette basse, 2 bassons 4 cors d'harmonie, 3 trompettes, 3 trombones, 1 trombone basse timbales (musique classique), tambour, Triangle, cymbale, grosse caisse, xylopho
Work description
A tone, a rhythm, delightful repartee, voluptuous arias, an orchestra that sparkles and caresses the voices: these are a few of the brilliant devices employed with creativity and extraordinary precision by Puccini throughout La Bohème. The basis is a pleasant novel by Henry Murger. The end result is two hours of melodrama including some of the most beautiful and popular scenes of the Italian repertoire. The vibrancy and lyrical quality of Puccini's work is combined with an acute sense of climax and an indulgent passion for beautiful voices. As for the orchestra, it proceeds with tiny brushstrokes and atmospheres and, in a language where the arias fit together with marvellous fluidity, sweeps the audience off its feet. The listener is caught in the wheels of this mechanism and then moved to tears by a drama based on real life and emotions.
Summary
Paris, at the end of the 19thcentury. A group of penniless students count on the joys of life for a little relief from their daily misery, as eating, keeping warm and paying the rent are a luxury! With her tenderness, the seamstress Mimi offers a little warmth and light to the poet Rodolfo. The two fall in love at first sight and tell their friends about their love on Christmas Eve. As for Marcello the painter and his saucy mistress Musetta, who are used to bickering, they form a contrasting couple full of humour, compared to the more melodramatic pair of Mimi and Rodolfo, who eventually break up because they no longer get along. In fact, Mimi knows she has tuberculosis and will soon die. Even though they have parted ways, she returns to die by Rodolfo's side, among their bohemian friends, who can do nothing to cure her.
Act 1
It is Christmas Eve in Paris, and the real bohemian life for four students, down and out in the Quartier Latin: Rodolfo the poet, Marcello the painter, Schaunard the musician and Colline the philosopher. They are all starving. They leave to spend the evening out –all but Rodolfo, who needs to finish an article he is writing. The latter is interrupted by Mimi, a neighbour who is looking for some matches to light her candle. It is cold and Mimi and Rodolfo huddle together. They tell each other about their backgrounds in two touching arias. It is love at first sight.
Excerpt : « Che gelida manina… Si, mi chiamano Mimi »
Act 2
Mimi and Rodolfo have come to meet their friends at the Café Momus, where a party is underway. The group is joined by Musetta, Marcello's former mistress, now on the arm of a rich old man, Alcindoro. Jealousy, snide remarks, reconciliations: the saucy Musetta goes to great lengths to reclaim Marcello's attention, who is still in love with her.
Act 3
While Marcello and Musetta spend their time quarrelling, nothing is the same between Mimi and Rodolfo. Mimi is too flirtatious, according to Rodolfo - but Rodolfo is too jealous, claims Mimi. In fact, the seamstress has consumption and knows she is doomed. She bids farewell to her lover, but they decide to stay together until the spring before separating for good.
Act 4
Several months have passed and the arrival of spring marks the planned separation of Mimi and Rodolfo.It is impossible for the two friends to forget their lost loves; they sing of happier times in the past.
Musetta arrives with Mimi, who is dying. To buy her medicine, the group of friends decides to pawn what little belongings they have. But nothing really can be done. After singing their goodbyes, Mimi confesses she still loves Rodolfo before lapsing into unconsciousness. Rodolfo breaks down in tears, desperately shouting Mimi! Mimi! in an atmosphere filled with pathos.