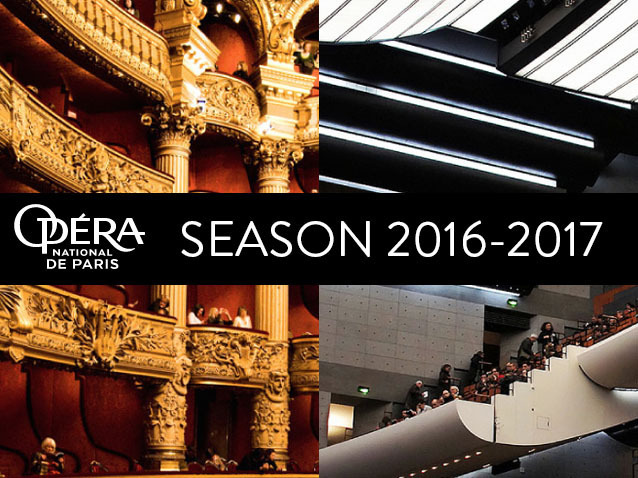 © DR
At the Opéra de Paris, Stéphane Lissner, like any new director making his ambitions known, was met by sceptics and naysayers lying in wait for him, along with all those who wished him less than well: the success of his first performances quickly swept away all the reservations and banana peels strewn in his path. His success was obvious, hailed by national and international critics and corroborated by the enthusiasm of the audiences filling the halls.This success is of course first and foremost artistic, but it is also a moral one:because he included a political dimension in his approach (etymologically speaking, i.e., the opposite of the politician), this success is today solidly established.
Some facts: the previews, open to young people under the age of 28 at a ticket price of just €10 were a huge boost; more intimately but richer in cultural perspectives, the opening of the Third Stage; the digital platform linking the Paris Opera to audiences and creative types worldwide who dialogue, extend, explore, invent, build bridges towards an undecidable future.In this second season, the consideration given to the interdependence between the idea (artistic), the language (the languages) and the meaning (the meanings) – which, parenthetically, was the purpose of the emblematic performance that opened this "Lissner era", Schoenberg's Moses und Aaron – continues to be explored further in this second season. Not that everything was a success in the first season, at least to judge at the halfway point:the dazzle of Moses und Aaron or of the Bluebeard's Castle/Human Voice, for example, followed the failure (of staging) of La Damnation de Faust. But each time the musical aspect has risen to the occasion, both for the new productions and the reprises, from a dazzling French cast for the reprise of Platée to the searing Ermonela Jaho in Butterfly by way of a superlative cast for Capriccio or the arrival of Elina Garanca, for a Werther illuminated by her superb Charlotte.
This musical standard seems to be the hallmark of the second season offered by Stéphane Lissner. With some additions: while the great stars, the ones who get opera lovers all excited, are once again there, from Jonas Kaufmann to Anna Netrebko by way of Elina Garanca, Anja Harteros, Roberto Alagna and Bryn Terfel, a new and already brilliant generation will see Pretty Yende and Elena Zaremba, Vittorio Grigolo and Sonya Yoncheva, Maria Agresta and Bryan Hymel, who have already appeared here in recent years. But most of all, some magnificent voices and personalities will be debuting at the Paris Opera and will undoubtedly be received enthusiastically:I am thinking of Aïda Garifullina as Snegurochka, Nadine Sierra as Pamina or Gilda, and Maria Celeng as Despina.And most of all, after people muttered that the Paris Opera was going to "neglect French singers", we will encounter, on the contrary, an impressive wave of the already famous, from Béatrice Uria Monzon, Véronique Gens, Laurent Naouri and Jean-Philippe Lafont to the new generation, sopranos Julie Fuchs, Sabine Devieilhe, Vannina Santoni; mezzos Clémentine Margaine, Stéphanie d'Oustrac, Aude Extremo, Eve-Maud Hubeaux, Isabelle Druet, Antoinette Dennefeld, Sylvie Brunet-Grupposo,; tenors Stanislas de Barbeyrac, Frédéric Antoun, Cyrille Dubois, Yann Beuron, Julien Dran, Philippe Talbot; baritone Florian Sempey; and bass François Lis.   
But after having spotlighted the formidable vocal range of this second season (aside from Stéphane Lissner's ever-alert curiosity, this can be attributed to the work of his casting director, Ilias Tzempetonidis), we need to take a look at the outline of his artistic plan.Here, too, we can see further exploration with several emphases:several performances in different styles, from pure baroque (Eliogabalo by Cavalli) to a premiere (Trompe-la-Mort, based on a Balzac character, which the Paris Opera commissioned from Luca Francesconi, a composer born in 1956), from Mozart (Così fan tutte, in a production by choreographer Anne Teresa De Keeersmaker) to Wagner (Lohengrin staged by the always exciting Claus Guth) by way of bel canto (La Cenerentola, in a production by…Guillaume Gallienne – success as a curiosity assured!)and French opera (from Samson et Dalila staged by the excellent Damiano Michieletto who did so well with The Barber of Seville, to Carmen in the fire-and-brimstone staging by Calixto Bieito).Two originals:for the first time at the Paris Opera, Snegurochka or The Snow Maiden by Rimski-Korsakov, a marvellous lyric tale that is, thrillingly, to be rediscovered by Parisian audiences, in a production by Dmitri Tcherniakov with the superb Aida Garifullina in the title role, as well as a first-time pairing (like Bluebeard's Castle/Human Voice) last year with Cavalleria Rusticana by Mascagni and Hindemith's Sancta Susanna.
The other strong point is the reprising of performances from the repertory but presented with incredible casts: from Tosca with Anja Harteros, Marcelo Alvarez and Bryn Terfel, to Lucia di Lammermoor with Pretty Yende, from the Tales of Hoffmann with Jonas Kaufmann, Sabine Devielhe, Kate Aldrich, Ermonela Jaho, Stéphanie d'Oustrac, to The Magic Flute with Stanislas de Barbeyrac, Florian Sempey, René Pape, Nadine Sierra, Sabine Devieilhe and – an absolute luxury - José van Dam as Sprecher (!) or Eugène Onéguine with Peter Mattei in the title role and, as Tatiana, Anna Netrebko alternating with Sonya Yoncheva, to Rigoletto with Vittorio Grigolo and Nadine Sierra!
But I'll leave you to explore this fantastic season and to enjoy in advance its countless delights!We will follow them for you on Opera Online, to see this artistic plan unfold as it happens; in a few months, it will be restoring international lustre to the Paris Opera, of which France can be justly proud.
Alain Duault
the 10 of February, 2016
|
Print