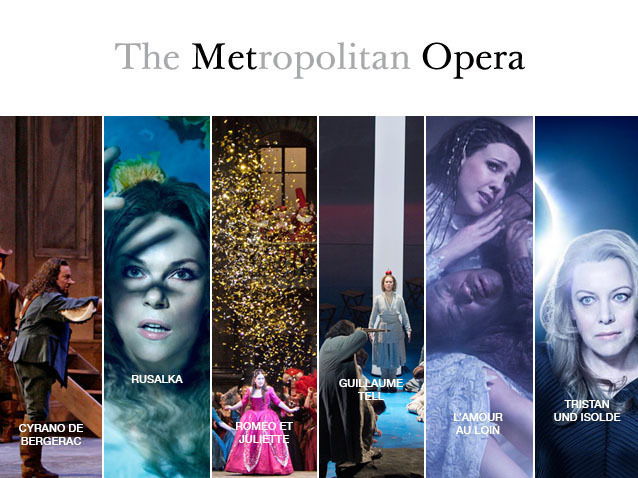 © DR
Although the Metropolitan Opera clearly remains a prestigious opera house with one of the great lyric stages, it is well known that the New York institution has in recent years had to make do with a very limited budget – marked by a 22 million dollar deficit in 2014 and just barely in the black by a million dollars for 2015 thanks to the sale of some of its assets, and particularly through drastic cost-cutting measures that are ongoing. For the first time since its 2009-2010 season, the Met's operating budget has dropped below the 300 million dollar threshold (next season the institution will be operating with a budget of 296 million dollars), nonetheless enabling Peter Gelb to announce a 2016-2017 season of 26 different operas, including six new productions (as in the previous season), all featuring impressive casts (despite a few absentees – Jonas Kaufmann has not been announced, after cancelling his involvement in Manon Lescaut at the start of the month).
In addition to the budget cuts, the Met is also dealing with concerns over the health of James Levine, its musical director and historical conductor, who was operated on several times in recent years and is suffering from Parkinson's. Whilst Peter Gelb refuses for the time being to talk about an eventual successor (he says he is "waiting for the conductor's reactions to a new medical treatment"), more and more invited conductors are being announced for the Met's upcoming season, in particular to conduct the new productions in the coming season.
Beginning in September Simon Rattle (who has not appeared often at the Met) will open the New York institution's season conducting a new production of Tristan und Isolde by Mariusz Treliński, which moves the libretto to a modern cargo ship, conducting Wagnerian specialist Nina Stemme and Stuart Skelton in the title roles, alongside Ekaterina Gubanova and René Pape.
In October, Fabio Luisi succeeds him to conduct Guillaume Tell (which hasn't been performed at the Met in 80 years), in a new production by Pierre Audi who is making his début at the Met, with Gerald Finley (very much accustomed to this role), Marina Rebeka, and Bryan Hymel.
In December, for the first time ever on its stage, the Met will present L'Amour de Loin, the first opera by composer Kaija Saariaho (and only the second opera composed by a woman ever presented at the Met) to a libretto by Amin Maalouf, which premiered at the Salzburg Festival in 2000 and will be presented here in a new production by Robert Lepage. Finnish conductor Susanna Mälkki (known to be keen on contemporary works, she will direct the premiere of Trompe-la-Mort in Paris next year) will be conducting for the first time in the Met's orchestra pit, while the stage will feature Eric Owens in the role of the knight in search of true love, and Susanna Phillips playing his "lover from across the ocean" represented by a moving carpet of LED lights (extending across the stage and right up to the orchestra "to better depict its musical texture") that can be made to appear either calm or stormy
For its traditional New Year's Eve this year, the Met will be featuring Gounod's Roméo et Juliette in a new production by Bartlett Sher directed by Gianandrea Noseda, which will bring together Diana Damrau and Vittorio Grigolo in the roles of two lovers (after having shared the stage last year in Manon).
Kristine Opolais will also return to the title role of Rusalka having launched her career alongside Brandon Jovanovich in the role of the Prince, in a new production by Mary Zimmerman conducted by Mark Elder. Finally, Der Rosenkavalier should bring back James Levine in April 2017, to direct a new production nu Robert Carsen that places the work at the end of the Hapsburg Empire, featuring Renée Fleming in the role of the Marschallin and Elīna Garanča as her lover Octavian.
Moreover, there are some 20 revivals scheduled for the season: Anna Netrebko in Manon Lescaut with Marcelo Álvarez, then in the role of Tatiana in Eugene Onegin with Dmitri Hvorostovsky; Sonya Yoncheva in La Traviata (with Thomas Hampson) and La Bohème; Peter Mattei reprising Il Barbiere di Siviglia with Pretty Yende directed by Maurizio Benini; Diana Damrau and Javier Camarena in I Puritani; Catherine Naglestad in Salome; and Yannick Nézet-Séguin (who is rumoured to be succeeding James Levine) directing the revival of Der Fliegende Holländer with Michael Volle.
French performers will also be much in evidence  on the Met's stage: Roberto Alagna is clearly taking up residence at the Met and will play the charismatic Cyrano de Bergerac (by Franco Alfano) with Patricia Racette; whereas Sophie Koch will play her first Carmen (alternating with the promising Clémentine Margaine) alongside Marcelo Álvarez and Maria Agresta.
During the season, the Metropolitan will also celebrate the fiftieth anniversary of its move to Lincoln Center as part of a gala concert on 7 May 2017, bringing together all the main opera performers who marked the institution's contemporary history: Piotr Beczala, Ben Bliss, Javier Camarena, Diana Damrau, Joyce DiDonato, Plácido Domingo, Michael Fabiano, Renée Fleming, Juan Diego Flórez, Ferruccio Furlanetto, Elina Garanca, Susan Graham, Mariusz Kwiecien, Isabel Leonard, James Levine, Zeljko Lucic, Amanda Majeski, Angela Meade, James Morris, Anna Netrebko, Kristine Opolais, Eric Owens, René Pape, Matthew Polenzani, Rolando Villazón, Michael Volle, Pretty Yende, and, last but not least, Sonya Yoncheva.
The online and cinema broadcasts of the Met's productions are today an integral part of the New York institution's economics (18 million cinema tickets were sold in late 2015), and the Met's 2016-17 season: Live in HD will début on 8 October with Tristan und Isolde, followed by Don Giovanni (22 October), the new production of L'Amour de Loin (10 December), then Nabucco (7 January), Roméo et Juliette (21 January), Rusalka (25 February), La Traviata (11 March), Idomeneo (25 March), Eugene Onegin (22 April), and finally the new production of Der Rosenkavalier(13 May).
A season that promises a wise blend of new productions and revivals, as well as curiosities that should earn the loyalty of Met audiences land bring in new local and international audiences through the broadcasts.
the 19 of February, 2016
|
Print