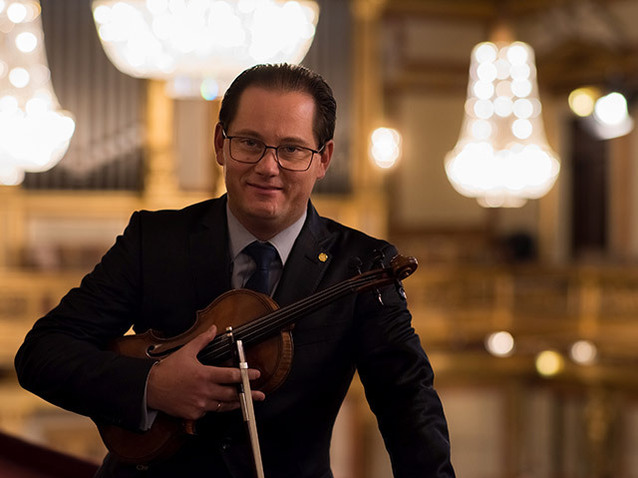 © DR
Just over a year into his new job, the Vienna Philharmonic Orchestra's managing director, Harald Krumpöck, feels that he could not have chosen a better time to step up from the ranks of the orchestra's players to take on the post.
''From a cultural perspective, we are living in an incredibly interesting time,'' Krumpöck says. ''Change is too small a word. It's a time of upheaval. An extraordinary number of things are changing at an incredibly fast pace. You can't simply say 'business as usual' and keep going, just because it has worked for the past 150 years. You really have to consider what our time demands, and how it is possible to preserve our cultural inheritance. On the one hand we have to look into the future, not least in terms of our choice of music and the use of technology, and on the other hand, we have a legacy to protect, something that is very, very precious. And we want to take care of those two things simultaneously.''
The orchestra's musicians renewed the leaders in their general assembly last year, and alongside Krumpöck, Andreas Grossbauer was elected chairman.
The use of technology requires a balanced approach, says Grossbauer, adding that it provides great opportunities for the 173-year-old orchestra.
''My son is only 18 months old,'' says Grossbauer, ''and he already knows how to use a smartphone. You can't avoid this technology. But you need to be careful not to become too engrossed in it. You have to watch that you can still live in the moment, have a personal conversation, go to a cafe and drink a coffee with someone. That can never be replaced.
''Technology can play a role in helping make music more accessible. At the same time, you have to preserve the truth and authenticity of music. People today need spiritual nourishment more than ever before.''
The Vienna Philharmonic has been scrupulous in its choice of digital platforms. Of course, commercial recordings on such labels as Sony or Deutsche Grammophon are available on iTunes. But the orchestra has devoted considerable time and care to the search for new online forums specifically tailored to its archival and streaming ideas.
Now the orchestra has decided to team up with Idagio, a new app developed specifically for classical music by a Berlin-based team of musicologists, recording specialists and software developers.
''With music,'' says Grossbauer, ''you experience many things directly through emotions, but a degree of knowledge is also important. A modern channel like Idagio can build up a community through classical music, but can also pass on information.''
The app is a free download that enables users to browse historical and recent recordings through search engines tailored to the needs of the musical forms. Listeners need more specific categories than ''song'' and ''artist'' to compare different recordings of a movement of a Mendelssohn symphony, for example.
The orchestra is on the brink of launching a new collaboration for video streaming. A partnership with the Austrian Broadcasting Company and Unitel, a producer and distributor of audiovisual media, will enable the orchestra to offer concert video streams — initially three subscription concerts per season — in a manner that satisfies expectations for quality.
''Today,'' says Grossbauer, ''even downloads are becoming a thing of the past, and streaming is more and more common. A streaming platform is the way of the future, because it offers a great many advantages for the consumer.''
Selling concert tickets has never been a problem for the Vienna Philharmonic, whose subscription series book out years in advance. But giving fans around the world more access to the orchestra and reaching a new audience remain issues that concern the musicians.
Says Krumpöck: ''You end up with questions like: What is the value of music and what do we want to communicate? Of course, the quality of the music is essential. We assume that. But you must also be able to convey the values that you want to communicate.''
This concern influences all the decisions made by the two executives and their orchestral peers. That means working to ensure that new works are regularly commissioned and performed by the orchestra, which also feels a sense of responsibility toward the symphonic canon.
Krumpöck explains: ''If you consider that the orchestra gave the world premieres of pieces by Brahms, Bruckner and Mahler when they were new, you will understand why we have also performed works by Henze, Reimann, Rihm, Arvo Pärt and all the way up to today. All the greats have always been represented by our orchestra.''
It also means standing up to be counted on important contemporary issues. Accordingly, after organizing a successful fund-raising concert for refugees in Austria earlier this year, the orchestra has decided to facilitate the purchase of a home — through the orchestra's own funds, donations and crowdfunding — for refugee families in Lower Austria, the state that surrounds Vienna.
''We are not politicians,'' says Grossbauer. ''Our responsibilities are different. But we wanted to send a signal and use the strength of our brand for a good cause. We can't change the past, but the important thing is that here and now, you do something for humanity, for the future.''
Article issued from the International New York Times, not engaging the redaction of Opera Online, and which we reproduce the content with their kind permission.
Center stage : Opera National de Paris was produced by the T Brand Studio international department and did not involve the International New York Times reporting or editorial departments.
the 29 of December, 2015
|
Print