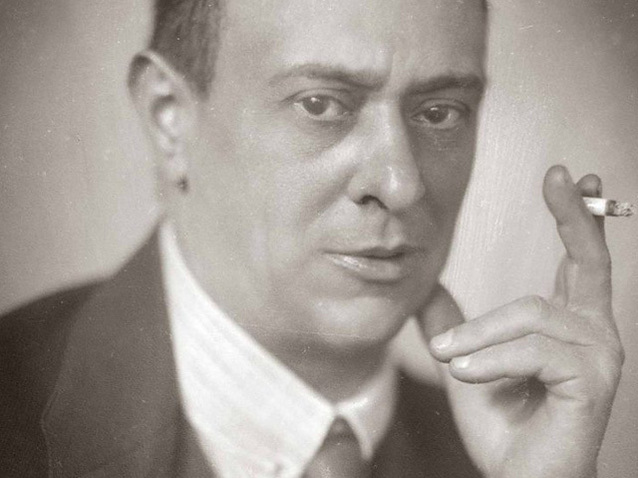 General Information
Birthdate:

13/09/1874

Deathdate:

13/07/1951

Nationality:

Austria
Biography
Arnold Schönberg, Inventor of Dodecaphonism
A founder and instructor of the "Vienna School", Arnold Schönberg was responsible for a profound change in 20th century music history.He shattered conceptions of classical music by developing "dodecaphonism" and "serialism", i.e., use of the technique of "composing with only twelve sounds connected to one another".  Alban Berg (1885-1935) and Anton Webern (1883-1945) were his best-known pupils.
The decline of romantic music led to the principles of writing being called into question, and to some major changes being made in them at the dawn of the 20th century.The burning question among composers of the time was how they could explore new directions, beyond the limitations of tonal music based on a series of eight related notes, the scale.  Tonal music could be briefly defined as the music from Johann Sebastian Bach to Maurice Ravel.Richard Wagner played a decisive role in the breakdown of this tonal system, as did Richard Strauss, with works like Elektra (1901) and Salomé (1905).Many musicians approached "atonality" empirically, but it was Arnold Schönberg who theorised the principles of a new language, one quite disturbing to audiences accustomed to rhythmic and melodic continuity.
Schönberg was self-taught, and nothing predisposed him to play such a decisive role in the evolution of music.Born on 13 September 1974 in Vienna, he belonged to a middle-class Jewish family, with a very devout mother and a freethinking father.Schönberg began by studying the violin and violoncello, but his father's death when he was just 16 years old pushed him to take a bank job in order to earn a living.To improve his end-of-the-month financial situation, he composed Viennese operettas and waltzes; these manuscripts became very valuable after his death.Under the influence of his teacher, Alexandre Zemlinsky (1871-1942), Schönberg took up composing.The two men met in 1897.In 1921 Schönberg married the sister of Zemlinsky, who had immediately recognised in him the remarkable possibilities of a pupil to whom he offered nothing but a few lessons in counterpoint and  composition.Schönberg's early works initially followed in Brahms's footsteps, as evidenced by his String Quartet in D Major (1897) which he wrote according to Zemlinsky's recommendations. 
It was his string quartet, Night Transfigured (1899), that really marked the start of Schönberg's extraordinary career.Imbued with Romantic poetry and still under Wagner's influence, this piece is today the most commonly played of Schönberg's works.In 1901 the composer write a huge dramatic oratorio, Gurre-Lieder, which was not produced until 1913.This exceptional scale of the vocal and instrumental resources was to be encountered again in Moses und Aron.The year 1901 was also the year Schönberg settled in Berlin, where he participated in the launch of a cabaret called "Überbrettl", for which he composed regularly.The young musician grew close to Richard Strauss, and later with Gustav Mahler when he returned to Vienna in 1903.Mahler remained one of his loyal defenders.The following year Schönberg met Anton Webern and Alban Berg, who became his students.In 1906, hisChamber Symphony opus 9 departed sharply from Romantic orchestral writing, causing a scandal that made him the spokesman for Viennese progressives.The musician was also interested in painting, which was to become his hobby; he painted several self-portraits.Some years later Schönberg organised an exhibition of his own paintings, which revealed the influence of Expressionism, as does his music.Schönberg had also become friends with Vassily Kandinsky (1866-1944).
The break with the tonal system came in 1908, a key date marked by the Second Quartet.A completely new era began in 1909 with the Three Pieces for Piano opus 11 and the monodrama Erwartung, in which the writing is freed from any thematic and tonal foundation.  Each work thus incarnates a stage in the composition revolution undertaken by the trailblazing musician.Schönberg's theoretical and pedagogical influence continued to grow, and his revolutionary creations definitively established him as the leader in atonal music.His theorising resulted in the 1911 publication of a Treatise on Harmony dedicated to the memory of Gustav Mahler.Another distinctly innovative work came in 1912: Pierrot Lunaire, a cycle of 21 melodramas for spoken voice and five instruments.  In it, Schönberg makes systematic use of "sprechgesang", a type of rhythmic declamation that might be called "spoken song".This innovation aroused violent reactions among audiences, and critics attacked the musician vehemently.The year 1912 also marked the emergence of what was called "the Second Vienna School" as opposed to the first formed by the three Viennese composers Mozart, Hayden and Beethoven, unlike the school that grew up around Schönberg, which provided a very stringent education.The musician's main students, like Berg and Webern but also younger, lesser-known composers lined up under the banner of Schönberg, who did however leave them free to grow and develop.  
In 1918, Schönberg founded the "Society for Private Musical Performances" from which critics were excluded, as was any criticism, with value judgments being prohibited entirely!It should be noted that, by and large, critics could not find sufficiently harsh words to denounce and belittle a form of music that seemed to them just barely listenable.  Schönberg's creative evolution was far from being understood by his contemporaries, and the composer was often discouraged by the problems he encountered in getting his music performed.
The first of his works based entirely on the new musical language Schönberg developed was the Suite for piano op. 25 (1923).In 1923 the composer was appointed professor at the Prussian Arts Academy in Berlin, where he remained until 1933, when he was dismissed by the Nazi regime because of his Jewish origins.It was there that he began the long and difficult process of composing Moses und Aron, a work that cost him so much effort and caused him such torment that it was never finished.The first sketches of the work date from 1930.The first two acts were completed in early 1932.The libretto for the third act was not completed until 1935 in the United States, where Schönberg exiled himself in October 1933, fleeing the rise of Nazism and antisemitism.Before he left, he had abandoned Protestantism, which he converted to in 1898 in a desire to assimilate.To affirm his solidarity with his people, Schönberg preferred to return to Judaism on 24 July 1933 in Paris at the synagogue on rue Copernic. Aware of the difficulties of performing his opera, the musician feared it would never be staged.The work was initially created in a concert version in 1954, in Hamburg.The first performance did not come until 1957 at the Munich Stadttheater.Moses und Aronis a testamentary work in which we can perceive all of the artist's theoretical questioning and his personal religious journey.
Schönberg taught in the United States until 1944 when he reached the mandatory retirement age.Serious financial difficulties marked the final years of one of the most important musical personalities of his era.  The composer was barely able to maintain his family.After the death of Mathilda, his first wife, in 1924 with whom he had two children, Arnold Schönberg married Gertrud Kolisch, who gave him three children, including a daughter, Muria, who married composer Luigi Nono.Schönberg tried to obtain a grant from the Guggenheim Foundation, like any of his students.Here again, he ran into an age limit!In the wake of his rejection and of the stir it had caused in the musical world that the famous foundation changed that section of its by-laws.  In 1941 the musician became an American citizen, changing the spelling of his name from Schönberg to Schoenberg.He died on 13 July 1951 in Los Angeles.Ironically, Schönberg was very superstitious and had always been afraid of the number 13. He felt it was a sort of curse that he had been born on 13 September and, when he realised that the title of his opera Moses und Aron had 13 letters, he did not hesitate to delete the second "a" in Aaron to get to 12!
Catherine Duault
Works