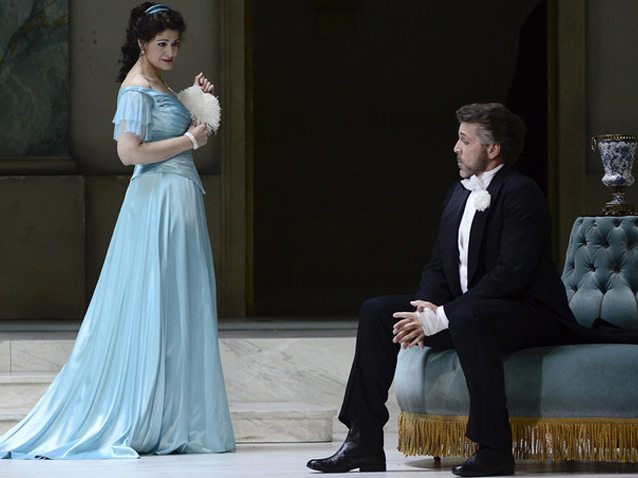 © DR
Proposed by
Richard Strauss had a special bond with the city of Dresden lasting several decades. His legacy still resonates in the Saxon capital.
Among the celebrations marking the 150th anniversary of his birth the Semper Opera House staged Arabella, with top stars Anja Harteros and Thomas Hampson in the lead roles.
The performance was a homage to the German composer, over half of whose operas premiered on this prestigious stage.
"Richard Strauss is one of the great composers and thinkers and he loved the opera, he was obviously very successful but he loved the relationship of word to music and music as a language and word as a metaphor, really," said Hampson.
Ahead of its premiere in 1933 Strauss personally oversaw the rehearsals of Arabella at the venue – an unusual intervention by a composer.
Harteros believes he demanded nothing but the best from his cast, but that the end product made his rigour worthwhile: "On the one hand, a lot of the time in his music there is this complexity, and also the difficulties of rhythm and tonality that you have to deal with.
"It is very difficult to learn, by the way. And on the other hand the indulgence sets in, this swooning element of his music, where you just want to lean back and dream," she said.
Desire, jealousy, love, twists and turns are just some of the ingredients of this lyrical comedy.
Centre stage of the romantic plot is Arabella, who dreams of marrying for love. It was a role Harteros relished: "I especially like that I can play the role with this coquetry; there's almost a feline playfulness, with all these different suitors But at the moment when the right one, Mandryka appears, she feels right away that he is the one and only."
"She is under his spell, he has totally grabbed her heart. The desire for him grows, and grows, and she realises what true love actually means."
Hampson also feels something of the character of Strauss comes through in the opera: "I think he is a very interesting human being. He is a tremendous idealist. His sense of right and wrong is a pretty natural, pretty straight one which is, you know, very identifiable to me."
"It is a happy-ending opera, because they actually make the journey together and realise the only way they can have a future is by accepting their equal foibles and their mistakes, and by throwing out all of this baggage of what they thought love and life is about and make their own (version of love) together and move forward. A timeless message!"
the 14 of November, 2014
|
Print