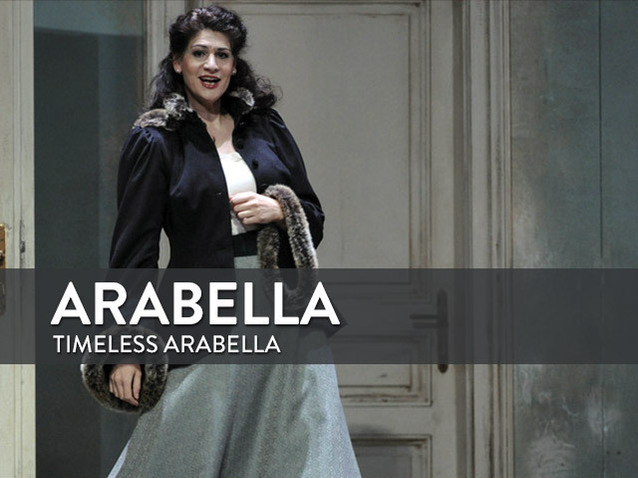 © DR
In a letter dated 1927, Richard Strauss begs Hugo von Hofmannsthal to write him a new libretto: "You can even make me a second 'Rosenkavalier' if you don't have anything better in mind." This was to be the starting point of Arabella, the work with which the two accomplices would try to match the success of Der Rosenkavalier. The composer never imagined that this new work would mark the end of his collaboration with the man he called his "Da Ponte." Hofmannsthal's sudden death marked the beginning of a long series of misfortunes that delayed the creation of Arabella until 1933. The desire to repeat the past partnership with Chevalier was replaced by a period of crises in Strauss's career. Deemed a "lyric comedy," Arabella is a pivotal work in which the passing of time is more bitter and stronger than it might at first glance appear.  Although it was cruelly dubbed "Sklerosenkavalier" ("Sclerosis Knight") by certain critics, the work is far from being a pallid reply to Rosenkavalier. Vienna features prominently in both operas, but the dazzling and insouciant atmosphere of Maria Theresa's reign gives way to the decadent, cynical society of Franz-Josef's era, a reflection of Vienna in the 1920s. Arabella bears the stigmata of a dark period that would bring Adolf Hitler to the forefront. The march of time advances inexorably, in both real life and the work. One moment a source of hope when it fills the heroine's amorous wait as she searches for the providential man, the next a bitter disillusion with a society that is slave to appearances and concerned only with its survival. Arabella is the final lyric contribution by Hoffmannsthal, concerned as ever with the theme of fleeting time. Strauss's music seems to blend perfectly with his librettist's thought and language. This work, which remains one of the last great popular operas, makes use of the famous "conversation in music" that Richard Strauss raises to the highest level in the extraordinarily beautiful duets. Like time flowing by, a constant network of musical motifs transports the listener to the final union of Arabella and Mandryka, the man of her life.Intoxicated by the irresistible lyricism of this score, the listener would like to believe in a happy ending sealed by the meeting between the woman seeking true love and the man who embodies honesty and genuineness.
The End of a Long-Term Collaboration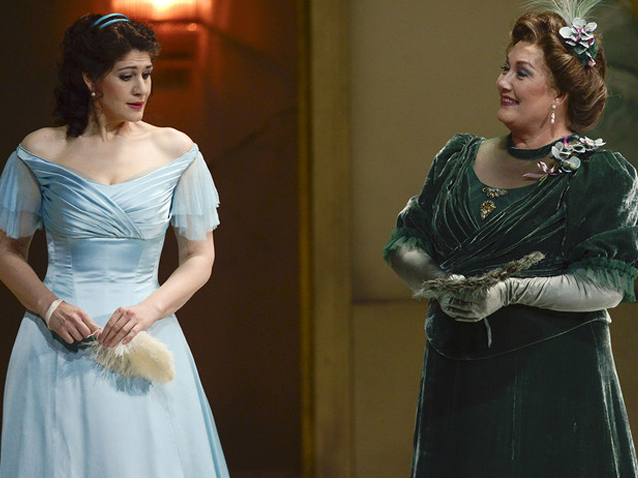 In a letter he sent on 3 July 1928, Richard Strauss confides in Hugo von Hofmannsthal: "I believe we are understanding each other better as each year passes; pity that such a fine effort at perpetual perfection must one day come to an end." He could not have imagined then that one year later, on 15 July 1929, Hofmannsthal would succumb to a fit of apoplexy on his way to his son's funeral. That painful death left the composer inconsolable. From 1906 on, the two men created five operas, including the famous Der Rosenkavalier (1911) and The Woman Without a Shadow (1919). The libretto for Arabella, destined to be a success, was unfinished. Only the first act was completed, and it was not until 1933 that the work was finally completed in Dresden. Strauss at first seemed unmotivated to pursue a work that reminded him of his invaluable collaborator's absence.Inspiration seemed to flee him. It took him three years to complete his score without modifying the libretto, out of respect for the librettist's memory. This explains certain dramatic weaknesses in Acts 2 and 3, which Hofmannsthal had not had time to complete.
Once his work was finished, Strauss wanted the famous conductor Fritz Busch, to whom he dedicated Arabella, to conduct his creation.But Fritz Busch, a Jew, had to flee the Nazi regime after having been expelled from his post as Generalmusikdirector in spring 1933 in accordance with the new racial laws.
From One Era to Another
Far from invoking the dazzling and insouciant Vienna of Maria-Theresa that served as backdrop to Der Rosenkavalier (1911), Arabella is a tart comedy in which the heady rhythms of the waltz struggle to contradict dark presentiments of the future. A reflection of Franz-Josef's Vienna, where the music of another famous Strauss, Johann, was all the rage; homage is paid him throughout the work, as Arabella depicts a society in crisis. In the year he died, 1929, Hofmannsthal wrote to a friend: "There is too much tension in this world; we really need to write comedies." But writing comedies does not necessarily mean seeking refuge in a world of insouciance, far from the threats and problems of the moment. That is why, rather than doing a remake of Rosenkavalier, the two associates were determined to hold a mirror up to their times.
The period in which the action of Arabella plays out was chosen and described as Hofmannsthal wanted; for him it was "crucial for everything to be authentic." Historic authenticity is a key element in a work that constantly seeks to shed light on the collapsing world of Vienna in the 1920s by depicting that of the 1860s, when aristocrats allowed themselves to be eclipsed and relegated to lower status by the arrogance and cynicism of the nouveaux riches. Viennese waltzes, which turn Arabella into an homage to Johann Strauss father and son, are used "situationally" to render the heady atmosphere and the desire to lose oneself in costumes and pretence. The coachmen's ball in the second act really existed, as did its queen, Fiakermilli (Milli of the Carriages). The plot begins in the salon of a Viennese hotel in 1860, where we discover Count and Countess Waldner, ruined by gambling and besieged by their creditors. Their only hope of salvation is to marry off their daughter Arabella to a rich man, while Zdenka, their other daughter, must remain disguised as a boy so as not to incur additional expenses. Gathering around this family held prisoner by necessity is a crowd of typical characters: a fortune teller, coachmen, hussars, unscrupulous suitors. This bourgeois-drama atmosphere, treated like a very lively tableau of a degenerate society, undoubtedly contributed to Arabella's passing for an operetta when in fact it is "a lyric comedy," a genre that offers the possibility of engaging in a true exploration of the "metamorphoses" of time without abandoning the effectiveness and satire of comedy.
Triumphing Over the Misfortunes of the Times
Decadent Vienna in the late 19th century, evoked with an obvious concern for realism, serves as a key to understanding the troubled period between two wars.But in this "Mitteleuropa" comedy, in which melancholy and bitter irony join hands, three characters seem to symbolise the possibility of a better life far from the misfortunates of the present. The prisoner of her ruined parents' connivances and lies, Arabella will come out of her chrysalis to become a bright, radiant woman alongside the generous Mandryka. Arabella enables Hoffmannsthalto return to his favourite theme, metamorphosis. This idealistic girl, who lives while waiting for the man destined to be hers, is one of the great heroines of the lyric repertory. A one-man woman, she survives in the midst of a family adrift in which appearances and pretence rule. Her lucidity and determination enable her to transform herself into a woman when she meets Mandryka, who conceals the genuineness and fervour of an honest man behind the awkwardness of a rough-around-the-edges fellow from the provinces. Strauss made this generous man a lyric baritone alongside an Arabella whose greatest interpreter was Lisa Della Casa, who combined lightness and gravity, nobility and reverie.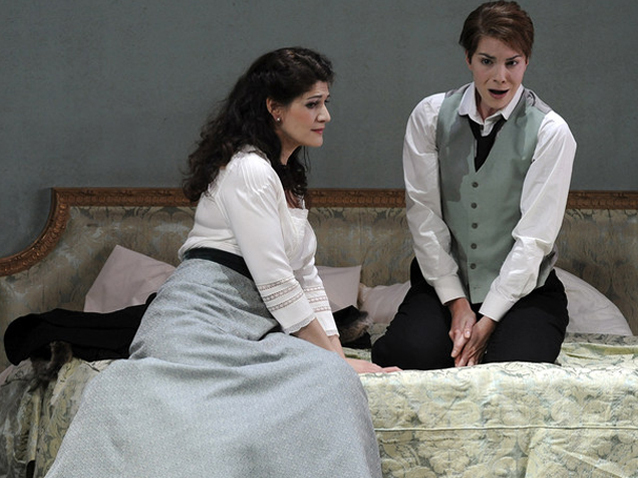 Zdenka, who passes herself off as "Zdenko", the younger brother of her sister Arabella, also needs to free herself in order to become herself by revealing the woman hidden under the man's clothing. Zdenka's metamorphosis is therefore far more radical, since she appears in the final act through the disappearance of a young boy who is suddenly replaced by a woman who is madly in love with one of her sister's suitors. The power of the love she feels for Matteo pushes Zdenka to give up her sad role as Zdenko.
The happy ending, which allows both girls to transform themselves into loving, satisfied women who escape from the pretence of a corrupt, decadent society, could be considered a bit much. Especially since Arabella's marriage to Mandryka is initially the result of a financial arrangement.  We may then see a bit of irony in the apparent triumph of these three eminently sympathetic and positive characters.It is rarely the best people who make their dreams come true, except in fairy tales. But we may also be guided by Arabella's words to her younger sister: "You've given me a fine lesson; we do not need to want, to demand, nor to calculate, bargain and covet, we only need to love and give tirelessly" (Act 3). Hence a "lyric comedy" will enable us to lift ourselves above the misfortunes of our time and be swept away by the beauty of sparking, voluptuous music. We will have explored the pleasures of "conversation in music" (konversationstil) so we can view the future with serenity.
 Catherine Duault
the 11 of November, 2014
|
Print