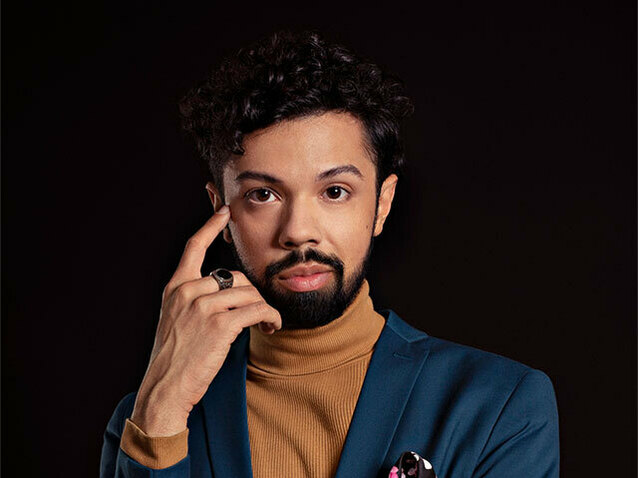 © Warner Classic / Laure Bernard
Don't call him countertenor! Bruno de Sá's golden male soprano is becoming one of the most sought-after voices not only in the baroque milieu, but also anywhere soprano lines are required. We met him at the Verbier Festival, where he performed Pergolesi's Stabat Mater with conductor Reinhard Goebel and mezzo-soprano Anna Lucia Richter. He spoke about the challenges of finding his own way through the opera milieu since he discovered his singular tessitura with harpsichordist Nicolau de Figueiredo in his first year of singing studies.
***
Opera Online : How have you built a repertoire after discovering the exact definition of your tessitura?
Bruno de Sá : People expected me to sing only baroque, but back then, I was not attracted by the baroque milieu in Brazil. Also, when you have so many options, why would you stick to only one period? My first idea to build my repertoire was to look for male characters performed by sopranos. I started to sing Romeo in I Capuleti e I Montecchi, Sesto in La clemenza di Tito, Stefano in Gounod's Roméo et Juliette, Oscar in Un ballo in maschera, and even Der Hiert in Tannhäuser. In the operatic world, it's not common for men to perform female characters, unfortunately, so in a way, I tried to break the rule within the rule. When you talk about opera, what comes to your mind first is voice, expression, musicality, and human beings putting out emotions through the music, text and acting, so gender is not a point. Then we are talking about theatre, in which anything's possible, you can become anybody. Psychologically speaking, there's matter in the character and not in the gender. It's the actor's job to work with any psychology. The truth in opera is also quite relative. Rusalka is a 15-year-old teenager, but no 15-year-old soprano can sing the role. All these stops are not strong enough to hold the idea that male sopranos cannot sing female roles as sopranos.
Could that be related to certain conservatism in the opera world?
That's the point: there are stereotypes, there is patriarchy, and the opera business doesn't reflect the discussions about gender or racism we're having in our society. This must be questioned and changed, otherwise, the business won't survive. We have to respect some traditions and composers' ideas, but we also have to think ahead. Nobody has Mozart's phone number to ask him if he would allow me to sing Susanna. Also, how can you be sure that someone singing Susanna today is the perfect embodiment of it?
« The opera business doesn't reflect the discussions about gender or racism we're having in our society. This must be questioned and changed, otherwise, the business won't survive.»
We have the tendency to put things in boxes because it's easy to organise. I don't think change is going to happen tomorrow, but I do think I have opportunities for it, as I already sang Barbarina in Le nozze di Figaro. Nowadays, too many aspects other than artistic ones are taken into account for castings: you have to be tall, pretty and muscled enough and have a certain number of followers on Instagram. It's your own right if you don't like my voice, but that doesn't mean you have to forbid me from singing. I can sing Romeo from I Capuleti et I Montecchi, but Giulietta – which nobody has asked me for so far – fits my voice much better. I also have to show the possibility. If you don't know what's on the menu, you can't order your meal! The audience wants to consume the veracity of what an artist can produce, so if you tie someone, they're not going to be 100% true in their art. I also understand that when someone proposes all these things, it shakes a hypocritical, racist and preconceived world. Once I was not allowed to sing in a competition because I couldn't fit the requirements. When I put my gender, I have no other options than countertenor. Already from the beginning, people say no. There isn't even an opportunity to listen. The whole thing should be based on the sound that comes out.
It seems that your job consists as much of singing as it does of having to defend a point of view…
Yes, it does. Since the beginning of my career, I've been fighting to prove that I can sing: first of all, that I can sing high as a man; second, that I can sing outside baroque; third, proving that I can sing male characters performed by sopranos; and now, that it's not just male roles. As a young artist, I know that this journey's still about proving, but proving can be very tiring.
« I've been fighting to prove that I can sing (...) high as a man, (...) outside baroque, (...) male characters performed by sopranos; and now, that it's not just male roles »
I've realised that you have to find in your path people who trust your skills and like what you do. I had the opportunity to work in the Young Programme of Theater Basel one year, where all the characters I played there were for me, so I know this is possible. An opportunity might be unsuccessful, even for a famous singer singing a role for the 300th time in one particular production, but it doesn't mean that their entire career is bad.
I don't want to be the guy waving a flag because there are so many other aspects involved for which I do not have enough material to support, like the struggle for trans identity, but I also understand that people can use my figure as a reference. I want to sing different things myself but also open a the way for people who will come after me. I do believe in generations; one opens the way for the next one. We had the first countertenor generation showing that men could sing high, then countertenors like Andrea Scholl, recording plenty of sacred music, and then people like Philippe Jaroussky, who entered the baroque world showing the operatic possibilities. Now Franco Fagioli is opening the repertoire with Rossini and Mozart. The process is tiring but necessary. However, you have to know the real reasons for some decisions. Are you taking me because you want my music elements or because you want to transform me into a freak to get money? In this case, it's quite empty. This has to be done in a very serious and respectful way.
Can you tell us more about Leonardo Vinci's Allesandro nell'Indie, in which you will sing at the Bayreuth Baroque Festival next September?
This is one of the biggest challenges I have at the moment. I'm performing the character of Cleofide, queen of India and prima donna of the opera. It is my first time performing such a powerful strong female character. She is at the same power level as Poro – performed by Franco Fagioli – who is the king of another Indian kingdom. She knows how to play with her femininity and sensuality to protect her kingdom. For me as an actor, it involves finding a line of truth and not becoming some stereotype because I'm still a man performing a woman. I always have a lot of respect for the independent women I'm playing, given the way our patriarchal society unfairly abuses the female figure, with boobs and hair, jewellery, and make-up.
This is not your first time performing Pergolesi's Stabat Mater. Do you have special feeling about this work?
It's such a beautiful piece, and again, it relates to a female figure. When my sister died 53 days after she was born, my mum suffered a lot. Now imagine after 33 years, your son Jesus being accused of something that he did not do and sent to death. Knowing my mum's experience, I think that if she could, she would have taken his place. It was Christ's mission to finish that journey, so it's very interesting to see all the pain of Christian history through the mum's eyes. When the pain is so great, you suddenly kind of disconnect from the body and it seems like time doesn't flow. You are sort of anaesthetised, as the brain is trying to find a way to survive this pain. This is what touches me most when I'm singing this piece. However, this pain gives hope, like there will be a future encounter in another dimension. When we bring these feelings into our lives, it's so powerful. The people in the baroque period expressed their emotions a certain way. Nowadays, we would say it differently, but the root is exactly the same. My mum and Maria are both mums. Their pain is different, but none is stronger or weaker than the other. Pergolesi shows his version of pain and I always hope the audience can feel this journey.
Interview by Thibault Vicq
Photo credit: © Warne Classic / Laure Bernard
the 14 of August, 2022
|
Print