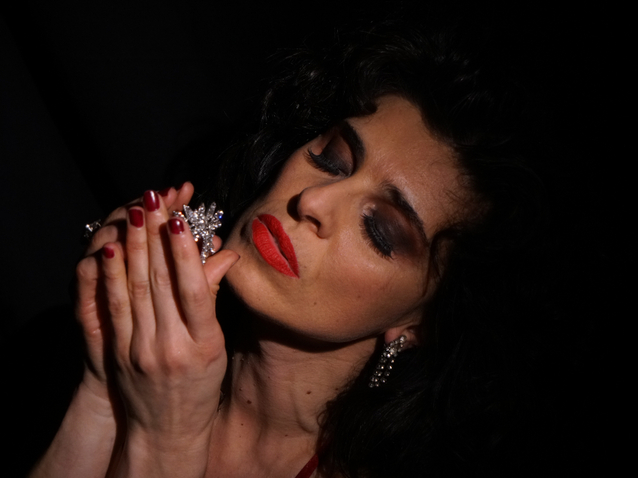 © DR
In addition of her career of opera singer, Catarina Molder is now heading the major (and only) opera festival in Portugal, and we have met her at the occasion of the third edition of Lisboa Operafest which took place in the gardens of National Museum of Ancient Art in Lisbon from 19th of august to 10th of september. And as she has many other activities in the world of opera singing, she tells us about them…                        
                                                                      ***
Opera-Online : How did you become an opera singer ?
Catarina Molder : When I was seventeen, after being so impressed by an opera singer I had heard in a song recital, the voice enchanted me in a way that I've immediately decided to train my voice to become an opera singer.
I've started as a mezzo and it took me a long time before I was singing in the right tessitura, which I believe to be mine, of lirico spinto. One year later I've entered the Music high school of Lisbon and after that I did a post-graduation in the Musik Hochschule of Hamburg.
From the beginning I thought the opera world was really far away from "normal" people, and singers and musicians seemed to be in a kind of bubble, somehow unconnected to the contemporary world, pretty much crystalized - as opera is - in the past. I had a very eclectic education, and of course, it reflects in my personality as an opera singer, my tastes, my vision for opera and the way I have always attended and enjoyed performing arts and art in general.
And also, I thought it was strange the fact that opera singers were not at all like actors or modern dancers who create their own companies, who stage and produce their own projects, reflecting on their own aspirations and concerns, much more active players in a global artistic ecosystem. Of course, it is great to perform great repertoire and great heroines, but as an artist and producer, I had to build my own way…
So, I've created my production structure - Ópera do Castelo - for more than one decade ago now, creating and producing many different opera projects and format, including the audiovisual, with a strong sense of public service. So, I have created a lot of different formats, like for young audience, specific projects bringing opera everywhere, doing new commissions, presenting great classics in new portuguese versions, creating solo shows and doing new commissions. For instance, I've created a TV series called Super Diva to bring opera to everyone, with three seasons and the last one in english is being worldwide distributed. I began by creating, writing and presenting the series and this last season I've directed it myself. I love to be always in the process of learning, that really passionates me.
That is what attracts me the most, besides using my voice and myself as an all performing instrument: voice and acting, schapping different characters and living them as strong as possible, and from a cathartic point of view, the permanent tragedy that fulfills opera is so liberating. So, I combine both sides: artistic and management
Then, from an early age, it was clear I wanted also to perform my own projects, but I never got any training or education for that. Everything I know from management, budgeting, leadership, production, Tv direction, communication, I've learned by myself, through necessity and experimenting. It's very limiting the way classical musicians and singers are formed in school, and they should be trained to be much more independent and pro-active. In the eighteenth century, there were great singers who were also business and entrepreneur people. It's true the operatic voice demands a total commitment and devotion and if you want to do it right you have to be fully committed, but opera production is very narrow, with always the same repertoire: you have this mistrust of opera audience towards contemporary opera in general. Also because, over the second half of the twentieth century, grew a strong current of conceptualistic and hermetic contemporary opera, which is still strongly supported by the academy, and opera became more and more a niche, very difficult to enjoy as an artform because it became very rational, whereas art is emotion as well, and most of composers grow to write worst and worst for the voice because they lost the knowledge about it. During all music history, composers created and invented new types of singing, they invented operas and opera singers, but they knew a lot about the instrument and how to push it further. I've realized through a very near contact with young composers, within the contemporary contest I've designed for Operafest - Maratona Opera XXI -, that composers don't learn in school how the voice works, and they know very little about voice categories. They learn how to write for the instruments, but most of them don't know enough about the main opera instrument which is the opera singer ! There are no miracles - if you want to write great opera, you have to know and love voice and to be a theatrical person. Music is abstract, but opera is theatre and dramaturgy. I'm trying to keep this contest away from the academy, in the sense to have composers free to do their own music, to find their own voice through experimenting and knowing more and more about the voice and the singers, but also about dramaturg, and that partnership in only three years is showing many fascinating results.
The Operafest of Lisboa just had its third edition. How was it born ?
This festival was in my thoughts over the last decade. I wanted to create an opera summer Festival with the same vibe and enthusiasm as Pop music Festival, but with opera for all audiences, with a very diversified and stimulating program, crossing tradition with vanguardism. This is the only Portuguese Opera Festival.
Since 2015, I've tried almost every year to do it, but only in 2020 I found the conditions to risk to launch it, and I've won a subvention to launch the contemporary opera contest Maratona Ópera XXI, with a little support from Lisbon Council and a few other private Institutions, and I did it with almost no budget depending for forty percent on ticket office, doing almost everything by myself, artistically and financially, like communication, negotiating everything, building and hiring the all team - and it was a success. The moto was "the worst, the better" for tragedy is the basis of most of operas. In the second edition, wae've won a very important Patron, BPI Fundação La caixa, and they became our main sponsor. We've reached a very diverse audience and people and young adults who normally don't consume classical music or opera, and this phenomenon is already being object of a study by PHD students in Musicology at the Lisbon University. Most of our production force are musicologists who want to do production as well, but were never trained to, because there isn't any kind of formation in this field. And forty-five percent of our collaborators are very young talented people. Operafest strongly bets on great national and local talents. Although we have a very limited budget, everyone is paid. We don't have any volunteers or nonpaid interns, and I personally condemn these predatory practices of exploitation. Young people came to me offering to work for free, but this is all wrong, they should be looking for paid work as I was doing at their age…
This year, the theme is "Vertigos of destiny". How did you build 2022 edition ?
Each edition has a different theme. I thought after the pandemic I wanted to work on destiny and its vertigo as a force we can't control, the destiny you can't escape – a recurrent theme in opera of all ages and strongly rooted in Greek tragedy - and at the same time making mask go back to the world of fantasy, so we've started and finished with Un ballo in maschera, the famous one by Verdi, and the operatic rave where we've blended pop electronic, techno and house music with opera, and it was an huge success. All the program was based on the idea of destiny. I build Operafest's program as cycles, with particular goals, great classics - which financially allows this festival to exist - and unedited titles like, this year, Gian-Carlo Menotti's "Labyrinth", Barber's "A Hand of Bridge", António Chagas Rosa's "The Man of Dreams", to promote discovery of new titles and less known composers. I also promoted Maratona Ópera XXI - contemporary opera contest and Award to foster contemporary opera production in all range, from composition to stage direction, enhancing emerging talent, this year devoted to new opera stage directors. Opera Satellite, convokes new explorations and insights in opera, blending it with other musical genres. Audience of the Future bets on sensitizing children to opera, with "Jeremy Fisher", the beautiful opera by Isabelle Aboulker.
Operafest is committed to meet concrete necessities of portuguese and operatic market in general, diverse audiences and the urgency opera has of re-inventing itself, to get closer to the world and the audience of today. In only two editions, Operafest Lisboa managed to bring a total new dynamic to the portuguese operatic ecosystem, presenting nine absolute premieres and launching the only national contemporary opera contest and award - Maratona Ópera XXI. It has also been stage and space of experiment and development for singers, musicians, conductors, stage directors, set designers, but also to producers, machinists and other technical staff at the beginning of their career, to make their talent and skills grow.
What is your ambition for the festival ? How do you finance it ? And do you have other projects ?
We want to grow and attract more financing and sponsors, allowing us to have a permanent team and make the festival more international in terms of invited artists and audience, to build up more national and international partnerships and co-productions with other institutions…
I'm always creating news projects, I have several solo shows, combining Lied, Mélodies and opera arias, that can be presented in diverse contexts and venues, exploring particular themes and concerns of mine such as "Five ways of dying of love" or " Mortal Heroins" or creating operatic happenings such as "Castafiore" combined with visual arts. I love projects which work operatic tissue, and myself as a performer in smaller formats and site specific projects. I'm preparing the international tour of "Man of dreams", the opera by António Chagas Rosa. I've commissioned, premiered and did the national tour, performing the main character, and I'm preparing an opera fiction Tv series and though I multiply myself in all these projections, I'm an opera singer, training myself every day, always ready to perform and use my voice the best I can !
What is the balance of this last edition which ended the 10th of september ?
The festival this year, during almost one month, was another success attended by 5000 people, from which 1500 children and young people who came to enjoy opera for the first time ! A great deal of international audience also attended Operafest Lisboa. Despite a still very limited budget, strongly depending on ticket office incomes, perspectives of growing support are in motion, and we'll continue to bring a new dynamic to portuguese opera, and promise to continue to work to bring new insight to this passionate artform.
Interview realised in september 2022 by Emmanuel Andrieu
the 17 of September, 2022
|
Print