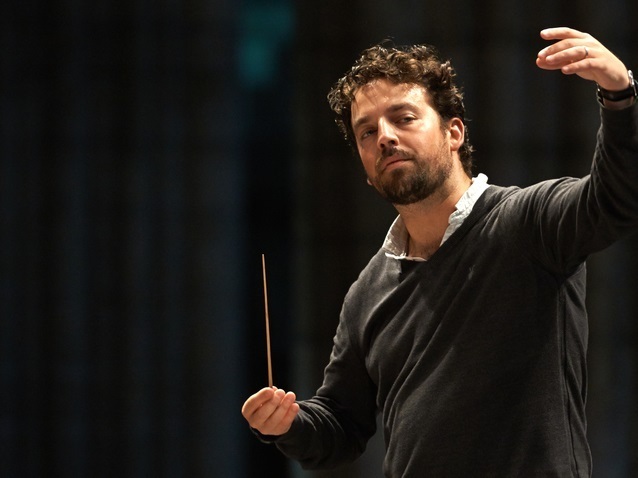 © Festival de Saint-Denis 2014
Already the Chief Conductor of the Lucerne Symphony Orchestra, James Gaffigan has expanded his Swiss influence by taking on the position of Music Director of the Verbier Festival Junior Orchestra, an orchestra of talented musicians aged 15 to 18 years. He is conducting three programmes during the 28th edition of the Festival: an all-Russian concert – Tchaikovsky, Rachmaninoff, Prokofiev – plus a performance with violinist Joshua Bell who will perform Chausson's Poème, and a concert performance of La Bohème on the very last day of the Festival. We met with him to explore his inspirations and his work with an orchestra of young musicians, as well as next season's projects.
***
You began your music education with the guitar when you wanted to be a rock star, then you started playing the bassoon at the age of 14. Did you choose this instrument because it sounded less "classical"?
I picked the bassoon for two reasons. The first reason being that my family did not have the money for me to go to private school or college so my dad suggested "Maybe you should pick an instrument that nobody plays or rather less people play". I also listened to rock music a lot, especially Frank Zappa, who said that the coolest guys were the bassoon players, and I found that so funny. Also, I loved the idea of the mechanics of the instrument. I liked that there were so many parts to put together, such as making reeds. I was fascinated by that! The one problem I discovered when I started playing the bassoon is that there was no real repertoire. All my friends were playing beautiful chamber music, for example quartets by Beethoven, Haydn and Bartók; even the horn players had such a majestic repertoire. In The Rite of Spring or more generally orchestra repertoire, it was just short solos. I worried then that I had chosen the wrong instrument. I loved all music but when I went from rock music to classical music, I experienced so much more emotion with Brahms or Mendelssohn than I had never got with Led Zeppelin or Jane's Addiction or whatever rock music I was listening to at the time. I still love rock music, and jazz, very much but there is something much deeper about the repertoire that I listen to and perform now. It affects me much more emotionally.
There is also the strong experience of the stage in both music genres, right?
Yes, absolutely, but I think the audience is also part of the experience. It's fun to jam with your band in the basement or in a studio but when you are in front of people playing, it's just amazing. The same with an orchestra – of course the concert audience is more reserved, but we feel their immense energy.
Can you tell me about your first time conducting an orchestra?
It all started by chance. The conductor of my student orchestra once said 'I'd like to go and listen to the balance. Jimmy, you know this, come up here'. I had never even seen a full score before… Well, I had looked at them but I barely knew how to follow it. I knew from that very moment, hearing the sound and having a little bit of control over the orchestra, this was something I could do and that I wanted to do. It was being a much bigger part of the picture, whereas playing bassoon was a small part of the puzzle. And I loved this music so much that I wanted to bring it to life.
Do you mean it was 'love at first sight'?
Completely, one hundred percent. I was surprised by some things, such as how loud the strings were, or that they needed more time for a gesture, whereas the woodwind is so precise. It also made complete sense from my personality. I like to bring people together, my favourite things in life are people and music. If I could do both in one profession, well, that is conducting. In the orchestra there are many different people, different nationalities, financial situations, cultures, languages … The fact that we can bring them together with music makes me so happy.
How do you get them trust you?
I think that is all about being empathic. I sense people's emotions and what mood they are in. When I am working alongside young conducting students, I make sure that they know to start the rehearsal with the music and experience what the musicians have to offer. If you begin with talking and lecturing, it can be very dangerous. I very much believe in reading the room. You feel 'this person is having a bad day, this person is very upset but we do not know why, this person is very confident but needs some more practise, this person has no confidence but is very good'. Especially with young people, you need to be very attentive to them and help them because I think the best music is made with trust. When you trust them, they trust you in return. It can't just be a one-way street, with the conductor talking to or conducting the orchestra alone, because at the end they make the sound. And we mould the sound together, then the sound moves through us to the audience.
Particularly with La Bohème, because you already conducted it at the Metropolitan Opera. How different is it from the Metropolitan Opera Orchestra and the Verbier Festival Junior Orchestra?
It could not be more different. The Metropolitan Opera performs La Bohème every year, with different conductors every season. This piece is internalised for them. La Bohème is one the most difficult operas, hands down, because of rubati – the time that is taken and then given back. This is something that is very hard to teach young musicians. But I accept the challenge and so do they, and I think once they learn this type of music they can do anything, even Strauss or Wagner. In a way Wagner is a lot easier to read as a map. Of course they need more colours and imagination, but in La Bohème every five measures there is a new tempo, a new key, the singers free and you must copy, so this is going to be the biggest challenge of the summer. We are learning so gradually, expanding every time we come back to it. The musicians are internalising things. In the last rehearsal we had, we did the full Act I, which is in my opinion the most difficult act, and there we were really starting to come together. It's chamber music on the biggest scale. If there were blinders like a horse on a racetrack, they would have no chance of making music and being flexible. Getting to the peak of the music is my job. We get into a lot of technical things first and then we add the freedom to the recipe.
What about the other two programmes that you have with them?
With Tchaikovsky there is a lot of unison parts with big open textures where they cannot hide, they are not naked. In La Bohème they are naked in any sixteenth note, there is no covering. With Russian music when everyone starts going they feel safer because they are surrounded by sound whereas in La Bohème there is a lot of silence. That is the most difficult thing for young musicians, no matter how much they love the music. All sixty of them must play together. The Russian repertoire is difficult, but it's definitely manageable. The challenging piece will also be Chausson's Poème, with soloist Joshua Bell, due to the colours and transparency. They think that they are playing soft, but that's not the case when there's sixteen people playing – you have to play sixteen times as soft. It is a mentality of blending with your colleagues. It is what Verbier Festival Junior Orchestra is all about, it's about giving them the tools and then they can go on to professional orchestras and be prepared in this world.
You are conducting Mozart's Requiem at the Palau de les Arts in Valencia in September & October. In Romeo Castellucci's production, the eye-contact with the stage and chorus members looks extremely difficult. How have you prepared for that?
The biggest challenge is the fugal moments when the chorus is moving around. My job in the initial rehearsals was to rehearse the choir in the most strict fashion imaginable. And when they are staging, we will have to be literally metronomic in these fugal sections because there is no room for flexibility. Mozart's music is so perfect, like Bach's, and it does not need time when these fugal moments happen. I feel that as long as they move and continue to have this metronomic quality, it is going to work out great. And it is hard with the Covid too because they have to wear masks, with the distance, you can't imagine. We are hoping that it will be a success, but musically and visually it is an amazing production.
You are conducting Massenet's Manon for your Opéra national de Paris debut in February 2022 …
I almost did La Traviata in November 2020, we did the dress rehearsal. I love Alexander Neef, the new intendant. He is one of my favourite people in the music business. Manon is an opera I always loved, and I feel lucky to do it in French in Paris with such great singers. I think it is like La Bohème of the Met. I am really excited and I think the orchestra knows it very well. My dream is to add a lot of transparency qualities in this beautiful music and tighter ensembles and that is what I would like to accomplish there. Massenet's orchestra is an in-between of French and Italian colours. It has these incredible lines but it has very French textures, so I think that the problem is when it becomes too heavy, because the orchestra loves to play these beautiful harmonies. So you have to put a rein on it and say 'OK, what you are doing is very beautiful, but we need much more transparency'. And I think the Opéra national de Paris orchestra is amazing.
How do you usually work with stage directors?
I am lucky that I have never had a nightmare scenario, unlike many of my colleagues. Some of them have even left productions because of the director. I always do a little research about the production I am about to do or the director. And if I can talk to them beforehand, I do. I think that most directors are sensitive to the music and they realize it is music first. But some directors do not. These are directors I will not work with. I believe that opera is first and foremost about music, and then theatre. Music must be cherished and taken care of. I can go hand-in-hand with a great director, but if the director has no sense of music, it is a nightmare. So I have been really lucky to work with only people I respect.
Interview by Thibault Vicq
La Bohème, by Giacomo Puccini, at the Verbier Festival (Salle des Combins) on 1st August, 2021
Photo credit © Festival de Saint-Denis 2014
the 25 of July, 2021
|
Print