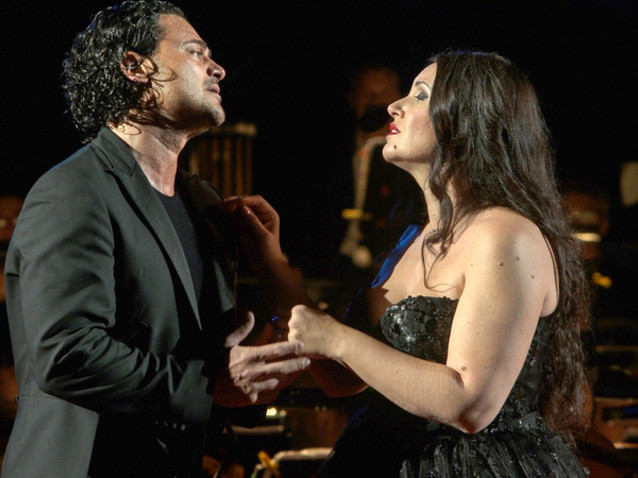 © (c) Unitel
General Information
Production title:

Gala "Opera in Love" Sonya Yoncheva, Vittorio Grigolo - Arena di Verona (2020)

Creation date:

29/08/2020

Work - Composer:

Récital

-

Compositeurs divers

Opera house:Arena di Verona.
Description
In the Arena of Verona, Sonya Yoncheva and Vittorio Grigolo perform the greatest love duets in opera, conducted by Placido Domingo.
The performance on the 29th of August 2020 will be broadcast by Arte Concert from the 7th of February 2021. 
Program
Ouverture | Roméo et Juliette · Charles Gounod
Vittorio Grigolo L'amour… Ah, lève-toi, soleil! | Roméo et Juliette, Atto II · Charles Gounod
Sonya Yoncheva Amour, ranime mon courage | Roméo et Juliette, Atto IV · Charles Gounod
Sonya Yoncheva, Vittorio Grigolo Va! Je t'ai pardonné | Roméo et Juliette, Atto IV · Charles Gounod
Méditation | Thaïs · Jules Massenet
Sonya Yoncheva, Vittorio Grigolo Mario! – Son qui! | Tosca, Atto I · Giacomo Puccini
Intermezzo | Manon Lescaut | Giacomo Puccini
Sonya Yoncheva, Vittorio Grigolo Mimi?! – Speravo di trovarvi qui… Mimì è una civetta… Donde lieta uscì… Dunque è proprio finita | La Bohème, Quadro III · Giacomo Puccini avec Mihaela Marcu (Soprano) et Davide Luciano (Baryton)
Entr'acte | Carmen, Atto III · Georges Bizet
Sonya Yoncheva, Vittorio Grigolo Toi! Vous! – Oui... C'est moi! | Manon, Atto III · Jules Massenet
Sonya Yoncheva Adieu, notre petite table | Manon, Atto II – Jules Massenet
Vittorio Grigolo En fermant les yeux | Manon, Atto II – Jules Massenet
Sonya Yoncheva, Vittorio Grigolo Toi! Vous!- Oui...C'est moi! | Manon, Atto III – Jules Massenet
Schedule
August 29, 2020 20:00:00
Work's characters list
Conductor
Ténor
Soprano