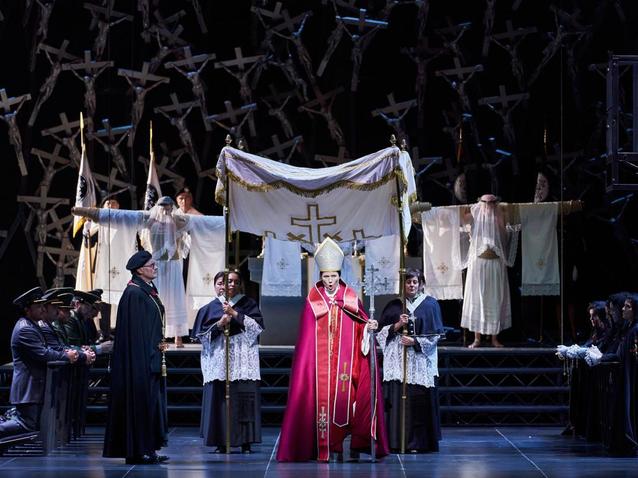 © Ⓒ David Ruano
It tends to be the case, at least at Liceu, that in premiere nights musically the performances start off being a little wobbly and, sometimes, with luck they end well. Norma, the last opera for this season, wasn't an exception. At the beginning there were many issues in all musical areas, but it ended reasonably well. The problem lies in the fact that in Norma the best musical numbers, the shiny ones, are located at the start of the piece and we couldn't enjoy them much.
Latvian soprano Marina Rebeka, who has a dramatic enough yet agile enough voice to successfully face this highly difficult role, started badly and sang "Casta diva", one of bel canto's gems, with a harsh and unpleasant vibrato. It lacked the lightweight sweetness of the interpretations by the legendary divas from the second half of the last century. At that point, it definitely seemed like Rebeka, debuting at Liceu, wouldn't deliver a worthy Norma. Little by little however she improved, she began to feel at ease on stage and with the other voices and orchestra and by the final trio of the first act she already offered a good level, a voice suited to the character and a satisfactory stylistic tone. This was maintained during the second half and peaked at the precise moment, in the grand Finale. Rebeka will go on to deliver many great Norma – it was a shame about the "Casta diva".
Pollione is a poisoned role – tenors don't particularly like singing Pollione because Norma is completely dominated in all aspects, musical and dramatic, by the character of the priestess. It is very difficult to achieve glory with Pollione and yet it is very easy to fail, as it is a very demanding part.
Also debuting at Liceu, tenor Riccardo Massi too started on a bad foot. His cavatina "Meco all'altar di Venere", his main chance to introduce himself alone, was disappointing. Neither the voice, nor the singing lines, nor the style were pleasant. In his case too we were preparing for the worst, but again once Massi started to get into the duos and trios with Norma and Adalgisa his performance improved. Overall, he delivered a modest yet sufficient Pollione.
Adalgisa was entrusted to Varduhi Abrahamyan, whom we had listened to a few years ago at Liceu in L'italiana in Algeri.  The Armenian mezzosoprano, who possesses a full and rich low register as well as agility in the upper register started well and ended even better. Her well known duo with Norma in the second act was one of the most celebrated by the audience.
Nicolas Testé, who agreed to sing despite suffering from a laryngitis, offered a decent Oroveso given his state.
The choir, significantly important in Norma, started erratically, as if they were already on holiday, and they struggled to concentrate and listen to each other, but they too made it eventually. 
Domingo Hindoyan, who had already conducted Luisa Miller at Liceu, did what a Norma conductor has to do: fondle the voices, follow them, support them, and not make too much noise with the orchestra, as the instrumental side of the piece doesn't offer more than that.
The production for this Norma came from Covent Garden, where it was premiered in September 2016, and was signed by Àlex Ollé as stage director and by Alfons Flores in the scenography.
The production is visually spectacular and is dramatically risky and problematic. Norma, which is a kind of sweetened version of the crude Medea myth, has the jealousy of a powerful woman who feels betrayed and abandoned by her lover at its dramatic core. The action takes place in a context of religious oppression and social conflict. Ollé overly focuses his proposal on this context and forgets the dramatic essence around the rejected woman. In practice, this translates to 1200 crosses on stage symbolising the forest where most of the action takes place; the Gallic priestess becoming an Anglican female bishop; Oroveso and the Gallic warriors turning into a rebel group with a fascist look, attitude and uniform; and obviously we are no longer situated in the era of the druids but in the 21st century, with Norma's apartment looking as if it were decorated by IKEA. 
There are unnecessary excesses and an overly tendance to 'épater le bourgeois'. When a piece reaches a point of maximum musical interest, a wise stage director should know to stay away discreetly, remain still, and know that they aren't the star at that point. Ruining "Casta diva" with an enormous censer – imitating the celebrated Botafumeiro from Santiago de Compostela's cathedral – swinging throughout the stage wasn't a good idea. It was highly striking but it distracted from what was fundamental.
Having Norma's children, the "cari pargoletti", being a constant nuisance without any dramatic interest whilst the soprano and mezzosoprano sing their exquisite duo wasn't a good idea either. Contrastingly, the scenic resolution for the ending did work, although making Oroveso, turned into a kind of General Pinochet who has just discovered he is a grandfather, shoot Norma in the head so she doesn't have to suffer the horror of the stake is a dramatically unnecessary act of pity.
Finally, opening the opera with a group of altar boys wearing Easter penitent capirotes could only occur to a Spanish stage director. Few places have experienced a connivance between religious oppression and political oppression as greatly as Spain, but situating Norma between sword and cross distances us from that which is theatrically essential, as flashily as it may be presented.
On the night of the premiere the audience was divided, most reproved the production – it actually manged to 'épater le bourgeois' – but there were also a few enthusiastic bravo.
Xavier Pujol
Barcelona, 18th July 2022
Norma by Vincenzo Bellini at Gran Teatre del Liceu. Riccardo Massi, tenor. Nicolas Testé, bass. Marina Rebeka, soprano. Varduhi Abrahamyan, mezzosoprano. Núria Vilà, soprano. Néstor Losán, tenor. Orchestra and Choir of Gran Teatre del Liceu. Conductor, Domingo Hindoyan. Stage director, Àlex Ollé. Scenography, Alfons Flores. Costumes, Lluc Castells. Lighting, Marco Filibeck. Production by Royal Opera House.
the 22 of July, 2022
|
Print