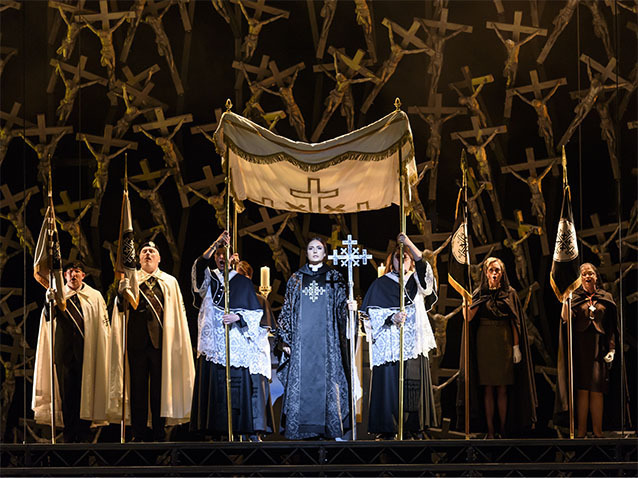 © DR
In 1898 Giuseppe Verdi described Vincenzo Bellini as being 'rich in feeling and in an individual melancholy of his own'. The associated musical traits can be found in abundance in Norma of 1831, with academic David Kimbell suggesting that the composer's most astonishing achievement in the opera was 'amid all the more obvious excitements of musical Romanticism, to have asserted his belief that the true magic of opera depended on a kind of incantation in which dramatic poetry and song are perfectly fused'.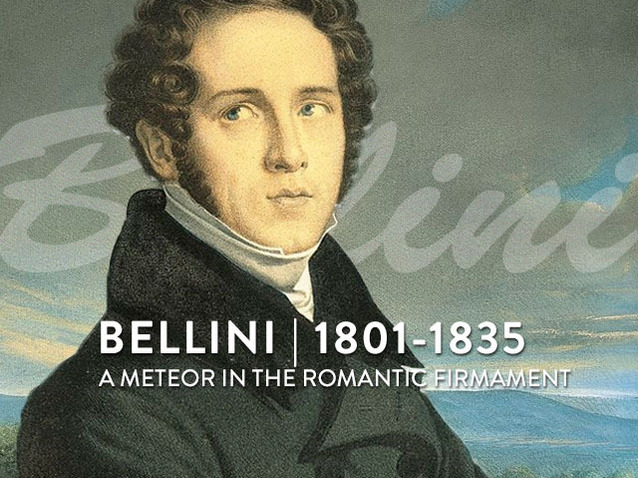 Read also: Bellini, a meteor in the romantic firmament
The piece is set in Gaul in around 100-50 BC, and sees the Romans pitted against the Druids. The former have been triumphant in every practical sense, although technically they have agreed a peace with the latter. From this position, the Druids are planning to launch a counter-offensive to defeat their enemy, and are waiting for the right time to do this. Their high priestess Norma, however, keeps instructing them to delay and this is because she has had a secret affair with, and even children by, the Roman General Pollione, and so cannot bear to see him hurt in any way.
 
Pollione, however, no longer feels for Norma as he once did, as his heart has been stolen by another Druid priestess Adalgisa. She in turn confesses her guilt at having fallen in love with a Roman to Norma, who she finds surprisingly understanding because the high priestess can relate to her predicament. When Norma discovers, however, that this Roman is none other than Pollione she is outraged, although she lays the blame for faithlessness at Pollione's, rather than Adalgisa's, door. After much soul searching, Norma finally resolves for Adalgisa to go to Pollione to be his, and, most importantly, to look after Norma's own children. Adalgisa agrees to go to the Roman camp but with the aim of persuading Pollione to return to Norma. She fails in this aim, however, and news arrives that Pollione plans to abduct Adalgisa from the Druid Temple of Irminsul.
This finally inspires Norma to tell her people to take up arms against the Romans, and they seem to find the perfect candidate to sacrifice on the eve of war when Pollione is found having desecrated the temple by entering it. Norma, however, cannot bring herself to kill him and so declares that the victim will be a priestess who has broken her vows. We initially assume that she is referring to Adalgisa, but she ultimately decides that this should mean herself. As she prepares to leap onto the sacrificial pyre, Pollione finds his love for her rekindled and chooses to join her there, thus uniting them in death.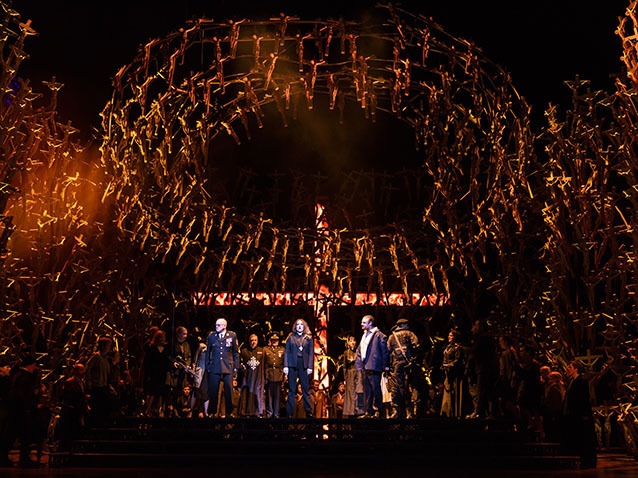 This new production by Àlex Ollé, an artistic director of Spanish theatre company La Fura dels Baus who directed George Enescu's Oedipe at the Royal Opera House last May, moves the action away from its original setting without transferring it to one clear and obvious alternative location. As we watch the Druids' rituals taking place in hooded robes, with the oak trees of the forest being formed of hundreds of crucifixes, sixteenth century Roman Catholic Spain comes to mind. This is clever because Ollé's aim is to highlight the pervasive nature of religion in the culture, and so it makes sense to illustrate this through a time and place with which we may be just a little more familiar. In particular, thoughts of sixteenth century Spain also bring to mind the Spanish Inquisition, thus highlighting the more sinister aspects of the Druid culture as well.
The Druids, however, are a political as well as a religious people, and the fact that they occupy more than one sphere of existence is emphasised by the fact that when not performing their religious rituals their clothes are different in style, often being modern or military. Norma as the high priestess is predominantly a public figure, but her private side is revealed by staging the scene in which she is with her children (and even contemplates killing them) in a modern room with the youngsters watching television. There does come a point when the generation of multiple times and settings affects the coherency of the points being asserted, but the detail inherent in so many of the gestures, especially those involving Norma's children, goes a long way to negating the difficulty.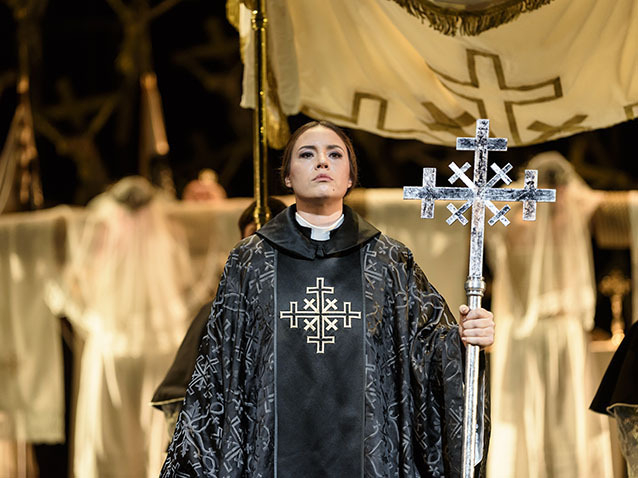 Marco Filibeck's excellent lighting designs create beautiful filigreed patterns where the shadows of the hanging crucifixes fall while, for all the small details to be found within it, the direction benefits from not being overly fussy. Sonya Yoncheva, with a soprano of exquisite precision and tone, is outstanding in the title role, and it is interesting just how little she needs to do in order to move us. In the iconic 'Casta diva' she spends most of the time standing relatively motionless, and it only requires her to raise her arms to make her presence radiate out even more strongly. Joseph Calleja as Pollione struggles a little in his early aria 'Meco all'altar di Venere' (although this may simply have reflected first night nerves), but even here the basic strength of his voice is revealed, and he goes on to stun us with his expansive sound. Sonia Ganassi reveals beautiful grains in her mezzo-soprano as Adalgisa, while Vlada Borovko, Brindley Sherratt (in spite of a shaky start) and David Junghoon Kim are excellent as Norma's confidante Clotilde, her father Oroveso, and Pollione's friend Flavio respectively. Sir Antonio Pappano's conducting is smooth and assured, meaning that overall the evening's positives by far outweigh any negatives. The production is also being broadcast live to selected cinemas around the world on 26 September and, with its atmospheric set and lighting, should work very well on the big screen.
By Sam Smith
Norma | 12 September – 8 October 2016 | Royal Opera House, Covent Garden
the 15 of September, 2016
|
Print