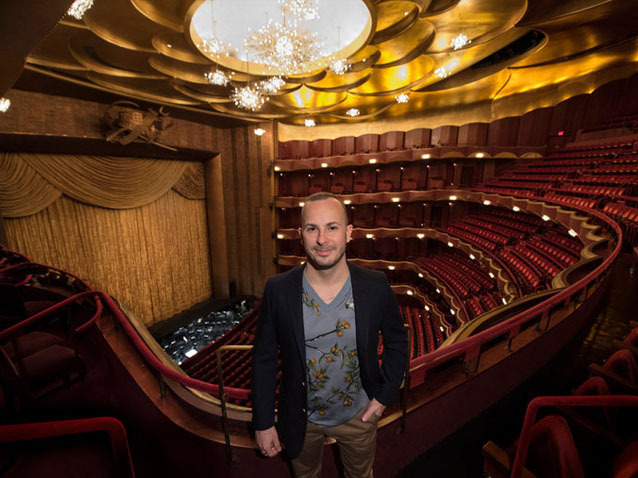 © DR
As we mentioned recently, James Levine has been forced to resign from his post as artistic director of New York's Metropolitan Opera, which he'd held since 1975, for reasons of health.
And so for the first time in forty years, the Metropolitan will welcome a new musical  director, only the third (officially) since the New York institution was established 135 years ago. And after several weeks of rumours, it was announced this afternoon that 41-year-old Quebecois conductor Yannick Nézet-Séguin will succeed James Levine, after making his début in New York during the 2009-2010 season directing Carmen, having begun his career in Montreal (where he was named assistant conductor at the age of 23), followed by the Vienna Opera, the Royal Opera House in London, La Scala in Milan and at the Salzburg Festival.
Yannick Nézet-Séguin, who has headed up the Philadelphia Orchestra since 2012 (where his appointment has just been renewed through 2026) and has been regularly hired for coming seasons at several opera houses around the world, will initially serve as interim director and will only be appointed officially in four years, for the 2020-2021 season at the New York house. While he will not be directing more operas than usual at the Met (i.e., two per season, for five years after he takes his full-time position), the New York opera house can nonetheless count on him to ensure the continuation of the artistic and financial project undertaken by James Levine Met general manager Peter Gelb.
For the Met is clearly at a turning point in its history. While the institution has, to its credit, set up an effective programme for broadcasting its productions, particularly in cinemas and over the Internet, the Met's (gigantic) hall has a seat occupancy rate of only 72% on average this season, and budget cuts have already been announced. The new management is thus facing a real challenge, both artistic and managerial, which Yannick Nézet-Séguin clearly intends to take up.
In a brief introductory video released directly on the Met's site from Osaka (where it is currently playing), the Quebecois conductor is already saying he has many ideas for the future and says he is ready to get to work next autumn, at the end of his summer tour. And while there is "no question of overturning everything with major changes", he intends to "bring his own personality to the project already under way" at the New York institution.
According to the young conductor, taking over as head of such an opera house is "a true dream that is being realised today", and he considers the Met "the standard-bearer for opera in the world".  And in order to keep the institution going, he says he wants to conduct a large variety of works, both world premieres and "forgotten masterpieces". As we wait to find out exactly what they will be, we know that Yannick Nézet-Séguin has already been announced as the conductor of the revival of Der Fliegende Holländer with Michael Volle next season, and also in the repertoire of Strauss, Puccini, Poulenc and Verdi, particularly with a new production of La Traviata for the 2018-2019 season.
At a time when the artistic direction of opera houses is evolving drastically (to the extent that sometimes the functions of general manager and artistic director are combined, as in Vienna), Yannick Nézet-Séguin is nonetheless prepared to leave his mark at the New York institution. According to Peter Gelb, the conductor will be quickly brought into the Met's artistic process, to supervise management of the orchestra and choruses, and also to collaborate in designing the forthcoming seasons at the Met, whether in terms of casting or repertory, in addition to recruiting the artistic teams for the institution's forthcoming new productions. 
the 02 of June, 2016
|
Print