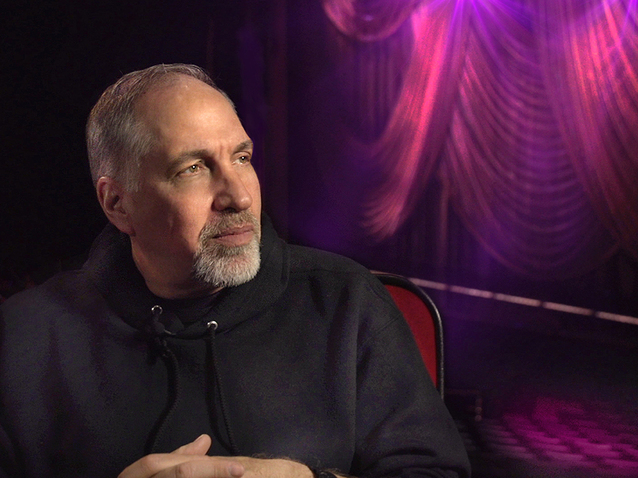 © DR
Philip William McKinley is known as a director of large-scale shows. The musical spectacular ''ShowStoppers'' at Steve Wynn's Encore resort in Las Vegas is his latest, and he took over ''Spider-Man: Turn Off the Dark,'' replacing Julie Taymor, in 2011 until the show closed in January 2014. But, as Cecilia Bartoli, the artistic director of the Salzburg Whitsun Festival, points out, he is also a classically trained pianist and opera singer, having performed at the New York City Opera in the 1980s when it was run by Beverly Sills.
So he should feel at home in the huge space of the Felsenreitschule — built in 1693 as a summer riding school for the prince-archbishops of Salzburg and used by the Salzburg Festival as a theater since 1926 — where a new production of ''West Side Story'' will run May 13 and 15, and Aug. 20-29.
''He has done amazing things in unusual spaces,'' says Bartoli, ''such as 'Ben Hur Live,''' which premiered in 2009 at the O2 Arena in London. Much of the core creative team for that show — the choreographer Liam Steel, the lighting designer Patrick Woodroffe and the costume designer Ann Hould-Ward — are also developing ''West Side Story'' with McKinley. The stage designer, George Tsypin, who was the artistic director and production designer for the opening ceremony of the Olympic Games in Sochi, Russia in 2014, has had a relationship with the festival for more than 20 years.
''They are all equally versatile in opera, theater, rock concerts and mass shows all over the world,'' says Bartoli. But she also points out that the focus is not only on the spectacle of the show: '''West Side Story' occupies its own territory between opera, operetta and musical.''
'WEST SIDE STORY' OCCUPIES ITS
OWN TERRITORY BETWEEN
OPERA, OPERETTA AND MUSICAL'
Like ''Candide,'' which Leonard Bernstein was composing at the same time, the show not only ''incorporates light music and jazz, but also classical and even contemporary music,'' says Bartoli. ''Or, as Bernstein said, the chief problem is to tread the fine line between opera and Broadway, between realism and poetry, ballet and abstract and representational dancing.'' And ''West Side Story'' has the additional element of Latin music in the mix (it was also a hit, unlike ''Candide'').
The direction and choreography were by Jerome Robbins, and his inspiration guides McKinley and Steel in their conception of the new production, along with the show's themes, which were also innovative for Broadway. Although Robbins and Bernstein — along with the third collaborator, the playwright and director Arthur Laurents, who wrote the book — based the story on Shakespeare's ''Romeo and Juliet,''  they brought the story into contemporary New York of the 1950s.
That aspect of the work will be important for McKinley's staging. ''At the time,'' he says, ''in '57, it was very violent and gritty, and I'll want to bring that aspect to the forefront of our production. It's not a light musical comedy — it's a dramatic piece, which is why it works so well in an opera house. I think we deal with more dramatic pieces in an opera house — pieces that are bigger emotionally.''
The director notes that the story of rival clans and star-crossed lovers bears many interpretations — he notes a modern-day ''particularly gothic'' production recently by the Komische Oper Berlin and a 1998-99 production in Japan by the Takarazuka Revue, an all-female troupe — but he is keeping the original rivalry between the white Jets and the Puerto Rican Sharks.
Of the show's creators, he says it's not a question of ''copying'' their staging, but rather looking into the reasons for the choices they made: ''You find out why they did what they did. What was their approach? What was their sensibility? Then you take that into the contemporary world. What will create that sensibility for today's audience?''
Ethnic tensions and xenophobia are problems that resonate in contemporary society, he adds. He notes that he has been struck by the particularly divisive atmosphere in the United States during the presidential campaign. ''Those themes are all occurring again in our society,'' he says. Europe, too, has seen similar reactions to its Muslim population, especially after the recent influx of asylum seekers and other migrants from the Middle East.
The ''grittiness and animosity'' of the divide that Tony and Maria are trying to bridge calls for a very physical approach. ''That's one reason why I was so delighted that Liam Steel is the choreographer,'' he says. ''His choreography comes out of a very athletic sensibility.''
He is enthusiastic about the choice of Gustavo Dudamel, who will conduct the Simón Bolívar Symphony Orchestra of Venezuela. ''You're looking at a gentleman who mirrors the passion, intensity and vitality that Bernstein had,'' he says. ''Gustavo has this unbridled passion and spirit that so matches this music. He feels it. The Latin part of it is his home, his inner soul.''
Bartoli was insistent on having a proper orchestra, ''rather than 10 to 12 players and some synthesizers, as has become the rule for touring productions,'' she says. Dudamel and the orchestra he leads were an obvious choice, she adds.
The 35-year-old conductor is also a good fit for the themes of the story McKinley highlights. He, and the Simón Bolívar orchestra, are products of Venezuela's El Sistema, which offers free music education to disadvantaged young people. Dudamel consistently makes the point that music is a force for positive social change. Dudamel and the Los Angeles Philharmonic, where he has been artistic director since 2009, also have a Sistema-inspired program, and in February Dudamel took the Youth Orchestra LA to the Super Bowl to perform with Beyoncé, Bruno Mars and Coldplay at halftime.
McKinley is ''excited and honored'' to be part of this show, and he credits Bartoli's vision and willingness to take artistic risks. ''It's terrific to find someone who is that open and adventurous,'' he says. ''She's absolutely fearless. I think that's one reason she's so brilliant. I respect her ability to fling open doors to new ideas.''
Article issued from the International New York Times, not engaging the redaction of Opera Online, and which we reproduce the content with their kind permission.
Center stage: Teatro alla Scala was produced by the T Brand Studio international department and did not involve the International New York Times reporting or editorial departments.
the 19 of May, 2016
|
Print