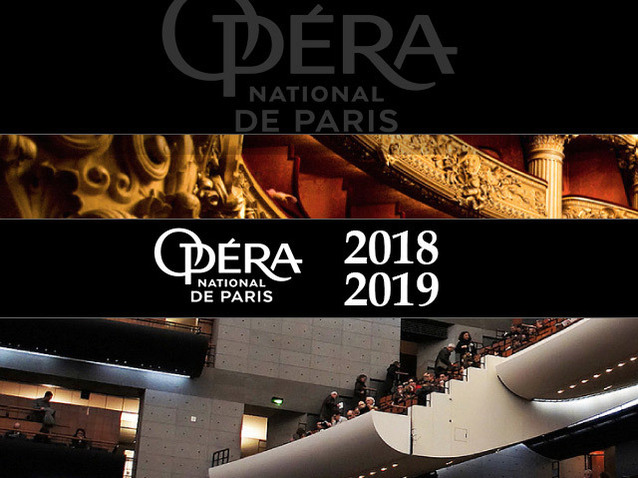 © DR
As a national opera, the Paris Opera has historically taken on the role of preserving France's operatic heritage and bringing French opera to life. For all that, opera is obviously a distinctly living art form and since the beginning of his mandate at the head of the Parisian establishment, Stéphane Lissner has also been committed to contributing to updating the repertoire and has been working to diversify the cultural range of France's famous Opera. This is the reason for the creation of the Paris Opera's 3e Scène ("3rd Stage") – a digital, online edition of the opera that runs in parallel to the more tangible stages of the Palais Garnier and the Opéra Bastille. This is a policy that also involves increasing partnerships with cultural centres, especially in terms of exhibitions (Degas at the Opera at the Orsay Museum or Opera in the 20th and 21st centuries at the Pompidou-Metz Centre),
And obviously, while the Paris Opera is set to celebrate a double anniversary in 2019 – 350 years since the creation of the Royal Academy of Music by Louis XIV on June 28, 1669, and 30 years of the Opéra Bastille, inaugurated in 1989 –, this dual celebration serves as a guiding thread for the Paris Opera's 2018-2019 season, presented by Stéphane Lissner at the Palais Garnier.
French opera in the spotlight
As French opera is very much at the heart of the 2018-2019 season, the Paris Opera intends to showcase a very French repertoire. Thus, the Bastille's season is scheduled to open with Meyerbeer's Les Huguenots (to echo the extract from this work that featured at the inauguration of the Palais Garnier in 1875), in a new production by Andreas Kriegenburg this time and conducted by Michele Mariotti, and which unites Diana Damrau, Ermonela Jaho and Karine Deshayes as well as Bryan Hymel and Florian Sempey; before continuing with another flagship of the genre, Les Troyens by Berlioz (which inaugurated the Opéra Bastille in 1990) in a new production by Dmitri Tcherniakov with Elina Garanca (for a role debut), Bryan Hymel, Stéphanie d'Oustrac and Stéphane Degout.
Alongside these great French operas, Stéphane Lissner, faithful to the tradition that he started several years ago now, is striving also to bring something new into the repertoire, so the Paris Opera will once again present a world premiere of a new opera adapted from works of French literature, Bérénice (while we wait for Le Soulier de Satin the following season, by Claudel, and composed by Marc-André Dalbavie) commissioned from the composer Michael Jarrell, and directedby enfant terrible Claus Guth, conducted by Philippe Jordan – and with Barbara Hannigan in the lead role, well-known for her interest in contemporary opera. And as this anniversary season is set to extend until the end of 2019, Stéphane Lissner has also announced a new production of Les Indes Galantes whose production has been entrusted to Clément Cogitore (who blended Rameau's work and krump from the Los Angeles ghettos on the 3rd Stage last year) and combines the talents of Sabine Devieilhe, Florian Sempey, Jodie Devos, Julie Fuchs and Stanislas de Barbeyrac. To complete the picture, the Parisian opera house will rerun Calixto Bieito's Carmen, with Anita Rachvelishvili and Roberto Alagna starring in the leading roles, and conducted this time by the young maestro Lorenzo Viotti.
New productions
At the same time as this rerun, Calixto Bieito is also directing a new and delectable Simon Boccanegra featuring Ludovic Tézier alongside Maria Agresta. Another one to watch is also the new production of Lady Macbeth of the Mtsensk District, entrusted to the stage director Krzysztof Warlikowski, as well as Scarlatti's very rarely seen Il Primo Omicidio, directedthis time by Romeo Castellucci – who says he enjoys working on such a little-known work, due to the freedom it gives the stage director and the audience's enjoyment of discovering something new. In order to continue the Mozart/Da Ponte cycle, the Paris Opera is scheduling a new production of Don Giovanni at the end of the season (The Marriage of Figaro follow in 2019-2020), consigned to the theatre producer Ivo van Hove and conducted by Philippe Jordan – with Etienne Dupuis as lead (reprising his role) and with Philippe Sly playing Leporello for the first time.
And projecting ahead to the 2019-2020 season, the Paris Opera will also be entrusting a new production of Prince Igor to the ever-inspiring Barrie Kosky (who is especially well known for his enchanting Magic Flute).
And still more voices
This new season will also see several reruns welcoming back some major vocal talents to the Parisian stage; the rerun of Otello directed by Andrei Serban is especially notable for Roberto Alagna's reprisal of the title role; Pierre Audi's Tosca in June 2019 will play host to Jonas Kaufmann, next to Anja Harteros first (also reprising la Forza del Destino, with the American tenor Brian Jagde playing Don Alvaro for the first time) and then Sonya Yoncheva; Damiano Michieletto's Don Pasquale set for next June in Paris will run again in 2019 guest starring Pretty Yende as its first Norina; and Laurent Pelly's L'Elisir d'Amore will be featuring Vittorio Grigolo.
While Guillaume Gallienne's la Cenerentola struggled to muster much enthusiasm this season, Isabelle Druet and Chiara Skerath will be joined by Marianne Crebassa. Benoit Jacquot's La Traviata, which has been staged several times before, (this time with Aleksandra Kurzak and Jean-François Borras at the end of 2018) kicks off the new production of Verdi's opera in the 2019-2020 season, consigned this time to the young Simon Stone, with special guest star Pretty Yende (reprising her role) and Benjamin Bernheim. Robert Carsen's clever production of The Magic Flute gives pride of place to a very French cast with Julien Behr, Nicolas Testé, Jodie Devos and Vannina Santoni, among others, while the extremely poetic Ruzalka by the same producer will play host to Camilla Nylund in the lead role (which she has already performed in all major operatic capitals) as well as Klaus Florian Vogt, and conducted by Susanna Mälkki. This 2018-2019 season is also a great occasion to (re)experience the beautiful production of Iolanta in 2016 (Sonya Yoncheva nevertheless has ceded her role to the young Valentina Naforniţa).
Since he took over the Paris Opera, Stéphane Lissner has focussed his efforts on reconciling modernity and tradition and it is clear to see that this new season is once more following the same tack with its dual approach – a blend of works from the opera's repertoire and new creations, as well as new productions (often by avant-garde producers) and reruns that sometimes feature the greatest voices on the operatic circuit and sometimes feature brand new young talent (taking special care this time to draw on the younger French scene)... And clearly, the magic recipe seems to work since Stéphane Lissner claims that there has been an increase in audience numbers (up by 7%) and, in 2017, "an absolute record was set in the box office with 73 million euros in comparison to 69 million" the year before and which could help the historic Paris Opera to balance its budget, and "even to make a profit despite the decrease in public subsidies" (compensated for by an increase in patronage by the director, reaching 15.7 million euros in 2017).
It remains to be seen whether this new and particularly rich new season, details of which are available on the Paris Opera website, will enable the Opera to hit the same objectives.
the 30 of January, 2018
|
Print