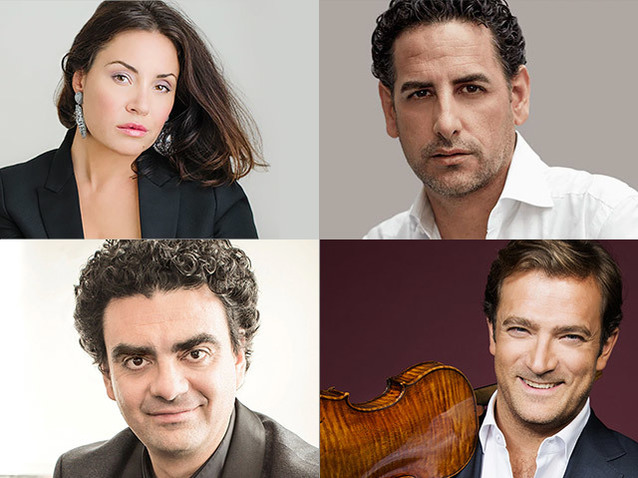 © DR
The fragility of the world of culture was highlighted in but a few months of a health crisis. A few months during which the theatres were condemned to remain closed and now still struggle to receive the public. A few months during which the artists certainly "worked" on their voices and practised for their next roles, but were unable to perform on stage and therefore lost any income. Today, a few festivals lead the way in the return to life and once again voices and instruments resonate, but mainly for a handful of the world's greatest performers, while the majority of artists, singers and musicians are now condemned to inactivity.
However, even though the opera houses are silent and the summer festivals often much shrunken, constraints sometimes generate the most creative of initiatives. It is in response to the difficult times of this health crisis that the Rolex* "Perpetual Music" concerts have been conceived in conjunction with the artists to support them and help them "perpetuate their art". For more than fifty years, Rolex has worked to promote the arts and music around the world. And since there is no art without artists, Rolex supports some of the greatest performers on the opera scene, so-called "Ambassadors" of music, including Juan Diego Flórez, Sonya Yoncheva and Rolando Villazón. But, in support of all artists, for three evenings these Ambassadors will become masters of ceremonies for three "Perpetual Music" concerts, bringing together dozens of artists that they have invited to perform in three major music venues.
Over the next few weeks, these three "Perpetual Music" concerts will be held in turn in Pesaro, Berlin and Paris. First on Friday 21 August at the Teatro Rossini in Pesaro under the patronage of Juan Diego Flórez, accompanied by a dozen soloists including Karine Deshayes or Nino Machaidze, or the Argentinian bass Nahuel Di Pierro. Then on Tuesday 1 September at the Staatsoper Unter den Linden in Berlin, an evening orchestrated by Sonya Yoncheva alongside notably Charles Castronovo or Michael Volle, the young Fatma Said or the soprano Ekaterina Siurina.  And finally on Thursday, 3 September the Palais Garnier in Paris hosts an event set to music by Rolando Villazón, accompanied by the violinist Renaud Capuçon, with around thirty musicians including the Arpeggiata ensemble, the mezzo Adèle Charvet, the soprano Céline Scheen or the countertenor Valer Sabadus. In total, nearly a hundred performers and instrumentalists, "whose career or personal life has been affected by the pandemic", are looking to participate in these three concerts to exercise their art and their profession in a privileged setting, and benefitting from the reputation of their sponsors for an evening, in halls renowned for their acoustics.
But above all else, an artist performs for an audience. And for a few months now, in the absence of physical venues, digital technology has offered music a second wind. Streaming platforms have multiplied broadcasts and become a vehicle for sharing the arts, reaching as many people as possible, and often far beyond the usual audiences who frequent theatres. The three "Perpetual Music" concerts will be no exception. All three will be broadcast online for free in more than 180 countries, then available for replay until October on the Medici.tv platform, specialist in recordings of classical concerts.  And while the concerts are free to the public, all the artists are obviously paid for their performance.
While it would seem at present that there are artists who fear for the future, there are others who see it differently, that performing on stage and exercising one's profession is effectively an "act of resistance". This is extolled by Elsa Dreisig at the Salzburg Festival as a salute to the determination of the organisers of the Salzburg group to push forward with the Festival, despite the operational difficulties and financial losses. Whether for the love of music, to support artists or perhaps also to show a little "resistance", we are therefore happy to make a date for the three "Perpetual Music" concerts masterminded by Rolex in Pesaro, Berlin and Paris.
* Rolex is a partner of Opera Online
the 10 of August, 2020
|
Print