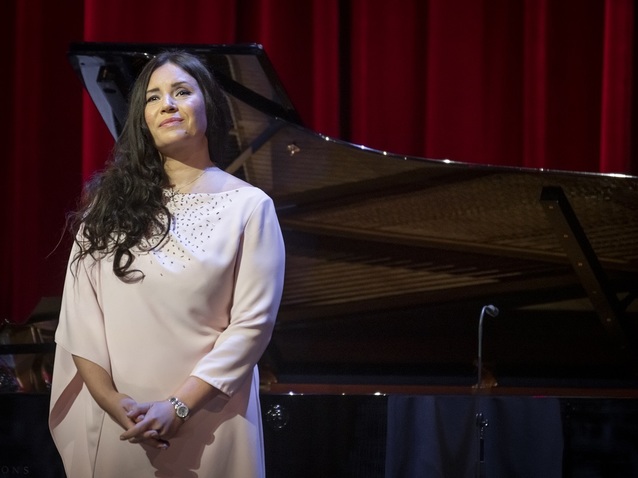 ©Rolex/Reto Albertalli
In recent years, the young Bulgarian soprano has achieved great success in many different roles with her extraordinary soprano voice and acting skills, and is now a celebrated star on all major stages. Born in Plovdiv, Sonya Yoncheva studied at the local conservatory and later in Geneva. In 2010 she won the famous Operalia competition, marking the start of her international career. As Norma, Desdemona and Medea, she was highly praised by critics. Despite "the interruption of important projects", she also saw the Covid-19 lockdown as a gift, allowing her to "spend time with my family and watch my eight-month-old daughter grow". She is married to Venezuelan conductor Domingo Hindoyan, who has just joined the Liverpool Philharmonic as Music Director. "We avoid working together and pursue our careers and developments independently, with the possible exception of special occasions like Christmas". For each, the main focus is on creativity and personal development. We do not want to work together "as an obligatory couple, although I support my husband in every possible way".
Soon after the lockdown, she resumed her work with various concerts. Everything was born again at the last minute, out of necessity, and with remarkable commitment.  "We can't stay at home: we have to find solutions so that our lives can continue". The reaction of the public was moving. The desire for culture is palpable. "Culture is as essential to life as food or breathing." We must think positively and get used to the new circumstances.
She is just now returning from her self-produced gala in her hometown of Plovdiv. "An important step, without public support: people should come for art and music, not for politicians".
She also attaches great importance to her cooperation with Rolex for the organisation of the Perpetual Gala. "We're bringing artists back onto the stage: 100 artists in three countries. Juan Diego Flores started in Pesaro, Rolando Villazon in Paris and I was in Berlin ".
"I know so many famous singers who don't know how they will survive the next three months or financially support their families" she explains, underlining her commitment, as well as her understanding "that politics now regards opera as a form of pleasure and not as something essential. But art is vital. "
With great pleasure, she is considering her next role debuts. Playing the role of Elsa (Lohengrin) for the first time in Berlin is a dream that she has cherished for a long time. Rehearsals start in November and it will be their first staged performance since the lockdown. Berlin is her second home after Switzerland. She owns an apartment there and feels "connected to its language and culture". She has been preparing for and getting to grips with the role for a long time. This self-confident singer values the role of Elsa ("Elsa believes deeply in things that are pure and naive") and the works of Richard Wagner highly. "He thought deeply about life, thought about every detail, from interpretation to the on-stage performance - and even his own theatre". She has not yet considered an appearance at Bayreuth (perhaps one day), but has thought about other Wagnerian roles such as Elisabeth in Tannhäuser. "Wagner is a healthy composer and doesn't demand too much of the voice: he has a concept of line and harmony".
She has not yet been informed about the directing concept of Calixto Bieito in Berlin. A new approach is being developed due to the new regulations in place. She is open but self-confident about working with directors. "I accept everything: every idea is valuable. Something truly extraordinary can change a story. But I don't accept people who come from other fields and have no idea." She recalls an example: "we had seven weeks of rehearsals, but they didn't really do any good. We have to eliminate productions that get out of hand: they cost time and money and create unnecessary annoyance".
She is also looking forward to her debut of Manon Lescaut in Munich, Rusalka at the Met, and an Aida performance in Verona with Riccardo Muti in 2021. She has already performed in the Arena of Verona with Vittorio Grigolo, conducted by Plàcido Domingo (29th of August). The arena is a place whose unique atmosphere she particularly admires.
She is also open to modern music. A song by Abba has found its way into the programme at this year's Salzburg Festival. This was a song recital that triggered great emotions in the audience and the artist. "I sang the repertoire for the first time, which even included a Bulgarian song: it caused a deep reaction in me, and added another valuable dimension that was much more personal." Covid-19 raised the question of "what is important in our lives; we can lose everything, and need to remember what is essential. There is so much beauty in simplicity." In a completely natural way, the unpretentious and likeable artist weaves this thread into her personal life philosophy: "Life is beautiful just as it is.  We do not have to reveal our clothes, our food in the media. We don't need more and more. We don't have to be too personal on the Internet".
When asked about contemporary classical music, she shows openness and great interest. "I am open to new composers and any project I believe in and support. We need modern composers." Modestly, she adds: "and if a composer believed in my voice, I would look forward to working on a project with them". So far there have been no requests. "But maybe our interview will help."
Helmut Pitsch
©Rolex/Reto Albertalli
the 08 of September, 2020
|
Print