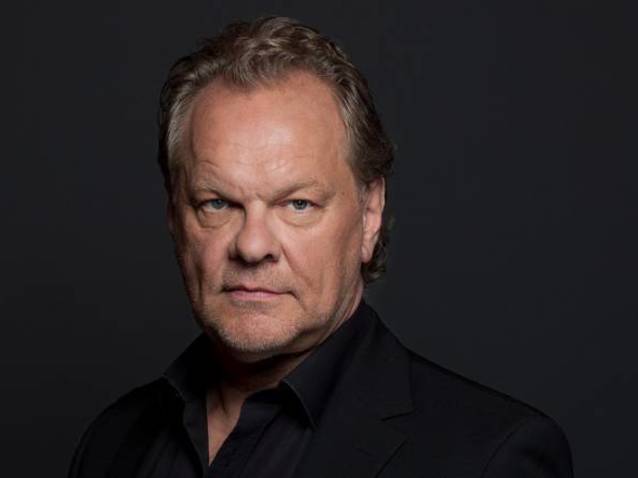 © DR
The hotel terrace offers a wide view over Berlin, the current home town of international opera star Michael Volle. It is here where he went through the painful lockdown together with his wife, singer Gabriela Scherer, and his two children. "Spending such a long time in one go at home teaches you to understand and appreciate the meaning and the value of a healthy relationship". Home schooling with their two children was a special challenge that had to be mastered.
He was particularly hard hit by the professional restrictions and the careless way in which politics dealt with the cultural industry. Thirty years ago he decided to pursue a singing career, working for many years as a freelancer. "Self-employed singers are completely disorganised and have no-one to represent their interests. We must prepare for the next epidemic!" He has learnt one thing from the crisis. "The culture and art business does not yet know how it will continue" he adds critically and is not only hopeful. "Artists are considering whether to change their profession or whether to choose it in the first place. Some of them are currently in need of retirement provisions", he says, summarising his discussions with colleagues.
He himself feels he is in a fortunate situation to be involved in new projects again. In Konstanz, he and his wife held a singing gala with the Southwest German Philharmonic Orchestra, an orchestra that underwent constant testing, and in Hamburg they participated in a video project of the Symphony Orchestra. "It certainly feels very peculiar to perform without an audience. A piece comes to an end and there is no applause or exchange with the audience", is how he describes the extraordinary feeling.  "People are dehydrated and thirsty - artists and audience alike".
"Many thanks and praise for Rolex and Sonya Yoncheva", he says and is looking forward to participating in the Perpetual Music series of concerts at the Staatsoper Unter den Linden in Berlin, which was initiated by the watch manufacturer. Preserve the music is the leitmotif. "Music and art can do so much. Here, money and commitments are given freely to help artists in need, to set an example for others. Hopefully other companies will follow suit".
Looking to the future, he answers cautiously. "It is not enough to play Baroque and Mozart alone in the opera owing to the cast restrictions. But how can Strauss, Verdi or Wagner be expected to work in the future under these conditions? I don't know". His forthcoming project in Zurich will set an example. The great choral opera Boris Godunov. "Mr. Homoki has explained how the choir and orchestra will be brought in from other venues. Under the rules regarding distance, there is no other way."
In Leipzig he is looking forward to a concert with arias and duets from the Flying Dutchman and Arabella with orchestra. He will perform together with his wife Gabriela Scherer. He appreciates their joint appearances. "It is a very special feeling to appear together on stage" as a singer and colleague, not as a husband, he says. "To sing Arabella or Holländer with her - is the tops!" He is also looking forward to her role debut as Lady Macbeth (Verdi) in Wiesbaden.
He lists his upcoming projects with question marks. "Die Frau ohne Schatten at the Met, the Ring with Thielemann in Dresden, and Fanciulla here in Berlin".  A concert performance in Florence with Zubin Metha is planned for October, as well as participation in new festival initiatives in Lusatia and Austria, plus a Valkyries gala at the Festspielhaus Füssen in December.
He plans to increase his appearances in the Italian repertoire, with Nabucco, Falstaff and Trittico coming up. "I would like to do more Mozart, it is wrongly assumed that as I come from heavy opera I am no longer able to sing Mozart, actually it's just the opposite.
"As a child of a pastor I also have a close relationship with Bach and church music" and "I love lieder very much" he says, rounding off his plans.
His eyes light up brightly when we look back on his career spanning thirty years. "There are many great experiences, Les Contes d'Hoffmann in Bregenz with Stefan Herheim, Meistersinger in Bayreuth by Barrie Kosky, or by Kupfer, Wozzeck with Andreas Kriegenburg in Munich, and Nozze in Zurich". He was particularly moved by the final applause after the last Meistersinger performance in the production by Otto Schenk with James Levine at the Met in December 2014.
His portrayal of Hans Sachs appears again and again in his life. "The role of this character is demanding. As a singer, you have to divide your energy... In the first act I have to remember that in the end I still have to manage the aria 'Verachtet mir die Meister nicht'. It has now become a positive routine and it's becoming second nature."
When working with directors he shows himself to be open and 100% curious. "It's important to have a good director with whom you can discuss matters and a constructive cooperation, then the work and the result will be good". His experiences are mostly positive, "the "black" list of directors is small".
"If I have done a role umpteen times, I must remain open", "there is no truth" he adds. Important for his artistic performance is the conviction "I can do this, I stand behind it and have to be honest with myself".
"I don't have the time for new roles in contemporary music, I want to spend it with the family". At the beginning of his career he co-founded the Vocalsolisten in Stuttgart and sang many debut performances. "The music is hellishly difficult but I had a good teacher in Manfred Schreier. That was a good school".
Many thanks for the interview.
Helmut Pitsch
the 04 of September, 2020
|
Print