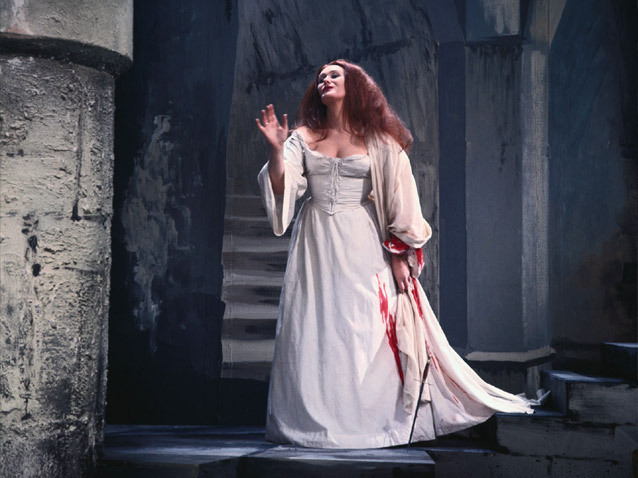 © DR
General informations
Composer:Gaetano Donizetti
Librettist:

Salvatore Cammarano

Creation date:

1835

Creation place:

Italy

Acts number:

3

Original language:

Italian

Opera House of original production:Teatro di San Carlo.
Work description
There is something languid and mysterious about Lucia di Lammermoor, the tragic masterpiece of Gaetano Donizetti and archetype of the romantic opera. The horns and kettledrums in the opening measures seem to suggest the frail heroine's funeral…In the foggy atmosphere of Medieval Scotland, the pure and disinterested love of Lucia and Edgardo emerges – a love like that of Romeo and Juliette, too beautiful to last, too dangerous for their families.  A star-crossed lover, Lucia soon becomes a victim, betrayed and hurt, stripped of her reason for living, before losing her mind – the "mad scene" is a crucial moment in the plot, a challenge for coloratura sopranos and a much anticipated delight for audiences. Il dolce suono is a technically difficult scene, where the voice, both sweet and soft, seems to climb to the heavens, with breathtaking vocalise translating the subtleties of the heroine's hallucinations. The scene is the climax of a delicate masterpiece, a bloody ritual wrapped in a heavenly bel canto.
Summary
In 16th-century Scotland, the feud between the Ashton and Ravenswood clans threatens to destroy the passionate love of Edgardo and Lucia, sister of the sinister Enrico Ashton.Yet nothing can deter the two lovers who exchange rings and take a sworn vow of marriage. Enrico uses a forged letter to convince Lucia that she has been betrayed by her lover and that she must marry Arturo Bucklaw. Convinced that Edgardo has been disloyal, Lucia signs the marriage contract. Edgardo finds himself in a situation where nothing can be done. He denies any disloyalty and accuses Lucia of breaking her promise. Lucia marries Arturo, but loses her mind. During the wedding celebrations, she stabs Arturo and becomes insane, reminiscing about the past with Edgardo before collapsing, dead. Edgardo stabs himself with his dagger in order to join her in heaven after he learns of the sinister plot and its fatal consequences.
Act 1
Out of purely personal interest, Enrico Ashton wishes to marry his sister Lucia to Arturo Bucklaw.Lucia tells her maid Alisa she has had a premonition. She is in love with Edgardo Ravenswood, who loves her in return. But the Ravenwoods are the sworn enemies of the Ashtons – a feud the Calvinist chaplain, Raimondo, cannot seem to quell. Despite this insurmountable obstacle, Lucia and Edgardo meet in secret. In a sumptuous love duet, they exchange rings and take a sworn vow of marriage.
Excerpt : « Sulla Tomba »
Act 2
Edgardo has left for France and Enrico manages to convince his sister he has found a new lover.This is a lie, of course. But the young woman breaks down. She has no other choice than to follow her brother's advice, encouraged by the chaplain who is unaware of what is afoot…
Excerpt : « Appressati Lucia »
Just as Lucia and Arturo sign the marriage contract, Edgardo returns.He has been faithful and therefore believes that he has been betrayed when he sees Lucia has signed the contract! Edgardo publicly curses her, as she hesitates, feeling as though her sanity is slipping away. A sextet reveals the feelings of each character in this tense atmosphere.
Excerpt : « Chi mi frena »
Act 3
Once again, old feelings fuel an argument between Edgardo and Enrico, who vow to settle their differences in a duel.However, all is lost. In compliance with her brother's wishes, Lucia has married Arturo. But the wedding celebrations take a tragic turn when Lucia goes mad and stabs the bridegroom. She appears, covered with blood, and, as if in a trance, imagines she is married to Edgardo. At the end of the scene she collapses, dead.
Excerpt : « Ardon gli inceni… Spargi d'amoro piano »

On the tomb of his ancestors, Edgardo is lost in thought.He contemplates his feelings of despair and bitterness towards Lucia. He is unaware of the tragic incident at the castle, which is all lit up for the wedding celebrations. When he learns of Lucia's death, Edgardo stabs himself, hoping to be reunited with his love in heaven.
Excerpt : « Tu che a Dio »