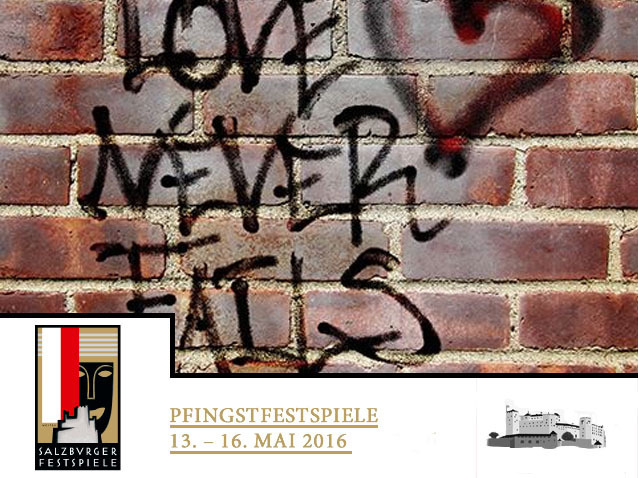 General Information
Production title:

West Side Story - Salzburger Pfingfestspiele (2016)

Creation date:

13/05/2016

Work - Composer:

West Side Story

-

Leonard Bernstein

Opera house:Felsenreitschule
Description
New production
Entire original production directed and choreographed by JEROME ROBBINS
Originally produced on Broadway by Robert E. Griffith and Harold S. Prince by agreement with Roger L. Stevens
"Jerry R. Jerome Robbins called today with a noble idea: a modern version of Romeo and Juliet, set in slums at the coincidence of Easter-Passover celebrations. Feelings running high between Jews and Catholics. Former: Capulets, latter: Montagues. … But it's all much less important than the bigger idea of making a musical that tells a tragic story in musical comedy terms, using only musical comedy techniques, never falling into the 'operatic' trap."
However, after an initial phase of intense work, the euphoria of this first entry on West Side Story in Leonard Bernstein's logbook, dated 6 January 1949, was followed by doubts as to the viability of the idea. Six years were to pass before the composer took up the project again: "We're fired again by the Romeo notion … and have come up with what I think is going to be it: two teenage gangs as the warring factions, one of them newly-arrived Puerto Ricans, the others self-styled 'Americans.'"
Now joined by Stephen Sondheim, the team of writers met regularly as of October 1955, and the work was completed two years later. Starting on Broadway, the piece took the world by storm with songs like "Tonight," "One hand, One heart" and "Maria". The story of Maria and Tony, who pay for their love with their lives due to their membership of two rival youth gangs, remains tragically controversial to this day.
More information is available on the opera house's official website.
Schedule
May 13, 2016 20:00:00
May 15, 2016 15:00:00
Casting
George Akram
Cody Green
Work's characters list
Conductor
Maria
Maria
Tony
Anita
Bernardo
Riff
Doc