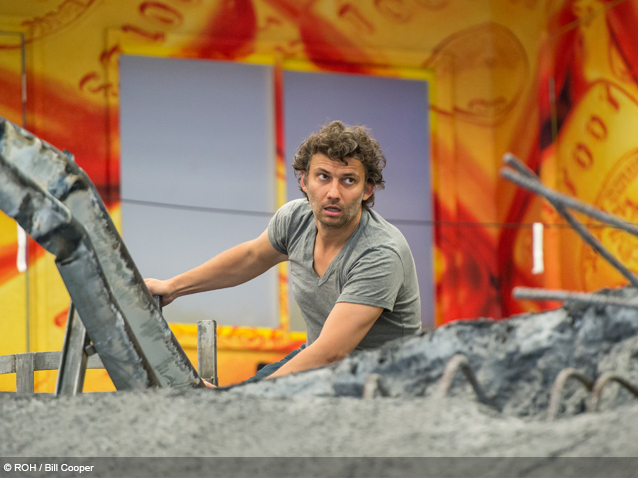 © ROH / Bill Cooper
At the age of 44, the great German tenor, today considered the greatest of his generation, has chosen to add a new role to his repertoire, that of Des Grieux in Puccini's Manon Lescaut. After Mario Cavaradossi in Tosca and Dick Jonhson in La Fanciulla del West, this is only his third Puccini role, even though his baritone-tinged tenor voice seems ideally made for this repertoire. Why did he wait so long? Perhaps just because he was never offered it. Or because he felt that, before tackling the density and fiery tensions required by the Puccinian orchestra, he needed to put his projection as a lyric tenor to the test with the works of Verdi and Wagner. 
And so it was only after taking on Monteverdi (Nero in L'Incoronazione di Poppea) and Mozart (Titus in La Celemnza di Tito, Belmonte in The Abduction from the Seraglio, Tamino in The Magic Flute and the title role in Idomenea) that Jonas Kaufmann cautiously approached Verdi as Cassio in Otello, then as the Duke of Mantua in Rigoletto and Alfredo in La Traviata. Three genuine lyric tenor roles, marked by an essential radiance, a charismatic sound that he was able to produce by making his singing more expressive.  It was only much later – he took his time – that he was able to shift his voice into a lirico-spinto tessitura, essential for taking on the role of Manrico in Il Trovatore, then the title role in Don Carlo and, finally, Alvaro in La Forza del Destino: a gradual, reasoned, intelligent progression – which is not surprising in such an artist.
In the same way, he was able to develop, unhurriedly, the complex range of Wagnerian tenors, starting out, naturally, after tackling Florestan in Beethoven's Fidelio, the title role in Parsifal, and then Lohengrin – with the two Maxes in Weber's Freischütz – before venturing to take on Siegmund in Die Walküre.
Suffice it to say that Jonas Kaufmann leaves nothing to chance. How did he prepare for this new role, ideal for his voice today, and obviously rich in unrivalled dramatic expressiveness which he is able to apply to all the characters he plays? How did he conceive it? How does he live it? One need only ask him: we did, and he answered exclusively for Opera Online.
the 17 of June, 2014
|
Print