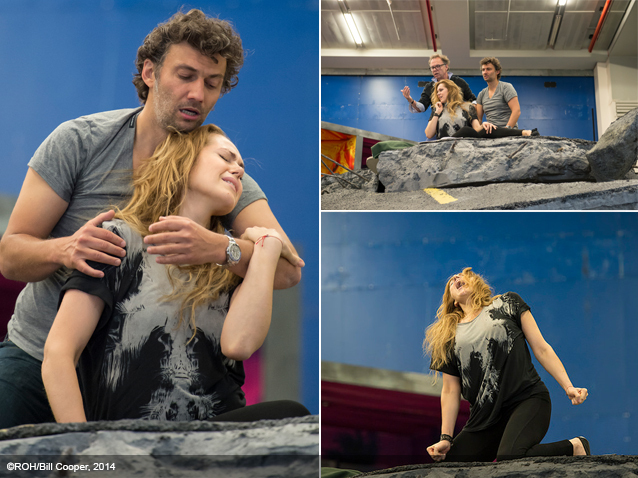 © ROH / Bill Cooper
Following in the footsteps of Enrico Caruso, Carlo Bergonzi and Placido Domingo, Jonas Kaufmann is taking over the role of Chevalier Des Grieux in Puccini's Manon Lescaut.His role at the Royal Opera House gives us an opportunity to take another look at a work that ushered in verismo and revealed a "new" Manon Lescaut after Massenet's.
"Manon Lescaut is a heroine I believe in", Giacomo Puccini wrote to Giulio Ricordi, his publisher, who actively supported him after his first opera, Le Villi (1884).  After three years of work and fine-tuning among seven librettists, the success of Manon Lescaut marked the real starting point of Puccini's career by ushering in a new period in Italian lyric art, incarnated up to then by the great Verdi.In 1893, which saw the triumphant creation of Puccini's third work, the lyric landscape reveals the outlines of a new current, verismo, represented by Cavalleria rusticana (1890)by Mascagni or Pagliacci (1892) by Leoncavallo.These are one-act works dedicated to a realistic portrait of a "slice of life," as it was said at the time.The story of the faithless Mano, torn apart by love and money, acts as a catalyst on Puccini's musical inspiration, enabling him to open up new perspectives.
From Abbé Prévost to Giacomo Puccini
The famous Histoire du chevalier Des Grieux et de Manon Lescaut (1731) by Abbé Prévost had already inspired Daniel-François-Esprit Auber in 1856 and Jules Massenet in 1884. Puccini wanted above all to distance himself from the work of Massenet, whom he knew well, in order to create a Manon different from the frivolous and fragile woman depicted by his predecessor.This is a new Manon that Puccini introduces us to.Out of the character created by Abbé Pévost, he was able to maintain those aspects that were suitable for dramatic development:this was a formidable challenge, as he had to turn a Romanesque character acting over the long term into a lyrical character expressing her passions and reversals in a necessarily limited period of time without making it all unconvincing.
Puccini opted for a structure with four acts.The first two are dominated by pleasure:the first act involves the discovery of love by two young people who decide to run off together; the second act plunges us into the deceptive vortex of Manon's life as a courtesan, a slave to the wealth that will lead to her downfall.The following two acts feature suffering and decline, leading to death.Puccini thus develops four moments in Manon's story.The audience necessarily has to "imagine" the character's evolution between these four pictures so as not to be surprised by the sometimes abrupt changes that lead her from the pleasures of love to betrayal, then to the premonition of unavoidable death that terrifies her before one final, heart-rending declaration of love.
Puccini's Mano offers the new face of a woman of provocative sensuality, remorselessly enslaved to her reckless pursuit of excitement.She is ardently intoxicated with love, with luxurious pleasures, without experiencing the regrets and nostalgic hesitations of Massenet's fragile heroine.With Puccini, her betrayal is hardly unencumbered with emotion at the evocation of a past happiness, and there is no place for any "Goodbye to our little table…."Puccini's Manon sings passionately about the "miracolo d'amor", then the horrified rejection of death that finally and tragically puts an end to her life as a "light" woman as an unavoidable punishment.Manon dies "sola, perduta, abbandonata in landa desolata", seeming to echo the fate of another "depraved" woman, la Traviata, "sola, abbandonata in questo popoloso deserto".How can we not see young Puccini's homage to Verdi, whose last opera, Falstaff,was created eight days after the premiere of Manon Lescaut?
A new character : the orchestra
This homage is at the core of a work noteworthy for its undeniable novelty in terms of the importance given to the orchestra, whose dramatic function harks back to that of the choir in ancient Greek tragedy.  The preponderant role given to it is part of the evolution started by Verdi, who also wanted to establish the orchestral continuity that his Otello (1887) also shows.Characterised by an imposing array of instruments that pave the way for La Bohème (1896) and Tosca (1900), the orchestra in Manon Lescaut is tasked by Puccini with forcefully expressing feelings and heartbreak while also rendering tangible the ongoing progression of death, through the use of leitmotivs.Death is in fact the common denominator in a story in which it is the inevitable outcome.The drama is structured according to this death foretold as a punishment for the women who thought she could live a life of intense pleasure without giving up on love.
In order to embody all the energy of this new Manon, symbolising the triumph of passion over reason, Puccini needed a great operatic voice, capable of dominating a powerful orchestra.The great Magda Olivero, and, closer to our time, Raina Kabaivanska, Renata Scotto and Mirella Freni have stood out in this role.Enrico Caruso, Carlo Bergonzi and Placido Domingo have been among the greatest interpreters of the Chevalier Des Grieux.
Manon Lescautis a very modern work, characterised by the wealth of its harmonic subtleties and the daring of its unusual instrumental combinations.It fully obeys the principle of "continuous opera" so dear to Wagner.The orchestral fabric is not broken up by great arias or explanatory monologues, since the breadth of the orchestral score is adequate to depict the characters' innermost feelings. 
Catherine Duault
the 17 of June, 2014
|
Print