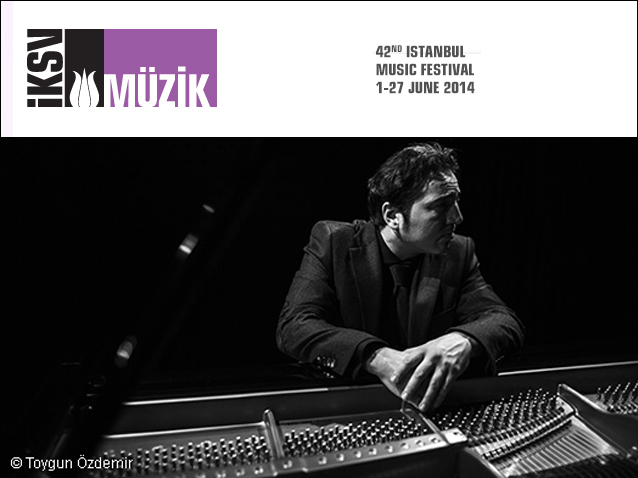 " Organised by the Istanbul Foundation for Culture and Arts, the first Istanbul Music Festival, the flagship of the Istanbul Festivals, took place between June 15-July 15, 1973 originally under the title Istanbul Festival. From its inception it has included in its programmes the finest examples of artistic creativity in the fields of classic music, classical ballet and contemporary dance, opera, folklore, jazz/pop, cinema, drama and visual arts from both Turkey and abroad, as well as seminars, conferences and lectures. "
Founded at the occasion of the 50th anniversary of the Turkish Republic, this festival is held every springtime at this fast growing economically successful metropolis on the melting point of two cultures, the European Christian heritage and the Arabian, Turkish Islamic one. It is a mixture of venues with young local Artists and international soloists and orchestras. The spectacles are held at various diligently selected locations. Composition requests and world premieres support the development of a lively music scene in the country. Songs of nature was this year's theme and 26 concerts were held from 1st to 27th June.
A few words around this year's events :
Diana Damrau accompagnied by harpist Xavier de Maistre contributed with her clear silver soprano with a selection of songs by Franz Schubert and Richard Strauss as well as chansons by Reynaldo Hahn and impressionistic melodies by Ernst Chausson. Young and celebrated Russian violonist Kyrill Troussov and Gautier Capucon presented Trios of Johannes Brahms and Felix Mendelssohn Bartholdy and performed a very inspiring Trio nr. 2 by Dimitri Shostakovich. Highly expected and promoted was the world premiere of Fazil Say' s composition for the 60th anniversary of the death of the famous Turkish poet Sait Faik. Fazil Say is Turkey's most rewarded living musicien and a cultural and political personality. His composition is a mixture of romantic classical long span melodies flavoured with local Turkish music elements and instrumentation. Lyric songs and dramatic recitals enrich the work. Held at the beach of the island of Burgazaba where the poet lived, it was a glamourous event full of movielike atmosphere.
Helmut Pitsch
the 30 of June, 2014
|
Print