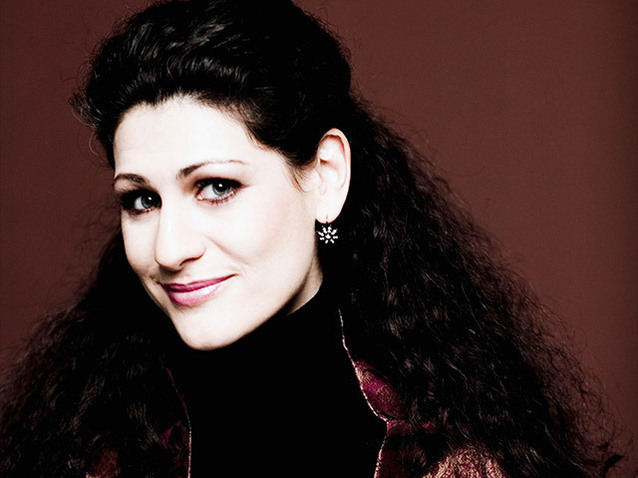 Linked for a long time to Wagner's repertoire, Anja Harteros is nowadays obviously more dedicated to Verdi's one. Next friday, she embodies Aida at the Accademia Santa Cecilia in Roma, alongside Jonas Kaufmann and Ludovic Tezier. After referring to the work a few days ago, we now look at the role-title singer.
***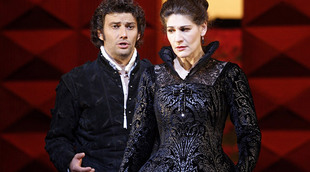 Are divas condemned to live on an aeroplane between two triumphant appearances? They have been roundly criticised, perhaps somewhat less so today, if only because the record market, which was the basis for their glory, has collapsed beyond repair. Anja Harteros is the exact opposite of this stereotype, and as such a fine illustration of the possibility that today's performers have for making careers in their own image. Of course, Anja Harteros's career has had its has also had its ups and downs: the London public has not forgiven her for her many recent cancellations, not seeming to understand that an artist can have perfectly respectable personal reasons preventing them from leaving home. Too bad for Londoners: they'll have to head for the German-speaking countries to hear Anja Harteros in Vienna, Salzburg, Berlin, and even Munich. She has already sung there nearly 150 times in under fifteen years at the Opera, initially in minor parts like Freia in Das Rheingold, then very quickly in leading roles, and even in productions created specially for her, with or without Jonas Kaufmann as her partner - the next one, without him, will be Arabella in July 2015. Perhaps this relative geographic isolation is ultimately a good thing: by sparing her the trials and tribulations of the star system, it gives her a chance to let her career develop in perfect sync with the evolution of her talents.
Travelling to see Anja Harteros is justified particularly as recordings do not do justice to this voice; naturalness is often lacking in the studio. First because, as a sign of the times, her discography remains limited: with Mozart, Elettra (Idomeneo), but not the Countess in Nozze, nor Fiordiligi; with Strauss, neither the Marschallin, nor Arabella, but two versions of the last four Lieder ; with Wagner, neither Elisabeth (Tannhäuser), nor Eva, but a sublime Elsa (Lohengrin); only Verdi has been better served, with, up to now, Violetta, Amelia (Simone Boccanegra) and especially Elisabeth (Gift Carlo), whose great aria in the fifth act seems to be written to order for her voice. It is not that Anja Harteros has no sense of humour - her Fiordiligi full of imagination proves this - but the nobility and composure of the unhappy queen of Spain, and the long phrases written by Verdi, and this infinitely expressive simplicity of diction, all these things are a very relevant summary of the art of Anja Harteros - at the same time as one of Verdi's most beautiful airs. It is not just great performers who have their place on the stage of opera houses: reserve, modesty and distinction are also lovely qualities, especially when they are accompanied by such a thorough effort with the words, a diction that is much more than a technical matter of effective pronunciation.
But there are at least two factors that make her a singular musician. First, her youth. Obviously, when one sings Freia at the age of 30, it is not very difficult to sound young. But some time has passed since her win at the Cardiff competition in 1999 opened the doors of the lyric world to her, and that fact has not changed: this voice has youth embedded in it. At this point, despite taking on heavier roles, Tosca recently, Aida in a few days (in Rome, for a concert version to be recorded), but there is no way around it: there is a light in her voice, and an almost adolescent impassioned quivering, that time does not erase.
Then there's her projection. Anja Harteros's voice is not huge; it is not one of those phenomena that can fill the vast spaces of modern halls. And yet: so many singers who do not scrimp on their last reserves of power drown in the least orchestral storm; Anja Harteros, without visible effort, seems to play with it. Her Elsa, in particular, is a real singing lesson as much as it is an acting lesson: this young woman with the slim silhouette who can project an infinite pianissimo over the full Wagnerian orchestra, far from the image we most often have of a Wagnerian singer. That is what projection is: not pure volume, but the ability to project the sound to the ears of each audience member, intimately.
It is difficult to guess, at this point, what direction Harteros's career will take. Verdi now occupies a central position in her repertory, and it is difficult to regret that; but it would be a pity that the Wagnerian roles where it shone so much disappear from it too completely. The decision to return to Paris, where she debuted too early just after Cardiff with her marvellous Mareschallin, is perhaps a sign that the Germanic repertory has not completely lost her. It is quite wonderful to have such a wealth of choices.
Dominique Adrian
the 25 of February, 2015
|
Print