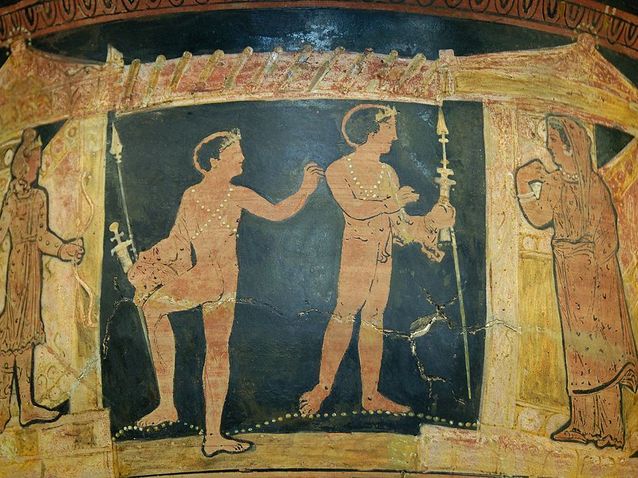 © DR
General informations
Composer:Christoph Willibald Gluck
Librettist:

Nicolas-François Guillard

Creation date:

1779

Creation place:

France

Acts number:

4

Original language:

French

Opera House of original production:

Académie Royale de Musique
Work description
Iphigénie en Tauride, Gluck's last Parisian work, is part of the lively quarrel between the "Gluckists" and the "Piccinists". Fans of the Neapolitan composer Piccini praised the superiority of Italian opera over French opera, which Gluck and his admirers considered "the true dramatic musical genre". The two rival composers squared off over a very popular topic, often exploited, whether by Campra, Scarlatti or Jomelli, to cite only the better known authors. The fate of Iphigenia, daughter of Agamemnon and Clytemnestra, abounds in dramatic conflicts and moving situations likely to arouse terror and emotion in the audience Gluck was addressing. Seeking simplicity and naturalness in the lyrical expression of feelings, the composer turned away from the complicated plots and vocal prowess of "opera seria". With this new opera, the public seemed to rediscover a taste for the theatre. Grimm wrote: "I don't know if that is singing, but perhaps it's much better." The libretto features a constant dramatic tension, a desire to strike the imagination by exploiting the key elements of a very tight plot. The powerful bonds of friendship linking Orestes to Pylades, and the fraternal love of Iphigenia determined to protect Orestes against all dangers, are the drama's essential drivers. The tumultuous storm heard in the overture announces the atmosphere of a "devilishly human" work, as Goethe put it. This storm, the template for all future operatic storms, stylishly opens the gates of romanticism. The orchestra becomes a true protagonist, ensuring the drama's continuity. Gluck, fond of verisimilitude, kept only one ballet, the "Dance of the Scythians" which fits perfectly into the action. The famous aria "Ô malheureuse Iphigénie" combines singing as a natural expression of the soul with the search for virtuosity that characterises Italian opera. With this Iphigénie en Tauride, Gluck achieves a decisive triumph, applying the great principles of his operatic reform, but the failure of his next work, Echo et Narcisse, convinced him to leave France some months later. The famous quarrel ended, and in 1781 the twin work of his rival Piccini was performed to an indifferent audience.
Summary
Iphigenia, who was to be burned alive by her father Agamemnon to allow the expedition against Troy, has been saved and carried off by Diana to Tauris, where she has become priestess to the goddess. Her brother Orestes, whom she believes is dead, arrives by chance in Tauris, accompanied by his friend Pylade. Sentenced to die by fire for having killed his mother Clytemnestra, Orestes is recognised in extremis by his sister. Diana allows herself to be swayed. Orestes will be able to return to Mycenae with Iphigenia to reign over it.
Act 1
After the Trojan War, in Tauris, Iphigenia, grand priestess to Diana, has dreamed of her father Agamemnon's palace ravaged by lightning and by terrifying murders. Clytemnestra, her mother and murderer of her husband, was in turn killed by her son Orestes. Iphigenia, despairing, wants to die to be with her lost brother. Thoas, the king of the Scythians, wants to find sacrificial victims so as to thwart the danger he fears. A group of Scythian warriors has just captured two young Greeks shipwrecked on their shores. They are Orestes and his friend Pylades. They will make two ideal victims, to the great relief of Thoas and his people, excited by the announcement of this forthcoming human sacrifice.
Act 2
Orestes and Pylades are imprisoned in Diana's temple. Orestes is crushed that he is responsible for his friend's death. Pylades is happy to be able to share the fate of the man with whom he will be closely bound until death. Pylades is taken away, leaving Orestes alone, harassed by the Furies who reproach him for having killed his mother. Iphigenia goes to see Orestes but is unaware of his true identity. From him she learns that everything she saw in her dreams was real. She is crushed, thinking her brother dead as well.
Act 3
Iphigenia decides to send one of the two prisoners to Mycenae to let her sister Electra know she is still alive. She chooses Orestes, for whom she feels a special attraction. But the man she still does not know is her brother obstinately refuses to see Pylades stay to be sacrificed. Pylades must agree to obey the will of his friend Orestes: he will leave for Mycenae. He swears he will do everything to save his friend.
Act 4
Iphigenia, who is to sacrifice Orestes, is unable to do it. When Orestes speaks of his sister killed in Aulidis, she recognises him at last. But Thoas arrives. Discovering Orestes' true identity, he now wants to sacrifice the brother and sister. Fortunately, Pylades arrives leading the Greeks to save them. Diana's appearance leads to a happy outcome. She pardons Orestes, who will be able to return to Mycenae with Iphigenia to reign over it after his father.