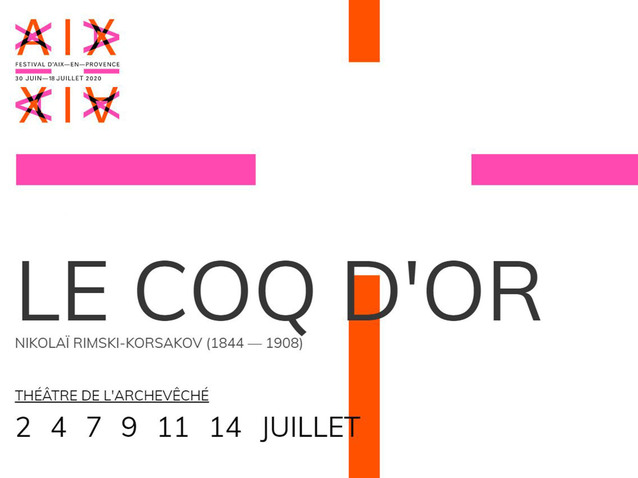 © DR
General Information
Production title:

Le Coq d'or - Festival d'Aix-en-Provence (2020)

Creation date:

02/07/2020

Work - Composer:Le Coq d'or

-

Nikolaï Rimski-Korsakov

Opera house:Théâtre de l'Archevêché
Description
New production, in coproduction with the Lyon national Opera house.
More information is available on the official website of the opera house.
Following the measures adopted by the government as part of the fight against the spread of the COVID-19 coronavirus, the 2020 edition of the festival had to be canceled.
Schedule
July 02, 2020 22:00:00
July 04, 2020 22:00:00
July 07, 2020 22:00:00
July 09, 2020 22:00:00
July 11, 2020 22:00:00
July 14, 2020 22:00:00
Casting
Michael John Harper
Work's characters list
Director
Conductor
King Dodon
Prince Gvidon
Prince Afron
General Polkan
Amelfa
Astrologer
Queen of Shemakha
Golden Cockerel
Golden Cockerel