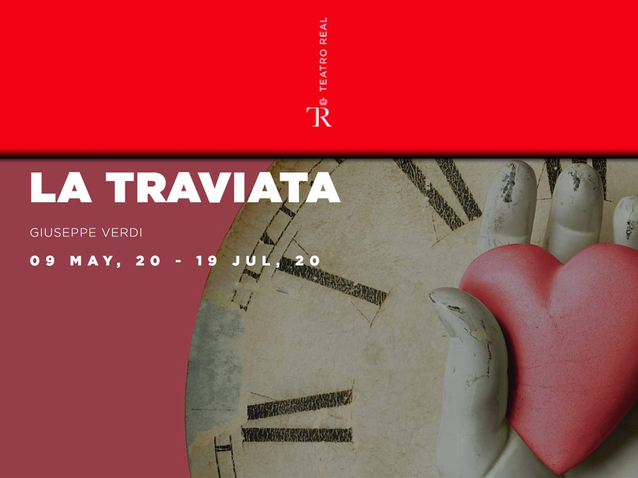 © DR
Description
Revival of the famous staging of Willy Decker given at the Salzburg Festival in 2005, with Anna Netrebko, Rolando Villazon and Thomas Hampson. It is traditionally considered as one of the references of the genre and has been repeatedly repeated, such as Metropolitan New York in 2014-2015 (read our column) or in 2017.
Update: Due to the Covid-19 pandemic, all performances in May had to be cancelled. Nevertheless, the Teatro Real de Madrid is making sure to reschedule its production of La Traviata from 1 to 29 July 2020, with a redesigned set design to respect barrier gestures and health measures - making it the first opera house to (almost) return a production to normal conditions after the health crisis.
On stage, the respect of physical distances (4m² around each performer) is materialized on the floor, and each singer has his or her own space and movements are meticulously calculated to avoid contact. The members of the orchestra wear masks (when possible) and are spaced at a distance of 1.50m from each other. All performers also have their temperature taken. The auditorium is only able to accommodate the public at half its normal capacity.
More information is available on the official website of the opera house.
Schedule
May 09, 2020 20:00:00
May 10, 2020 18:00:00
May 12, 2020 20:00:00
May 13, 2020 20:00:00
May 16, 2020 20:00:00
May 17, 2020 18:00:00
May 20, 2020 20:00:00
May 21, 2020 20:00:00
May 23, 2020 20:00:00
May 24, 2020 18:00:00
July 07, 2020 20:00:00
July 08, 2020 20:00:00
July 10, 2020 20:00:00
July 11, 2020 20:00:00
July 13, 2020 20:00:00
July 14, 2020 20:00:00
July 16, 2020 20:00:00
July 17, 2020 20:00:00
July 19, 2020 20:00:00
Work's characters list
Director
Conductor
Conductor
Violetta Valéry
Violetta Valéry
Violetta Valéry
Violetta Valéry
Alfredo Germont
Alfredo Germont
Alfredo Germont
Alfredo Germont
Flora Bervoix
Baron Douphol
Giorgio Germont
Giorgio Germont
Giorgio Germont
Giorgio Germont
Annina
Gaston
Marquis d'Obigny
Dr. Grenvil
Giuseppe, serviteur de Violetta