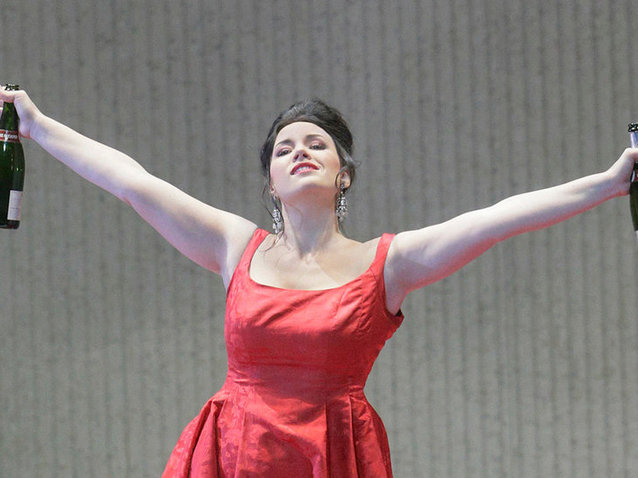 © DR
            Willy Decker's Traviata premiered in Salzburg in 2005 with Rolando Villazón and Anna Netrebko. It had already generated huge DVD sales and had become one of the most iconic contemporary productions across the opera world when Peter Gelb picked it up in 2010 for the Metropolitan Opera, consequently getting rid of the cherished but aging 1996 Franco Zeffirelli's production. Needless to say, even though New York opera critics have shown mercy towards Decker's take on La Traviata, it seems like the quite conservative Met Opera audience unanimously hates it. The production team was booed for the Met premiere and the announce of the return of this daring production generated a chain of hundreds of hateful and insulting comments on the Met Opera's official Facebook page last month. I am not going to elaborate on how hard it is to dust a 19th century opera by staging it in a contemporary way. To Decker's credit, he tried. Having said that, people got upset at this staging especially because it repeatedly ignores the libretto in such an annoying way that it is sometimes barely endurable. One example amongst a wealth of others: it is hard to explain why Violetta is on stage during the two first scenes of the second act: in Decker's production, she is part of Annina and Alfredo's conversation whereas she is at this time clearly supposed to be offstage: "Questo colloquio non sappia la signora" says Alfredo, "our lady cannot know about our talk" – well, too bad Alfredo cause she's standing right in front of you. These gaps between the libretto and the stage direction really get in the way and make it much harder to understand the storyline, especially for opera beginners who are not familiar with the plot.
            The set – singular, not plural on purpose – is quite simple: a curved wall in the back surrounds the stage. At times, especially when the singers are close to it, this huge wall echoes the voices, producing an unexpected and unpleasant effect. A few cheap looking and dirty couches – they obviously haven't been cleaned or fixed in 5 years, which is why they are quite dirty: it is not on purpose, I insist – are moved around by the choir to model the different sets of the opera: Violetta's apartment, Alfredo's house, Flora's party. A huge clock is constantly on stage to remind Violetta and the audience that her time is counted. The symbolic of the clock is the only thing every single person in the house will understand. For the rest, a little digging is required: the gypsies and the matadors bullying Alfredo with the help of an androgenic alter-ego of Violetta; the matador carrying a giant piece of cardboard with the Chicago Bulls bull head on it; the constant presence on stage of the doctor; the whole choir dressed as men; most of the second roles dressed just like the choir and therefore absolutely not recognizable. Because I have seen La Traviata quite a few times, I was inclined to entangle Decker's additions to the story. However, I believe they can be really confusing for the young audience. Contemporary opera stagings can and should really be contemporary without being elitist.
            Everyone stood up at the end. It was certainly not for this mean giant clock that seemed to have trapped a technician during Act 3 – we could see the poor man probably in charge of moving the arrows struggling under it for a while. Everyone stood up for Sonya Yoncheva who is now already used to long Met Opera House standing ovations. Despite the complete lack of stage direction, she threw an unbelievable performance, showing how great of an actress she can be. Violetta had never seemed to me so confident, so determined but so frail at the same time. She rendered the two sides of her character with great intelligence. Her voice was hesitant for literally the first two minutes and then, it suddenly took off, started wrapping up the whole house and mesmerizing the audience with beautifully executed nuances and perfectly centered pitch. What really makes Sonya Yoncheva stands out from other singers on the circuit is that her singing seems completely effortless. It is kind of magical: there is no sign of breathing, no pause in her acting; the technique completely disappears under her being Violetta and beautiful sound. Francesco Demuro's Alfredo is on the shy and reserved side, which goes perfectly well with the character. He encountered some difficulties during "Lunga da lei" (one cannot imagine how hard it must be to sing "Lunga da lei" first wearing underwear and then putting on a suit and a tie), but sang with strong constancy otherwise. Aleksei Markov had an incredible ring in his low and middle range but unfortunately, his voice positioning tended to get narrower as he went high and his high notes lacked the resonance he had gotten us used to at first. Thus, the beautiful baritone arias of the second acts were still impeccable but left us a bit frustrated. The Met audience and orchestra seem to both love the energy Marco Armiliato who was as usual irreproachable with his musicians and extremely attentive to the singers.
            Sonya Yoncheva was by herself on stage at the beginning of the curtain call and the whole house got up immediately, something rarely seen at the Met Opera House. She is now rumored to sing for next season's opening night here in Otello. Her fulgurant ascension as the new Metropolitan Opera Muse is well deserved and much appreciated.
Thibault Courtois
the 20 of January, 2015
|
Print