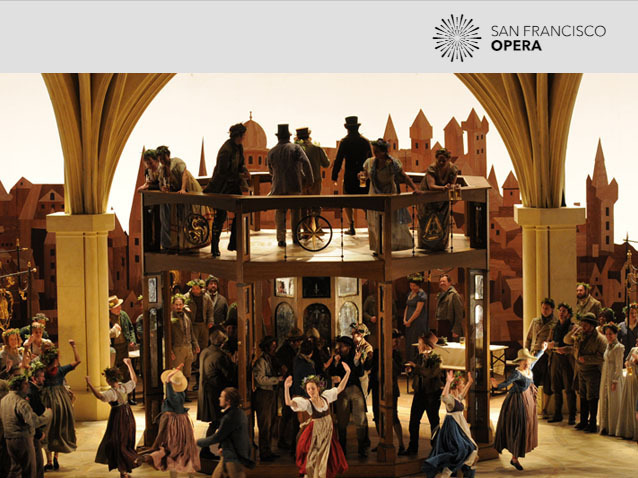 Description
Co-production with Lyric Opera of Chicago and Glyndebourne Festival Opera.
In his comic masterpiece, Wagner set aside gods and goddesses to tell a touchingly human story about the power of art. When an impetuous young singer arrives in a proud German city determined to dazzle the townsfolk and win the love of a beautiful woman, his attempts to prove himself find sympathy in a wise cobbler-poet.
Acclaimed Wagnerian Mark Elder conducts a stellar cast headed by noted British baritone James Rutherford as Hans Sachs. San Francisco Opera favorite Brandon Jovanovich returns in a richly detailed and joyful production by David McVicar.
Greer Grimsley, previously announced to sing the role of Hans Sachs, has withdrawn from the production due ongoing health issues.
More information is available on the opera house's official website.
Schedule
November 18, 2015 18:00:00
November 21, 2015 18:00:00
November 24, 2015 18:00:00
November 27, 2015 18:00:00
December 02, 2015 18:00:00
December 06, 2015 13:00:00
Casting
Sam Handley
Philip Horst
Joel Sorensen
Corey Bix
Joseph Hu
Matthew Stump
Andrea Silvestrelli
Work's characters list
Director
Conductor
Hans Sachs
Veit Pogner
Sixtus Beckmesser
Walther von Stolzing
David
Eva
Magdalene
Kunz Vogelgesang
Konrad Nachtigall
Fritz Kothner
Balthazar Zorn
Augustin Moser
Eisslinger
Hans Foltz
Hans Schwarz
Hans Schwarz
Ein Nachtwächter