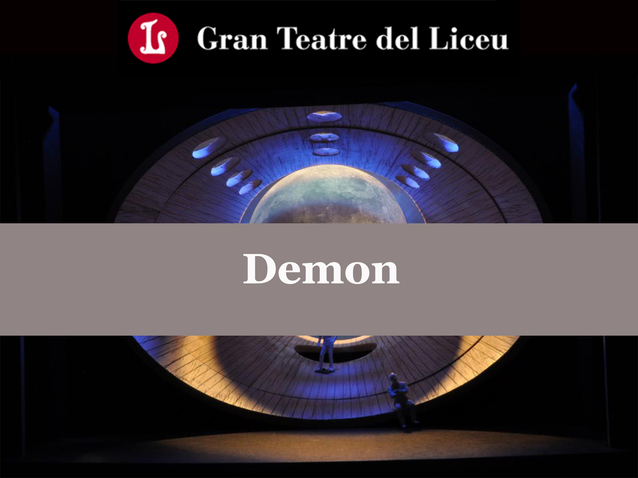 © Copyright all right reserved
General Information
Production title :

Demon - Gran Teatre del Liceu (2018)

Creation date :

01/01/2015

Work - Composer :

Demon

-

Anton Rubinstein

Opera house :Gran Teatre del Liceu Barcelona.
Description
Opera in three acts. Premiere at the Gran Teatre del Liceu.
Rubinstein's materpiece about the demon's love obsession.
Anton Rubinstein wrote more than fifteen operas, of which only Néro was seen in the Liceu in 1898. It was the first Russian opera staged in Barcelona. The composer and pianist - Liszt's rival - performed on two occasions at the Liceu. He played in the orchestra on one of them for the ballet of his opera, Demon, based on the homonymous poem of the "cursed" Mikhail Lermontov, branded as sacrilegious and blasphemous by the Russian ecclesiastical censors.
With this co-production, the Liceu contributes to the rediscovery of one of the most genuinely Romantic operas of the Russian repertoire, along with the celebrated titles by Mussorgsky or Tchaikovsky. This is an excellent opportunity to recover a classic of Slavic opera, starring the acclaimed Russian baritone, Dmitri Hvorostovsky in the lead role and as part of one of his favourite operas.
More information is available on the official website of the opera house.
Schedule
April 23, 2018 20:00:00
April 26, 2018 20:00:00
April 29, 2018 17:00:00
May 02, 2018 20:00:00
May 05, 2018 20:00:00
May 08, 2018 20:00:00
May 11, 2018 20:00:00
Casting
Alexander Zymbalyuk
Igor Morosow
Antoni Comas
Work's characters list
Director
Conductor
Demon
Prince Gudal
Prince Sinodal
Old servant
Tamara
An angel
Nurse
Courier