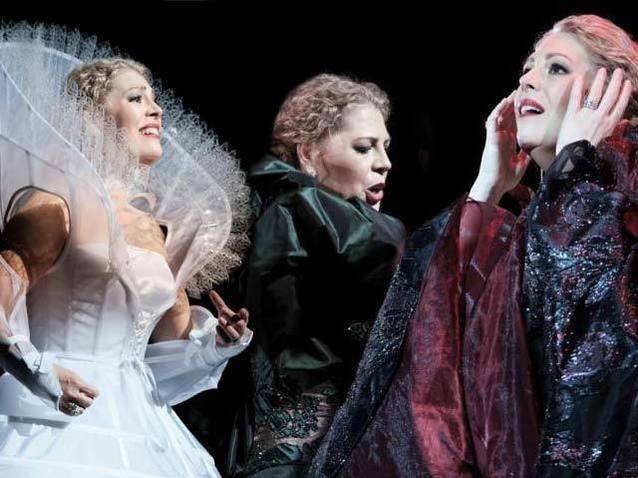 © Paco Amate / Pig Studio
Although initially planned for the 23rd December, but later postponed due to the pandemic, we were able to finally witness – spread in two performance on the 6th and 8th May – at Liceu the show Radvanovsky: The Three Queens, which until now had only been seen at the Lyric Opera of Chicago. The Three Queens consists of the overtures and final scenes from Anna Bolena, Maria Stuarda and Roberto Devereux, the so called 'Tudor Trilogy' by Gaetano Donizetti.
The Three Queens, an idea suggested by maestro Riccardo Frizza to Sondra Radvanovsky that she enthusiastically accepted, is much more than a diva recital, it is a complete show, very well-articulated and thought through. The dramatic coherence of the set goes far beyond the spectacular costumes created for the occasion by Rubin Singer, who proposes for each opera a different diva style dress inspired by period costumes. There is also a certain movement on stage by the choir and the secondary characters, the minimum to hint at the dramatic context, and above all an ingenuous use of lighting, different for each opera but with a common thread. The performance travels without a fixed staging and each theatre adapts it to their taste or possibilities. In Liceu's case, the staging was entrusted to Rafael Villalobos and the result was ideal.
The different scenes are presented in the chronological order in which they were composed, which also coincides with the characters' historical succession. The show is a masters' degree in belcanto, as the scenes are long and highly demanding, with each character requiring a different kind of vocal profile: powerful lower register with highly dangerous top notes in Anna Bolena, central register and lyrical lines in Maria Stuarda and great dramatic coloratura requirements in Elisabetta (Roberto Devereux). If each scene is difficult, the ensemble of all three poses an imposing and exhausting challenge, which very few sopranos would be able to face with chances of survival.
Sondra Radvanovsky didn't seem comfortable in Anna Bolena, the top notes sounding slightly tense and forced, she was perfect in Maria Stuarda and had energy to spare to successfully engage in the vocal acrobatics in Elisabetta's role in Roberto Devereux. From an interpretation perspective, Radvanovsky presented her characters as strong intense and vehement women. From a strictly vocal perspective there might have been at Liceu – Montserrat Caballé's sanctuary – more subtly refined, ethereal and immaterial versions. In any case her, interpretation was very good, one of the best possible at the moment.
Maestro Frizza knows Radvanovsky very well and followed her with perfection. Less perfect, or rather less perfect, were the overtures of the operas, which separated the scenes and allowed the soprano to recover and change the complex costumes.
The success was tremendous, memorable. If there's something that always triumphs at Liceu that is well served belcanto.
Xavier Pujol
Gran Teatre del Liceu. Barcelona, 6th May 2021
© Paco Amate / Pig Studio
Sondra Radvanovsky, soprano. Gemma Coma-Alabert, mezzosoprano. Marc Sala, tenor. Carles Pachón, baritone. José Luis Casanova, tenor. Dimitar Darlev, bass. Scenes from Anna Bolena, Maria Stuarda and Roberto Devereux by Gaetano Donizetti. Orchestra and Choir of Gran teatre del Liceu. Riccardo Frizza, conductor. Staging, Rafael Villalobos.
the 09 of May, 2021
|
Print