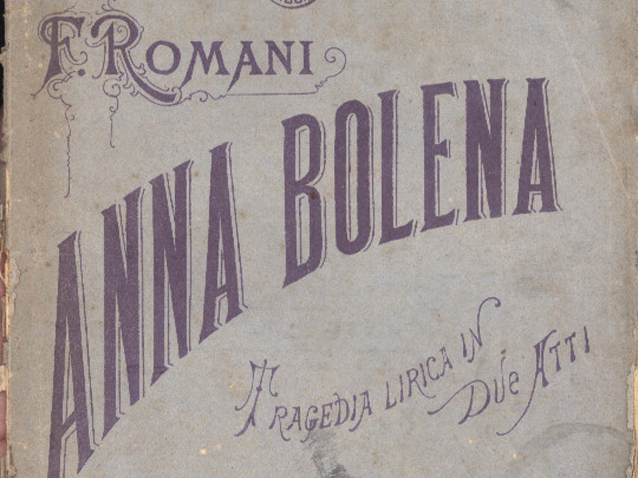 General informations
Composer:Gaetano Donizetti
Librettist:

Felice Romani

Creation date:

1830

Creation place:

Italy

Acts number:

2

Original language:

Italian

Opera House of original production:

Teatro Carcano
Work description
"Everyone says they can't remember having attended such a dazzling triumph. I am so happy I want to cry." Gaetano Donizetti thus describes to his wife the reception given to Anna Bolena, his twenty-ninth opera, composed in less than a month. The libretto by Felice Romani, one of the period's most gifted librettists, gave him very strong characters facing situations of amazing dramatic power. The painful path followed ineluctably by Anne Boleyn, sentenced to a death that had been decided in advance in defiance of all justice, forms the plot of this work that marks Italian opera's entry into the new era of Romanticism. Rid of Rossini's influence, Donizetti managed to revive his music writing to achieve a perfect accord between the art of bel canto and the theatrical emotion carried by very moving characters. The renowned Giuditta Pasta, the leading interpreter of Norma La Sonnambula, was to create the title role. Donizetti took full advantage of all the resources offered by this very unique voice with the tessitura of a dramatic coloratura soprano. The challenge of a score containing multiple vocal difficulties, added to growing disinterest in a world deemed grandiloquent and artificial, may explain the disappearance of the work from the late 19th century until its exciting revival in 1957 at La Scala: Maria Callas, with her ample soprano timbre capable of vocalising with the utmost refinement, and the sumptuous staging of Luchino Visconti, brought Anna Bolena triumphantly back to life as a masterpiece of romantic bel canto. More recently, the great Anna Netrebko gave a magnificent interpretation of this unjustly sacrificed queen.
Summary
King Enrico (Henry VIII) has set his heart upon Giovana  (Jane Seymour), a lady-in-waiting to Queen Anna (Anne Boleyn) whom he previously had forced to separate from her lover, Lord Percy, to marry him. In order to be able to satisfy his new desires, the king now seeks to accuse Anna of treason. He summons Lord Percy, still in love with Anna, back from exile, and finds a pretext to set up a meeting between the two former lovers, taking the opportunity to accuse Anna, who will be imprisoned, judged and sentenced to death unjustly. 
Act 1
After divorcing to marry Anna, Enrico has set his heart upon Giovanna, who refuses to engage in an illicit liaison with him. Enrico now seeks a pretext to accuse Anna of treason. He recalls her former lover, Lord Percy, back from exile; during a secret meeting, Percy tells Anna of his passion for her, then threatens to stab himself with a sword when she refuses to listen further. The young musician Smeaton, also in love with the queen, surprises their meeting and mistakes Percy's intentions, suspecting him of wanting to murder Anna. His intervention leads to Enrico's arrival. Accusing his wife of adultery, the king has everyone arrested. Anna understands that her fate is sealed ("Ah, segnata è la mia sorte").
Act 2
Anna is imprisoned in the Tower of London. Giovanna goes to visit her, advising her to plead guilty. Anna discovers that Giovanna is her rival and begins to curse her until she realises that Enrico alone is guilty. Moved by the queen's generosity, Giovanna leaves, despairing. Accused of treason, Anna and Percy are sentenced to death. In vain, Giovanna begs the king for mercy. Anna goes out of her mind. She begins raving, thinking she is reliving the day of her wedding to Enrico; while the condemned prepare to die, bells ring and the sound of canon fire announces the marriage of Giovanna and Enrico ("Coppia iniqua, l'estrema vendetta").