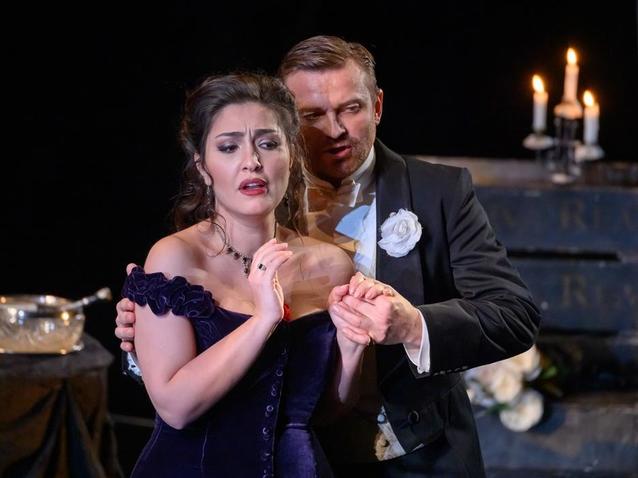 © A. Bofill
La Traviata managed to premiere at Liceu on the 5th December, but had to cancel performances during the following days due to the context of endless push and pull between the cultural Catalan institutions and the health authorities around maximum audience capacity numbers permitted at concert halls and theatres. La Traviata came back to the stage from the 14th and perhaps will, finally, manage to survive as the strong point of the theatre's festive period. This greatly popular opera, adored by the  audience, should help to heal the theatre's impoverished finances.
This is a production signed by David McVicar, which premiered at the Scottish Opera in Glasgow in 2008, and has successfully toured many theatres. It is a conventional, traditional and canonical production which is visually well rounded and pays attention to many details which enrich its dramaturgy.
Liceu summoned up to four sopranos - Kristina Mkhitaryan, Pretty Yende, Lisette Oropesa and Ermonela Jaho - to sing the role of Violetta, two tenors - Pavol Breslik and Dmitry Korchak - for Alfredo's role and up to three baritones - George Gagnidze, Giovanni Meoni and Àngel Òdena - for the role of Giorgio Germont. The conductor role was entrusted to Speranza Scappucci, known at the theatre for her concert version of Attila from the 2017-18 season.
At the performance on the 17th December, which achieved very high artistic results, the role of Violetta was sung by Russian soprano Kristina Mkhitaryan, debuting at Liceu; Alfredo's role was performed by Mexican tenor Arturo Chacón Cruz, who was called at the last minute to replace the announced singer, Dmitry Korchak, as he was unable to perform due to sickness; and Àngel Òdena interpreted Giorgio Germont.
The performance clearly picked up progressively from a vocally only correct beginning  to a much improved level from the second act.
Kristina Mkhitaryan was ok but not outstanding in "Sempre libera" and began to shine with a magnificent dramatic register in the duo from the second act with Giorgio Germont. She presided with authority the great final ensemble from this act and took ownership of the third act with a superb "Addio del passato", where she showed the most beautiful filato sound in the phrasing's pianissimo endings and, above all, a dramatic intensity which was powerful and touching.
Arturo Chacón Cruz, who joined the cast with very little notice and could barely rehearse, started with great caution. His "Libiamo" sounded more likely to have been sung by a prudent church tenor than from a passionate opera singer. However, his "De miei bollenti spiriti" was already completely operatic in style and from then on continued to improve until achieving truly remarkable results.
Àngel Òdena was excellent from the beginning and his Giorgio Germont was exemplary. The awaited "Di Provenza il mar il suol" received long and well-deserved applause.
The main merit for the good musical results achieved must be attributed to the great work from Italian conductor Speranza Scappucci. She brought together well the voices and the instruments, balanced the orchestral sound accurately and allowed the woodwinds to shine when needed. Her fundamental triumph was, however, the skilful administration of the silences, knowing when to slow down the tempi as well as holding the fermate for the necessary amount of time so they would become dramatically significant.  
Managing to make silences 'speak' is one of the great skills of a conductor, and Speranza Scappucci already has it. 
Xavier Pujol
Barcelona, 17th December 2020
La Traviata by Giuseppe Verdi. Kristina Mkhitaryan, soprano, Laura Vila, mezzosoprano. Gemma Coma-Alabert, mezzosoprano. Arturo Chacón Cruz, tenor. Àngel Òdena, baritone. Orchestra of Gran Teatre del Liceu. Choir of Gran Teatre del Liceu. Speranza Scappucci, conductor. David McVicar, stage director. Marie Lambert, re-staging. Tanya McCallin, scenography and costumes. Andrew George, choreography. Jennifer Tipton, lighting. Production by Gran Teatre del Liceu, Scottish Opera (Glasgow), Welsh National Opera (Cardiff), Teatro Real (Madrid). 
the 21 of December, 2020
|
Print