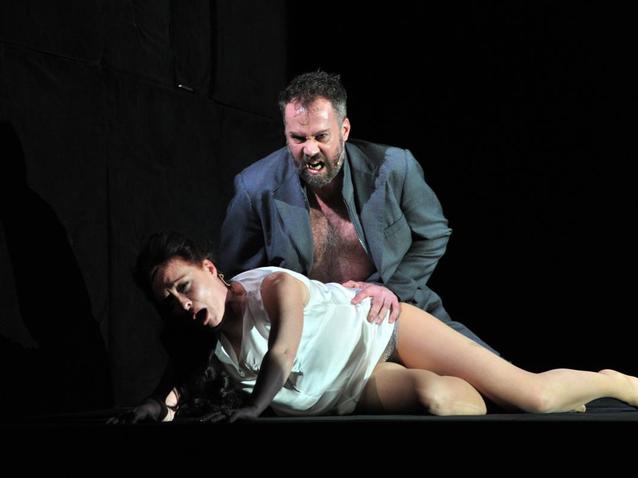 © Antoni Bofill
Composer Luca Francesconi clarified the purpose of his piece to journalist Tom Service (The Guardian 19/06/2014) for the premiere of his opera Quartett in London in 2014:
Don't dare to come if you can't accept that you need to analyse what you do and who you are. This piece is violent, it's sex, it's blasphemy, it's the absence of mercy. The only two characters in the opera are the definition of cynical, they have made a pact that they don't have to love any more. Love and sentiment are banned, the only thing that's left and that matters is a kind of chess game with people's souls and bodies. So don't come if you have problems in your relationship, you might discover something you might not want to! But do dare to come if you can face the reality of how dried up your heart is, how little space there is in your feelings for anything that doesn't come from being self-defensive, from being totally scared by the world. We are prisoners of our fears. That's the real last message of this piece, that we can no longer hide our problems – and that we shouldn't."
This is exactly what Quartett is. The opera, commissioned by Teatro alla Scala and first premiered in 2011, is now being premiered in Spain with its arrival in Barcelona.
Quartett - Gran Teatre del Liceu (© A. Bofill)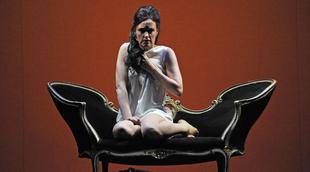 Quartett - Gran Teatre del Liceu (© A. Bofill)
Quartett, with a libretto by Francesconi himself, is articulated in 12 scenes and an epilogue that constitute one sole act of just over 80 min of duration. It is based on the homonymous theatre play by Heiner Müller, which in turn is a free interpretation of Pierre Choderlos de Laclos's epistolary novel Les liaisons dangereuses, published in 1782, one of the great 'libertine novels' from the late 18th century.
The play has been put into film in various occasions, the most famous being Stephen Frears's Dangerous liaisons (1988) with John Malkovich, Glenn Close and Michelle Pfeiffer in the leading roles.
Müller and Francesconi, as well as Frears, transcend the scandalous original and go a step further in the analysis of the characters, getting to a certainly unsettling core. The result is a fascinating, repulsive piece, filled with evil. An amoral, uncomfortable, uneasy and terribly aggressive work that often is illuminated by a lightning of lucidity that faces the audience with some distressing unbearable truths about the human nature.
With only two performers, baritone and soprano, who adopt four characters, it isn't easy to bring Quartett to the stage. The production presented in Barcelona, directed by Alex Ollé (La Fura dels Baus) is the same from the premiere, but different from the one directed by John Fulljames at the Linbury Studio Theatre in London in 2014.
Ollé's production, with scenography by Alfons Flores, is visually striking, powerful, superb. A claustrophobic box hanging in the middle of the stage by 300 thin steel cables shelters the two performers for the duration of the piece, highlighting their isolation, their wanted and sick loneliness. Outside the box with giant projections on a screen as big as the stage we see the fantasy world of the characters.
Quartett's main problem, not minor at all, is the music. We obviously didn't expect airs, cabalette and love duos, but perhaps a music that somehow resonated with the formidable dramatic tensions of the stage. This doesn't happen, or if so very relatively, and it results in an often very monotone music both in the vocal as well as the instrumental parts. The piece is built in a not much innovative atonal language that often draws on Sprechstimme and makes use of a resource that isn't very innovative either: pre-recorded vocal and instrumental parts on top of which the orchestra and singers perform live.
Quartettis most probably a great show but, specifically, it isn't a great opera.
The performance on the night of the premiere reached very high and fully satisfactory levels. The conductor Peter Rundel achieved bringing together a score with complex polyrhythms that at the same time needed to be in synchrony with the pre-recorded material. The singers, baritone Robin Adams and soprano Allison Cook, the same that first premiered the piece, facing a highly demanding score that in the case of the baritone obliged him to sing in falsetto at points, offered a great performance that the audience praised with significant applause.
Quartett by Luca Francesconi. Robin Adams, baritone. Allison Cook, soprano. Gran Teatre del Liceu Orchestra. Peter Rundel, conductor. Alex Ollé (La Fura dels Baus), stage director. Alfons Flores, scenography. Franc Aleu, video. Serge Lemouton, sound design (IRCAM). Production, Teatro alla Scala, Milan. Gran Teatre del Liceu. Barcelona, 25th February.
the 25 of February, 2017
|
Print