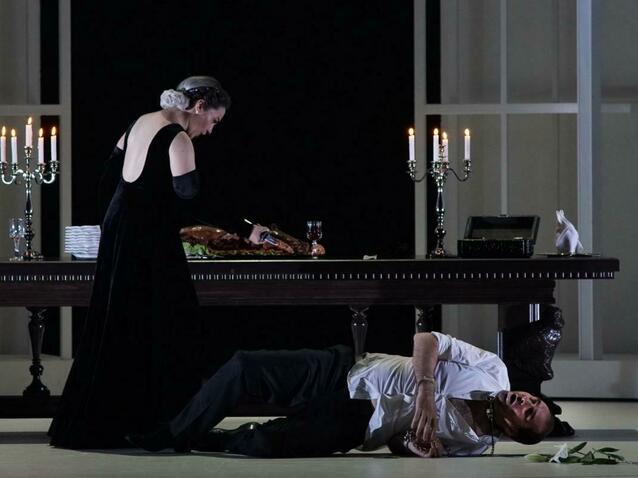 © Karl Forster
Tosca, one of the titles in the repertoire that performs best at the box office, has returned to Liceu to reach the figure of two hundred performances in the history ofthe Barcelona theatre. It has done so in a co-production between Liceu and other Spanish and European theatres under the direction of the young Sevillian director Rafael R. Villalobos, aspiring enfant terrible of today's operatic stage direction.
Villalobos's Tosca is one of those that needs an instruction manual in order to work and when a stage show needs a lot of prior explanations to be understood, things get complicated.
The production, on a unique circular scenography that ends up becoming boring, presents us with a Cavaradossi who, in a kind of mirror game, is an alter ego of the Italian cinematographic director Pier Paolo Pasolini, murdered in 1975. Both artists were inconvenient to the religious and political power that would end up destroying them.
Villalobos had previously worked with the idea of bringing in real artists as characters in his operatic productions. He did so in his approach to Handel's Orlando, in July 2021 for the Peralada Festival, incorporating there as a character the author Virginia Woolf who is supposedly writing her famous novel Orlando simultaneously with the action of the opera.
From this good enough central idea of bringing Cavaradossi and Pasolini together other secondary ones appear, such as vaguely associating the "diva" Floria Tosca with the "diva" Maria Callas.
Visually, all this is materialized with the frequent presence of a mute character on stage that would be Pasolini, with arrangements on stage that recall Salò, his posthumous film, with added scenes from his life. Everything is a bit too far-fetched and complex and this which means that this production can be interesting for those who already know Tosca in depth, but it is totally inadvisable for those approaching Puccini's great drama for the first time as they would not understand anything.
Tosca contains in its libretto and in its stage action a lot of sexual violence and Villalobos has spared no effort to make it provocatively visible with references to an alleged pederasty by the sacristan of Sant'Andrea della Valle in the first act, orgies with naked extras in Palazzo Farnese and a sado-masochist festival in the scene of Scarpia's death.
The patience of much of the audience was exhausted by a silent scene of homosexual prostitution between Pasolini and Pino Pelosi, his alleged killer, although subsequent investigations cast doubt on whether he was solely responsible for his death. This scene, completely invented by Villalobos, added between the first and the second act, received a monumental boo that had not been heard at Liceu for more than twenty years.
The scene wasn't relevant, it wasn't part of Tosca, but the overreaction from the audience is also suspicious considering that irrelevant scenes have often been calmly swallowed in many productions. Perhaps there was a hint of homophobia in the outraged reaction.
If stage-wise this Tosca was controversial, musically, as a whole, it was no more than correct and sufficient. Michael Fabiano was a good Cavaradossi, convincing, unflinching, with an important, beautiful, well-toned voice and brave, bright high register.
Maria Agresta, one of the four sopranos (Radvanovsky among them) who will face the role of Tosca in the fifteen performances that will be offered in total of the opera, also has a good voice and her performance was perfectly sufficient, but she lacks that point of grandeur, opulence and vocal drama to excel in a legendary role that has been tackled by all the great sopranos of the last century. Her Tosca is good but not unforgettable.
Željko Lučić made a dramatically flawless Scarpia and knew how to be perverse, corrupt, cruel and sadistic. Vocally, however, he was excessively uniform and even and did not incorporate into his singing all the nuances that he knew how to embody as an actor.
Henrik Nánási, the music director, wasn't very pleasant. The orchestral sound was thick, unrefined and on many occasions it covered the voices. The choir, which in this production always sings offstage - another mistake - didn't have its best day either.
At the end, there was a warm but not stentorian applause for the performers, and a mix of heated applause and equally heated rejection for the production.
Any stage show must try to achieve success; if it cannot be so, at least it must achieve great failure, what is not tolerable on stage is tedium and boredom. This Tosca is many contradictory things, but it isn't boring at all.
Xavier Pujol
Barcelona, January 4th, 2023
Tosca by Giacomo Puccini. Maria Agresta, soprano. Michael Fabiano, tenor. Željko Lučić, baritone. Orchestra from Gran Teatre del Liceu. Choir from Gran Teatre del Liceu. Henrik Nánási, conductor. Rafael R. Villalobos, stage director and costumes. Emanuele Sinisi, scenography. Felipe Ramos, lighting.Santiago Ydáñez, pictures. Co-production by Théâtre Royal de la Monnaie, Gran Teatre del Liceu, Teatro de la Maestranza, Salas del Arenal and Opéra Orchestre National Montpellier. Gran Teatre del Liceu. 
the 06 of January, 2023
|
Print