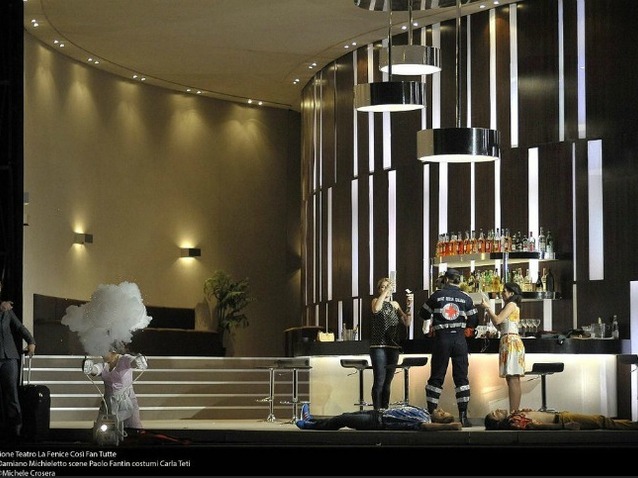 Mozart described his Così fan tutte as a dramma giocoso. The Venetian stage director, Damiano Michieletto, who debuted at Liceu with this production created for La Fenice in 2013, is interested a lot more in the dramatic or even tragic side of it, than in the giocoso element.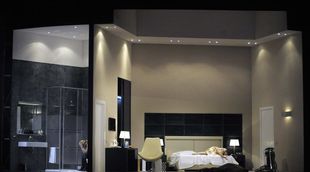 It starts with a distorted take on Don Alfonso's character, who turns from a "vecchio filosofo" to a cynical, embittered alcoholic who manipulates and mistreats the characters. From this perspective, the frivolous but rather innocent "couple exchange" of the initial plot becomes a lucid analysis of the fragile nature of feelings. Così is therefore transformed into an account of internal growth where the access to wisdom is paid at a high price: the loss of innocence. The characters will be playing with a dangerous fire made of feelings and they will end up getting burned, as the return to the initial situation will be impossible.
In order to make this whole thing work, Michieletto locates the opera in a modern luxury hotel where the tempting mixture of comfort, opportunity, privacy and anonymity facilitates an erotic encounter. The theatrical management of the characters is accurate; the drama disregards the coherence or consistency with the text, and favours abstract emotions rather than the anecdote. The staging, with a revolving scenery, works fluidly and nimbly. The scenography is by Paolo Fantin and the costume design by Carla Teti.
Musically, Così is a prodigy, an exquisite and precise machinery dedicated to the musical expression of emotions, especially when it leaves the innocent play behind and enters an ambiguous game of double meanings – so well-known in the 18th century. Mozart shows the internal evolution of each character through the music and embellishes it with subtle nuances. As it often happens in his great operas, Così is musically very difficult to ruin, but almost impossible to achieve with perfection. Furthermore, having more group scenes than any other of Mozart's operas, it is difficult to make it come together in tempo.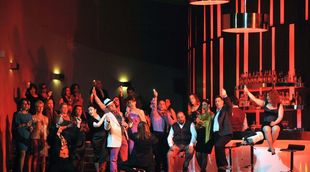 Josep Pons, did quite well in the opening night, you could tell that there was good and long work behind it. However, the perfect fitting will only be achieved in the following performances. The orchestra attempted to sound Mozartian, transparent, balanced between the different sections. The woodwinds featured distinctively well and the dynamics were respectful of the voices.
On the vocal side of things, a general good level was achieved without regrets but without any memorable surprises either.
Juliane Banse, debuting at Liceu, was a good Fiordiligi, she managed a demanding score and reached her best moment in "Per pietà", where she was able to convey the character's turbulence and tormenting feelings of guilt. This was announcing the fact that, out of the general emotional catastrophe resulting from Così, she would end up being the most wronged.  Maite Beaumont delivered a likeable and light Dorabella that would have been even better with more brightness in the voice. Joel Prieto, a Madrilenian tenor, who was only known to Liceu by his Fenton (Falstaff), turned out as a good Mozartian tenor, with a clear and well projected voice and a beautiful phrasing. Joan Martín-Royo did very well in the role of Guglielmo, but once more a bigger vocal presence would have been helpful. Sabina Puértolas, especially favoured by this production, honoured the character and enriched it with grace. Only by the end she showed signs of vocal weariness.  Pietro Spagnoli convincingly shifted the register of his role suggested by the staging and reflected it in the vocal expressivity by turning each intervention to a bitter poisoned dart.
by Xavier Pujol
Così fan tutte by Mozart.
Orquestra Simfònica of Gran Teatre del Liceu. Josep Pons, conductor. Damiano Michieletto, stage director.
Production of Teatro La Fenice (Venice). Gran Teatre del Liceu. Barcelona, 20th of May.
the 25 of May, 2015
|
Print