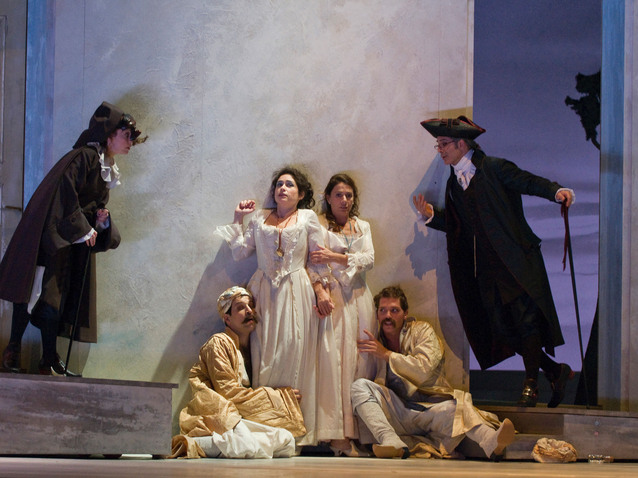 © DR
General informations
Composer:Wolfgang Amadeus Mozart
Librettist:

Lorenzo da Ponte

Creation date:

1790

Creation place:

Austria

Acts number:

2

Reference:

K.588

Original language:

Italian

Opera House of original production:

Burgtheater
Work description
Wacky farce, philosophical fable about love, romantic and desperate tragicomedy – Così fan tutte is all that. Borrowing the subject of the Marriage of Figaro from Beaumarchais and Don Juan from Molière, Mozart and his librettist Lorenzo Da Ponte came up with an original subject, about which it was long claimed that Emperor Joseph II himself had suggested it on the basis of a real-life Viennese story. Yet the unique plot is based on themes seen repeatedly and cultivated in literature and theatre since their origins, from Ovid to the Commedia dell'Arte. The story? A bittersweet meditation on women's faithfulness against a backdrop of disguises, false goodbyes and deceptions – Così fan tutte means "They all act like that" or, in other words, "All women deceive men". A treatise on feelings wavering between libertinage, tenderness, burning love and resignation, the work is carried along by a score that never deceives or lies, perhaps the most radiant ever written by Mozart.
Summary
The plot takes place in the Bay of Naples in the 18th century. Deeply convinced of women's infidelity, the cynical Don Alfonso provokes his young friends Ferrando and Guglielmo by impugning the constancy of their fiancées, sisters Dorabella and Fiordiligi. To prove his assertion, Alfonso proposes the following plan to them: that they tell their fiancées they are leaving for war, and then return dressed as Albanian soldiers, ready to do anything to seduce the lonely fiancées. With their "real" lovers gone, Fiordiligi and Dorabella appear outraged when their servant Despina (Don Alfonso's accomplice) introduces into their home the two Albanians, who quickly prove very enterprising. The two sisters at first reject them virtuously but soon allow themselves to be seduced by these new suitors who, under a false identity, gradually become disillusioned as they see their mistresses betraying them. "They all do that!" ("Così fan tutte") Don Alfonso concludes, delighted to have proved his theory. When the deception is revealed, the two couples reunite despite it all, with no great illusion about their happiness.
Act 1
The old and cynical Don Alfonso tells his two friends Ferrando and Guglielmo, both army officers, that women cannot be trusted: outraged, Ferrando and Guglielmo boast of the constancy of their fiancées, Dorabella and Fiordiligi. Don Alfonso suggests that they put their fidelity to the test in a wager – on the condition that the two officers agree not to say anything to their fiancées and obey his orders. Assisted by the soubrette Despina, Don Alfonso tells Dorabella and Fiordiligi that their fiancés are leaving for war: they appear sincerely sad. The two sisters join with Alfonso in a rousing goodbye trio.
While Dorabella expresses an exaggerated despair, Alfonso and Despina bring into the young women's home their fiancés disguised as Albanians, who immediately declare their passion: the fake Guglielmo will try to seduce Dorabella, and the fake Ferrando, Fiordiligi. In a great and passionate aria, the latter declares that her faithfulness can withstand anything.
The two friends laugh as they see Don Alfonso's plan fail; patience, Alfonso advises… Ferrando sighs.
Act 2
Don Alfonso's ruse is beginning to work, and the young women seem progressively aroused by the fake Albanians. Dorabella accepts the idea of having a bit of fun, soon, each of them is taking on a new lover. Guglielmo quickly wins over Dorabella.
Though she holds out longer than her sister, Fiordiligi ends up giving in to Ferrando. Just as Despina, disguised as a notary, is drawing up a fake marriage certificate for the newly formed couples, a trumpet announces the return of their real fiancés. Panic ensues. The terrorised sisters discover the deception: the two men initially find it difficult to forgive, but Don Alfonso suggests that the lovers reconcile. Without any more illusions, the couples re-form: isn't it better to laugh about it?