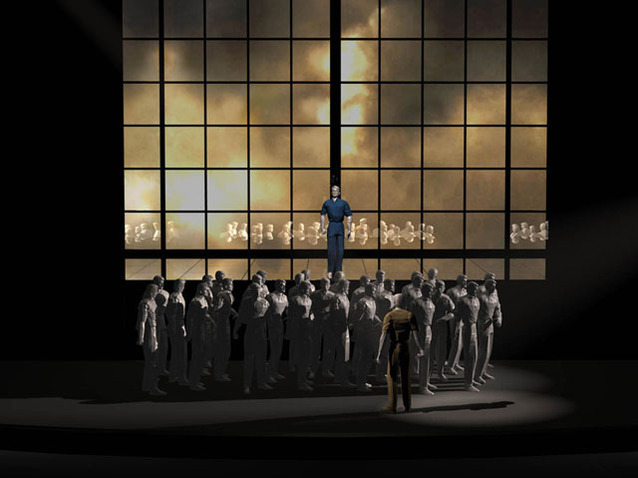 Barcelona. Gran Teatre del Liceu. 12/04/2016. Verdi, Simon Boccanegra. Leo Nucci, baritone. Barbara Frittoli, soprano. Josep Bros, tenor. Vitalij Kowaljow, bass. Àngel Òdena, baritone. Damián del Castillo, baritone. Francisco Vas, tenor. Raquel Lucena, soprano. Symphonic Orchestra of Gran Teatre del Liceu. Choir of Gran Teatre del Liceu. Massimo Zanetti, conductor. José Luís Gómez, stage director. Susana Gómez, rerun of the staging. Co-production of Gran Treatre del Liceu and Grand Théâtre de Genève.
***
The last minute indisposition of tenor Fabio Sartori resulted in the debut of Josep Bros, the tenor from Barcelona, in the role of Gabriele Adorno. Having based his solid reputation on the bel canto repertoire, in his maturity he is evolving to characters of greater vocal thickness such as this important Verdian role, which he was preparing but hadn't yet sung.
Bros's Gabriele has quality, is well rounded in the high spectrum and of good style, although it lacks some vocal weight in the more dramatic passages. His unexpected and successful debut was the main incentive of a night that on the whole was correct but anodyne, including some disappointments and only reaching excellence in few occasions.
Leo Nucci, who will share the role of Simon Boccanegra with Giovanni Meoni and Plácido Domingo in the remaining performances, started strongly and only by the end showed some signs of fatigue. The mastery in style, magnificent musicality, beautiful singing line and deep knowledge of the character compensate for the noticeable vocal weakening of the septuagenarian baritone in his performance of a part that, regardless of spending the whole of the third act agonising, is physically highly demanding.
The unexpected painful disapointment came with Barbara Frittoli, the Milanese soprano, in the role of Amelia. Probably feeling unwell, she started in poor condition, with an untimbred voice with scarce projection and unbalanced dynamics, tight in the higher notes and a surprisingly feeble in the middle register. She got in better shape through the performance but failed to honour her prestige.
Àngel Òdena was convincing and decisive, although not very refined and somehow gruesome, in the part of Paolo, the bad guy. Vitalij Kowaljow was also powerful, firm and had authority as Fiesco. The choir was strong, even overwhelming at times. Maestro Massimo Zanetti signed a conventional musical conducting, correct, academic –in the best sense of the term.
The production, essentially the same that was shown at Liceu in 2009 by stage director José Luis Gómez, presents a good direction of actors and resolves appropriately the great collective scenes of this superb political drama based on a chaotic story. Visually, it appears as a luxurious production, cold and ugly, one of those staggings with no character of its own that, with the excuse of transcending the mere worn out and dusty plot anecdote, do not enter the dramatic core of the work. It would work –or not work– similarly for Simon Boccanegra, Otello, Rigoletto orTraviata. This production's main and dubious merit is that of not to excessively disturb.
Xavier Pujol
the 14 of April, 2016
|
Print