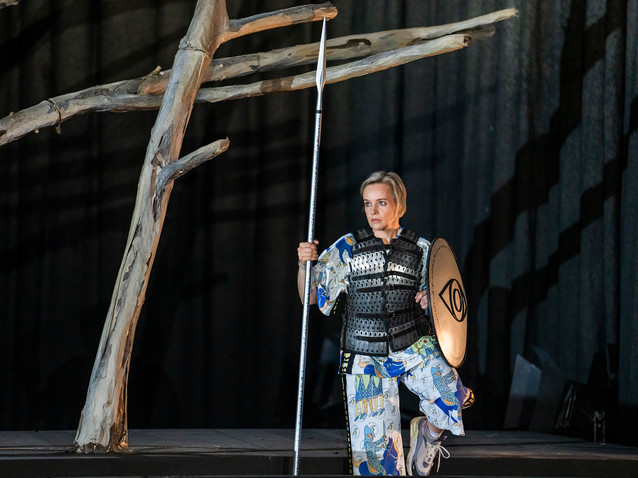 © Tristram Kenton
English National Opera is commencing a new Ring Cycle, directed by Richard Jones, but rather than starting with the first opera in Richard Wagner's tetralogy, Das Rheingold, it is beginning with the second, The Valkyrie. Then, over the next five years, the complete series will be presented in a co-production with New York's Metropolitan Opera. While in the initial instalment the chief god Wotan manages to retain his status and magnificent fortress Valhalla, albeit at a terrible price, in The Valkyrie things unravel at an alarming rate for him. He is slightly fearful of the giant Fafner, who now possesses the ring that makes the bearer all powerful, but absolutely terrified of the dwarf Alberich who forged it from the Rhinegold and is determined to possess it once more.
To combat the threat posed, Wotan has taken several measures to fight back. On the one hand, he has fathered nine daughters, the Valkyrie, by the earth goddess Erda, and their job is to gather mortals who have died in battle in order to create an army of heroes to protect Valhalla. On the other, he has fathered a brother and sister, the Wälsing Siegmund and Sieglinde, by a mortal mother on earth, where he has also left a sword with powers he has given it for Siegmund to find. Wotan himself is bound not to try to retrieve the ring but hopes that Siegmund, as a free agent, will be able to do so. However, as his wife Fricka points out, Siegmund is not acting on his own if he is using a sword with godly protections. Wotan is therefore forced to remove them while instructing his favourite Valkyrie daughter Brünnhilde not to help Siegmund in the battle that is to take place between him and Sieglinde's brutish husband Hunding.
However, Siegmund and Sieglinde, despite being siblings, have fallen in love, with Sieglinde now bearing their child. When Brünnhilde tells Siegmund he must die but will go to Valhalla, which she still believes to be the greatest thing that could happen to a mortal, she is shocked to discover that he views Wotan with contempt for failing to protect him. He even goes as far as to say that he would rather descend to hell, and to kill Sieglinde so that he remains her sole protector, than serve such a despicable god. Brünnhilde is so moved to see his love for Sieglinde that she resolves that both will live as she will protect him in the battle.
Wotan, however, moves to ensure that Siegmund is killed anyway, and is furious that Brünnhilde disobeyed him. She tries to pacify him by suggesting that she followed his true wishes rather than his orders, but he says that now she has chosen to side with the mortals he must leave her to them. He thus resolves to put her to sleep on a rock where she will wait for a man to awaken her. She pleads with him to put a ring of fire around it so that only the greatest hero could ever reach her and, after saying that she is in no position to ask for anything, he agrees because deep down he still loves her. Thus, while it may seem that Wotan carries out the cruellest act, the real tragedy is his and not Brünnhilde's. Both the words and music reveal that there will be a new dawn for her with both characters knowing full well that her rescuer will be Sieglinde's son (Siegfried, after whom the third opera is named). Wotan, on the other hand, knows that at the end of the act he will be exiting the stage in more ways than one. The world is no longer his to rule, and he must leave it to his offspring.
Jones's production does not exactly place the action in the modern day, but the clothes and what settings are presented seem broadly contemporaneous. This creates problems in its own right because on the one hand it does not encourage us to engage with the grandeur of the 'legend' as something mystical and monumental. On the other, while all of the characters in the Ring speak to us about human nature, this approach does not make them any more relatable than they might normally be because they still do not feel like people we might meet or know in our everyday lives. As a result, the production falls between two stools and this radiates out to other aspects of the staging. When the first act only involves three people it might seem a good idea to restrict the size of the stage in order to help them fill the performance area. That being so, however, it makes no sense to construct a small house for Hunding before filling it with his companions, the Neiding, so that now six people have to squeeze into a small room and fit around the ash tree that grows in it.
There are many ideas in this production and some work well as, at the start of Act II, we see Wotan consult his ravens who observe the world to discover that everything is going exactly as he had planned. In too many instances, however, the basic idea may appear sound but does not work in the context. The Prelude to Act I, for example, sees Sieglinde encounter Siegmund, but the actions feel too timid to make a bold statement in their own right yet are still enough to detract from the music. Even accepting that their interaction here is not intended to exist in real time, it still makes for a clumsy moment when Siegmund has to leave Hunding's house at the end of the Prelude only to enter it again to meet Sieglinde for real.
When Hunding and Sieglinde retire to bed Hunding is shown to be about to rape her, which is not a bad idea in its own right as it highlights their abusive relationship and is hardly rendered explicitly. However, the music at this moment foresees Siegmund's contemplation of the sword and so this 'routine' takes us on an unhelpful detour when our focus should be on his silent thoughts. Other things are played out far too blatantly. Wagner requires a door to spring open in order to show how spring has entered, but literally blasting it off its hinges generates a distracting noise and inappropriately comical effect. Similarly, it is perfectly reasonable to suggest a sexual chemistry between Wotan and Brünnhilde but to do so by having her ride him like a horse during her initial 'hojotohos' simply feels crass. When such an element surely needs to bubble underneath the surface, it does not pay to make the point so overtly.
The production places Hunding's house and a log cabin for Wotan and Fricka's encounter alongside more open areas so that the structures are often pushed back to reveal a more conceptual space. One of the most successful scenes, however, comes when a halfway house between these two 'extremes' is established when Siegmund and Sieglinde attempt to flee from Hunding. Wagner's original stage directions are so impossible to execute that many productions avoid portraying any sense of them crossing a rocky pass at all, but this one effectively renders the idea of them running by introducing just a few trees and some earth. It also works well to see the Neiding here as surely they would be pursuing the pair. The subsequent encounter between Brünnhilde and Siegmund when she begins by telling him she is to take him to Valhalla, but is finally won over to supporting him in the battle, is also rendered effectively.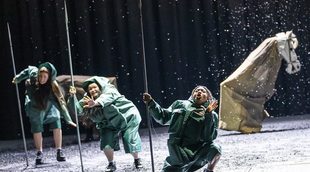 ENO, The Valkyrie, 2021, Katie Stevenson, Claire Barnett Jones, Idunnu
Munch © Tristram Kenton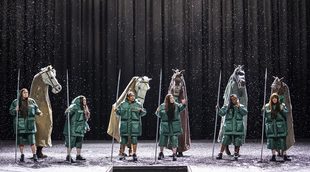 ENO, The Valkyrie, 2021, Katie Stevenson, Claire Barnett Jones, Idunnu
Munch, Kamilla Dunstan, Nadine Benjamin, Mari Wyn Williams
© Tristram Kenton
The 'Ride of the Valkyrie' is sung extremely well by the eight Valkyrie, who seem to be dressed as eco-warriors, but the overall effect is marred by several things. A galloping 'horse' on the stage distracts both visually and audibly from the music and really should be cut from any revival, while seeing the Valkyrie set out from the back of the stage makes their initial singing feel significantly quieter. This may be deliberate to ensure that the volume rises as they advance, but it does affect the impact of the opening. Each Valkyrie has a horse, which is portrayed by someone in a costume standing upright to create just the front half. While, however, there is no problem in using 'puppetry' in this way, or in seeing the Ring possess some humour, these horses still feel too comical for the occasion and undermine the gravitas of the scene. There are certain moments when the Valkyrie and horses swirl around the stage that are utterly captivating, but they are surrounded by many others that do not hit the mark. The same might be said of Wotan and Brünnhilde's final encounter, in which we do witness passion and intensity as the pair embrace, but where they are also kept apart for far too long. Health and safety regulations meant there could be no fire at the end, and this should not be counted against the production as it seems the reasons could not have been anticipated, but the staging up until this point has something of a hit and miss quality about it.
Musically, the evening fares significantly better. In the pit, Martyn Brabbins provides a highly lyrical and accomplished account of the score in which the Prelude to Act I positively rumbles, the Prelude to Act II captures every ounce of its sweeping magnificence and the Act III Finale reveals some spine-tingling effects as the harps are delineated as well as many of the other instruments are over the course of the evening. For my taste, a little more Wagnerian heft would have been welcome at times but this is undoubtedly a beautiful and balanced account of the score (Anthony Negus conducts on 7 December). On opening night it was announced that two singers were suffering from colds, though Nicky Spence would still perform as Siegmund. In the event, he sang extremely well with the expansiveness and lyricism to his sound coming across clearly. If greater heft and volume might have more normally been evident, Spence's achievement was also to pace himself so that he could still ultimately deliver, with the traits that normally tend to be seen when someone has a cold remaining hidden. Susan Bickley did not sing as Fricka but skilfully acted the part while Claire Barnett-Jones, already playing the Valkyrie Rossweisse, sang the role extremely well from a box.
Emma Bell is an accomplished Sieglinde, bringing some quite rich and sumptuous hews to what is still ultimately a very pure sound while Brindley Sherratt is luxury casting as Hunding (he also played the part for Longborough Festival Opera in June) as his deep, full bass sound is displayed in all its glory. Matthew Rose is also a strong Wotan, who reveals a firm and secure bass, and who stays the distance well so that he finds extra reserves for his final summoning of Loge. Rachel Nicholls also makes an excellent Brünnhilde combining superb singing with a strong, yet ultimately caring, demeanour. It is also noticeable how she really conveys the meaning of the words she sings, which is a strength seen throughout the cast. This helps the audience to grasp what is happening, and indeed many of the sub-texts, and hence makes this an accessible performance of the opera, if not, as a result of the staging, an entirely successful one.
By Sam Smith
The Valkyrie | 19 November – 10 December 2021 | London Coliseum
the 21 of November, 2021
|
Print