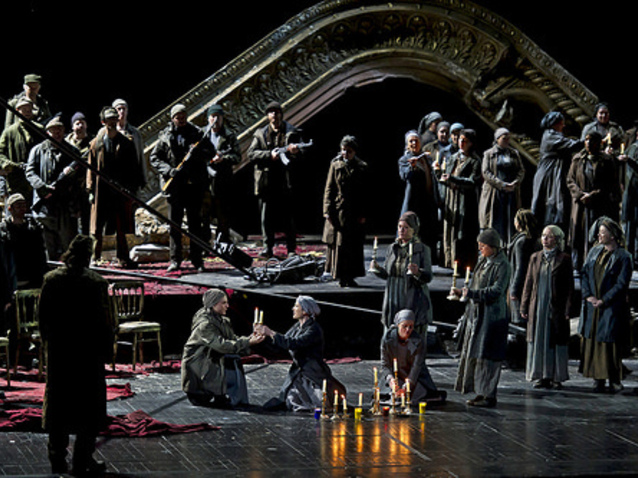 © DR
Following Der fliegende Holländer, Tannhäuser of 1845 is acclaimed as Richard Wagner's second mature opera and, set in thirteenth century Germany, tells of the eponymous minstrel-knight. Feeling that the world does not understand his art as a singer, he has fled to Venusberg where he enjoys the love of Venus. After being there for a while, however, he longs for his former life and thinks about the sweet, innocent Elisabeth who he left behind. Venus reluctantly releases him, but pointedly asserts that one day he will be only too eager to return to her.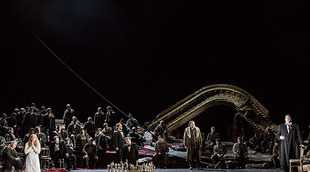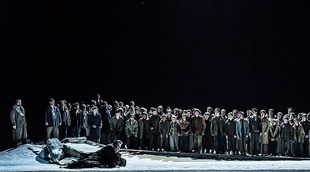 Tannhäuser is subsequently reunited with his friends, and returns to his homeland of the Wartburg where he enters a song competition. The task is to present a song that explains the essence of love, and Elisabeth will award the winner any prize he wishes. While Tannhäuser's friends all compare love with fountains of pure water or see it as something chaste, he keeps interjecting that only he knows true love, which equates to the carnal delights he enjoyed with Venus.
Everyone is horrified at the sins he has just confessed to committing, and only Elisabeth's intervention prevents them from attacking him. The Landgrave of Thuringia, however, orders Tannhäuser to go on a pilgrimage to Rome, but when he does so even the Pope proclaims it would take a miracle to save him from hell. In despair Tannhäuser considers returning to the Venusberg, but then news arrives that Elisabeth has died. In the process, she has realised the miracle that was required to save Tannhäuser's soul, so he goes to his own death knowing Elisabeth's depth of love for him.   
Tim Albery's 2010 production, now enjoying its first revival, uses stages as a metaphor for artifice. The Venusberg is presented as a smaller version of the Royal Opera House stage, which means that when Tannhäuser leaves the goddess the curtain, quite literally, falls on her. When he is accepted back into the fold on his return to the Wartburg, his friends enter this stage area again implying that it signifies not a specific place, but a feeling of ease and security. By Act II, however, it has crumbled to nothing revealing the shattering of certainties, and by Act III it is in an advanced state of decay. An undamaged proscenium stage descends once more when Venus renews her advances towards the end, but it disappears again implying that anything genuine and true has to be built the hard way from the ground up.
Sophie Koch is a splendid Venus with a rich and vibrant tone, even if intonation proves to be more of a problem than a slightly underpowered lower register. Emma Bell is excellent as Elisabeth, producing a sweet and beautiful soaring voice that has the ability to rise above everything else. As Tannhäuser Peter Seiffert frequently produces a strong and expansive sound, but he takes time to warm up and there are a few too many moments when his voice does not feel entirely comfortable. This means that, although he delivers a good performance and may develop further as the run continues, he still generates a slightly weak centre to the evening.
In particular, when Tannhäuser keeps interjecting at the song competition, it is difficult to sense the burning passion that resides in him that makes it impossible for him to stay silent. This problem seems symptomatic of the production as a whole, because it is difficult for us today to feel that what Tannhäuser has done is so utterly heinous. As a result, the staging needs to reveal a society so steeped in religiosity and piety that the severity of Tannhäuser's crimes feel obvious, and Albery's does not do this.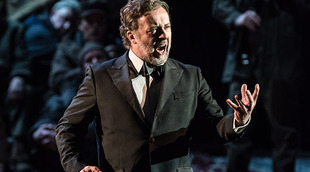 The production is more successful at portraying the quietude that is also an important element of the opera, especially in Act III, which frequently involves just a few characters. In this respect, Christian Gerhaher as Tannhäuser's friend Wolfram also does much to set the tone. In the most stunning of performances, he sings his Act II song and Act III's 'Oh du, mein holder Abendstern' so softly that the large opera house suddenly becomes the most intimate of places.
In the pit, Hartmut Haenchen brings a measured approach to the score that enables the various lines and textures to come to the fore. It is a strong performance, and the only difficulties are a few occasions when timing between orchestra and singers is not perfect and the Act II Entrance of the Guests when the pursuit of balance in sound is slightly to the detriment of the required sense of exuberance. Stephen Milling and Ed Lyon provide excellent support as the Landgrave and Walther respectively, the iconic Overture is complemented by a colourful routine choreographed by Jasmin Vardimon, while the choral singing is excellent throughout. There may be a few too many weaknesses to make this Tannhäuser a truly great one, but where it is good, it is very good indeed.
By Sam Smith
Tannhäuser| 26 April – 15 May 2016 | Royal Opera House, Covent Garden
the 29 of April, 2016
|
Print