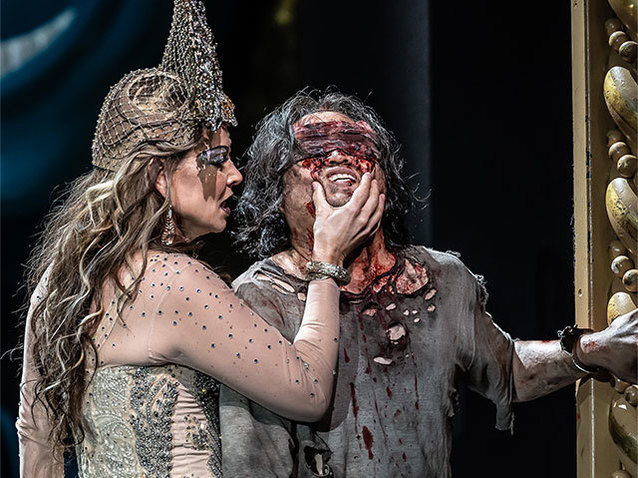 Camille Saint-Saëns' Samson et Dalila, which premiered in Weimar in 1877, is the only one of the composer's operas to be regularly performed today. In describing how the Israelite Samson is duped by the Philistine Dalila into divulging the secret of his strength, thus enabling him to be weakened and blinded, the story comes from Chapter 16 of the Book of Judges. However, it concentrates on certain elements and downplays others, ignoring the heroic deeds that earned Samson fame among the Hebrews, and focusing on how he is manipulated by Dalila. By presenting Samson as an inspiring leader, as opposed to an almost supernatural hero, it reveals how his tender heart is susceptible to her protestations of love, while she is portrayed as conniving and totally bent on revenge. In the opera the revelation that Samson's strength resides in his hair actually occurs offstage, while it also includes some material not found in the Bible such as the death of the Philistine governor Abimélech in Act I.
Comprising three acts and four scenes, the opera is highly similar to an oratorio in terms of its dramaturgical and musical plan. In fact, Saint-Saëns originally conceived the piece as one, but when he approached Ferdinand Lemaire, the husband of one of his wife's cousins, about writing a libretto for it, Lemaire convinced the composer that the story was better suited to an opera. The fact that, in practice, it feels as if it falls somewhere between the two does not make it particularly easy to stage because different techniques can be required to convey various parts of it, thus hindering the presentation of a consistent world. It is also easy to shower the work in saccharine exoticism or Orientalism, but, while director Richard Jones in his new production for the Royal Opera seems acutely aware of the difficulties associated with staging the piece, the 'solutions' he implements sometimes create problems of their own.
Many of those elements that feel most oratorio-like, given the nature of the music that the chorus sings, appear in Act I, and the accompanying directorial decisions seem appropriate as techniques are employed that are often seen when oratorios are staged. On one occasion the entire chorus occupies tiers in a box-like area, thus enabling them to sing directly out as if this were a concert while still providing an infrastructure for the drama. On several others they walk in lines as they sing. Nicky Gillibrand's costumes seem broadly twentieth century, but are deliberately unspecific so that the evening explores the oppression of one people by another as a universal theme. In this way, the Prelude sees the Philistines interfering in the lives of the Israelites in both petty and more brutal ways as they trash a woman's shopping and slash at a man's face.
The opera does feature many scenes that involve just one or two people, and this is where the size of the Royal Opera House stage risks swamping them visually. This difficulty is met by having some scenes take place through windows that appear in a screen that drops down, thus enabling us to hone in on the person who requires our attention. Windows also feature in others aspects of Hyemi Shin's sets so that when action occurs inside or outside a 'hut' that frequently appears, there could always be someone peering in on it. This hut is quite a clever device as, being situated fairly far forward, it ensures the performers are not swamped by a vast area, but without it feeling as if the stage is deliberately being restricted in size. However, it lacks aesthetic appeal and, although that may have been intentional, it comes across as quite sterile. The consequence is an area that does not feel conducive to creating the high drama that is required in Act II as Dalila attempts to persuade Samson to divulge his secret. This is a shame as there are so many ways in which this scene is excellent, beginning with the performances of SeokJong Baek as Samson and Elīna Garanča as Dalila.
Baek delivers some brilliantly expansive and impassioned singing while, with her outstanding mezzo-soprano that is capable of producing some quite dark sounds, Garanča gives a winning performance all round. She oozes eloquence and seduction, and yet the words she expresses with her voice are also crucial to the way in which she furthers Dalila's cause. Similarly, she shows how Dalila is her own person who, though her basic aim is the same as the High Priest's, is acting for herself rather than him. This is superbly illustrated in their own Act II duet in which he gazes on her, but not vice versa. In fact, the moment he places a hand on her arm she throws it off. For all this, however, the crucial scene does not feel quite as intoxicating and overwhelming as it should, and the most likely explanation is the lack of conduciveness of the setting. It certainly cannot be attributed to the singers or to Sir Antonio Pappano's conducting, which is consistently excellent all evening.
The second half changes the tone completely as a giant blue head holding a fruit machine and gambling chips is rolled on. This suggests that money is really the people's god, and it is a very interesting idea. However, to introduce it, or at least only to put it centre-stage, in Act III makes it feel false and incongruent with what has gone before. A similar point could be made regarding the Bacchanale as it is presented here. It is undoubtedly entertaining, and it is good to see members of the Royal Opera Chorus executing some relatively complex steps extremely well alongside the trained dancers. However, although there is humour to be found in every opera, it has to be brought out to a degree that is appropriate for the occasion. This dance comes across as just a little too comical and thus cheapens the whole experience. Even the very ending seems a tad too humorous to make us feel the gravitas to the extent that we should. Nevertheless, no one can deny that the evening's musical credentials are uniformly strong, with Łukasz Goliński as the High Priest, Blaise Malaba as Abimélech and Goderdzi Janelidze as the Old Hebrew (who here becomes Samson's Rabbi) all playing their parts to the full.
By Sam Smith
Samson et Dalila | 26 May - 19 June 2022 | Royal Opera House, Covent Garden
the 01 of June, 2022
|
Print