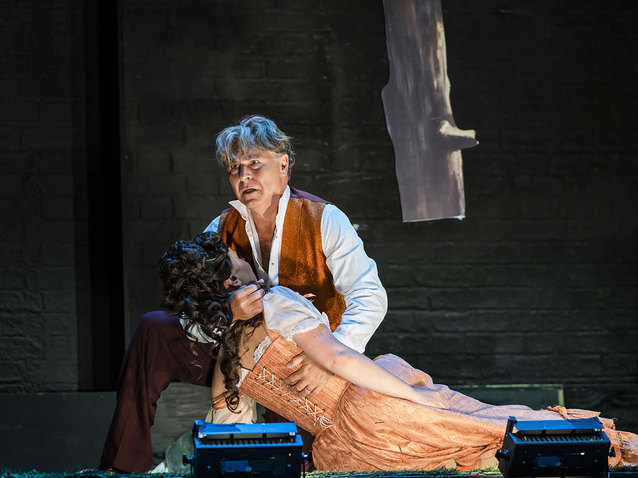 © (c) Tristram Kenton
Although Pietro Mascagni's Cavalleria rusticana and Ruggero Leoncavallo's Pagliacci are entirely separate operas, they are so frequently performed together that 'Cav and Pag' is now a standard phrase in the operatic world. In some ways it is easy to see why it has become a tradition to pair the two. Written only two years apart, in 1890 and 1892 respectively, their short running times mean they can comfortably fit into one evening, and together they seem to provide a master class in verismo, a literary and operatic genre focused on portraying life in all its gritty reality. With both telling stories of love, betrayal, jealousy and murder, their thematic similarities make them an obvious fit for each other.
Nevertheless, there is still no absolute reason why the two need to be performed together, and one has to wonder, had the Metropolitan Opera not coupled them as early as 1893 (although performances of each with such heavy hitters as Il barbiere di Siviglia or Don Pasquale persisted for decades) whether the 'marriage' would ever have taken place at all. It is when we see productions such as Damiano Michieletto's 2015 take for the Royal Opera, which represents a co-production with Opera Australia, La Monnaie in Brussels and the Göteborg Opera, that we can be glad it did though for, while many directors highlight synergies between the two works, few others have done so quite as completely or effectively.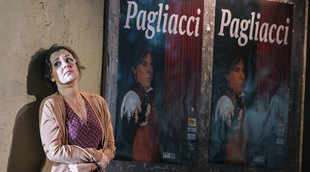 Aleksandra Kurzak, Cavalleria Rusticana, The Royal Opera (c) 2022 ROH / Tristram Kenton
The works do not so much involve love triangles as quadrangles, and in both instances the figure within the quartet who feels the most shunned carries out an action, whether it be pre-meditated or in haste, that has the most dreadful consequences. Cavalleria rusticana tells the story of Turiddu who returns from the army to discover his lover Lola has married Alfio. He responds by seducing Santuzza, but soon rejects her and begins an affair with Lola. Santuzza, feeling both ashamed and shunned, tells Alfio of his wife's infidelity, and in the duel that follows Alfio kills Turiddu.
Pagliacci is about a travelling troupe of actors. One of them, Tonio, loves the leading actress, Nedda, who is married to the group's leader, Canio. Nedda, however, shuns Tonio in favour of the villager Silvio, and Tonio is so put out by this that he tells Canio of the affair, although both remain ignorant of the secret lover's identity. Everything comes to a head as the actors perform their play. Canio demands the name of Nedda's lover, because that is what his role of Pagliaccio requires him to do, but it becomes increasingly unclear whether he is acting or not. After Nedda continually refuses to answer, Canio kills both her and (after he runs to help her) Silvio, while Tonio declares that 'the play is over'.
Michieletto sets both operas broadly in the modern day (possibly the 1980s), which proves very effective. This is because the Italian village setting alludes to a romantic ideal, and yet it also feels as if the various suspicions and betrayals are being played out against a backdrop of soullessness and decay. There may be religious processions through the streets, but the beauty of these is undermined by the television aerials and satellite dishes on the buildings. Similarly, the traditional way of life is being eroded by those individuals making money in the modern world, who boast of their wealth with fancy clothes and cars.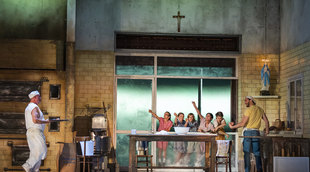 Cavalleria Rusticana, The Royal Opera (c) 2022 ROH / Tristram Kenton
The staging is very effective as it employs a rotating stage, courtesy of Paolo Fantin, that reveals a number of sets for each of the two operas, and, quite literally, keeps the drama and emotional colour wheel turning. Michieletto also includes many telling details. For example, during a procession of the statue of the Virgin Mary in Cavalleria rusticana, it comes to life and points an accusing finger at Santuzza. The crowd look as if they are about to follow suit before we realise they are simply making a sign of the cross. Similarly, as Santuzza confesses her guilt to Turiddu's mother Mamma Lucia, the latter makes bread so that her actions such as kneading dough, wiping her hands and untying her apron contribute both to the drama and sense of domesticity. Michieletto begins the evening by showing the final image of Turiddu lying dead, which hands the entire opera a feeling of inevitability as we witness an apocalyptic descent towards the final tragedy. As he lies on the ground, he is heard offstage singing the siciliana, 'O Lola c'hai di latti la cammisa'. This begins the opera when he is obviously still alive, but hearing it while we stare at his body makes it feel like a voice from beyond the grave.
Michieletto sets the play seen in Pagliacci in a modest village hall with all of the local residents turning out to see it. Through the use of the revolving stage and some actor doubles for the principals, the play is performed onstage and backstage simultaneously, thus blurring the line between acting and reality. In this way, Canio makes his accusation from the auditorium while the spectators don masks and stare at him rather than the stage.
All of the outings for this production at the Royal Opera House have been blessed with excellent casts and this revival by Noa Naamat is no exception. Before opening night, quite a few cast changes had to be made for various COVID-19 and non-COVID-19 related reasons, but no one could have been disappointed with the final line-up that emerged. Aleksandra Kurzak plays both Santuzza and Nedda with a soprano that can be tender, feeling, sumptuous or impassioned. Her performance as Santuzza is particularly sensitive, while as Nedda she is very clever at putting on a show in the play and keeping the action going, even while showing that she is rattled inside. Dimitri Platanias also performs in both operas as Alfio and Tonio, and asserts his firm and authoritative baritone to tremendous effect. Neither character would overall be regarded as sympathetic, yet he portrays both with great subtlety and insight, while his delivery of the Prologue in Pagliacci is particularly masterly.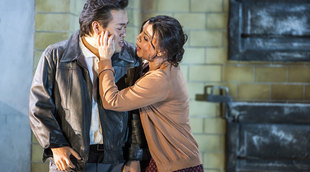 SeokJong Baek and Aleksandra Kurzak, Cavalleria Rusticana, The Royal Opera (c) 2022 ROH / Tristram Kenton
SeokJong Baek, recently seen here as Samson in Saint-Saëns' Samson et Dalila, is extremely strong as Turiddu with his full tenor possessing a certain light quality, even as it proves to be immensely powerful. Roberto Alagna's own tenor is brilliantly expansive and hits some notable heights, as Alagna really makes Canio look like a totally lost and distraught being. With Elena Zilio as Mamma Lucia, Aigul Akhmetshina as Lola, Mattia Olivieri as Silvio and Egor Zhuravskii as Beppe all playing their parts to the full, it is not simply that there are no weak links in the cast, but that all of them prove to be particularly strong ones. In the pit, Sir Antonio Pappano's account of the score is rich, ripe, passionate and undoubtedly thrilling.    
Michieletto's production is one of the best in the Royal Opera's current repertoire, and its real strength is the way in which it weaves the two stories together so that they both take place in the same village within a short space of time. In this way, we see characters from one opera pop up in the other so that Silvio works in Mamma Lucia's bakery in Cavalleria rusticana. Both operas include an Intermezzo and Michieletto uses each to reveal something from the other story. For example, during the one in Cavalleria rusticana we see Nedda meet Silvio, presumably for the first time. The Intermezzo of Pagliacci sees Santuzza lament Turiddu's death with his mother. This reveals how people's lives do not end when the curtain falls and that they have to live with the repercussions of what happened, although their silent routine also offers a ray of hope for the future. One difficulty with this revival is that the same person, Kurzak, is playing Santuzza and Nedda meaning that when the other character appears in each opera she has to be played by a double. If, however, this blunts the impact and makes it harder for those less familiar with the story to understand the point being made, it is a minor difficulty in the face of so many good things to be found in this production and these performances. Fabio Sartori is set to play Canio for several of the later performances in the run.
By Sam Smith
Cavalleria rusticana / Pagliacci | 5 - 20 July 2022 | Royal Opera House, Covent Garden
Photos (c) Tristram Kenton
the 08 of July, 2022
|
Print