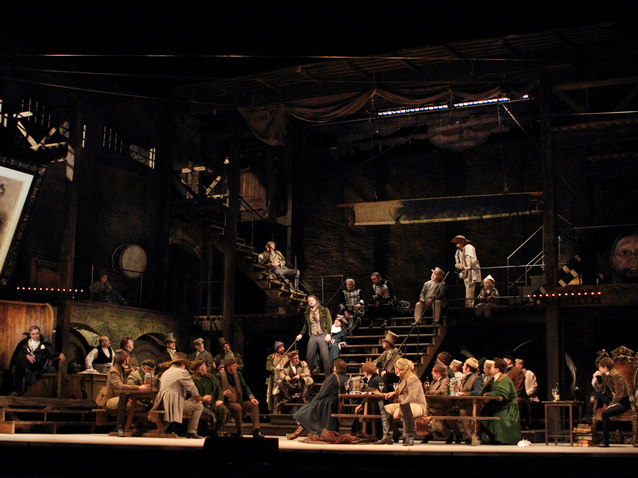 Jacques Offenbach's Les contes d'Hoffmann is based on three short stories by E. T. A. Hoffmann, with the French libretto having been written by Jules Barbier. It premiered at the Théâtre National de l'Opéra-Comique in Paris on 10 February 1881 in a three-act version (with prologue and epilogue), but Offenbach never got to see the full version performed having died four months earlier. It had, however, been presented in an abridged form at the composer's house, 8 Boulevard des Capucines, on 18 May 1879, and subsequently a four-act version with recitatives was staged at Vienna's Ringtheater on 7 December 1881.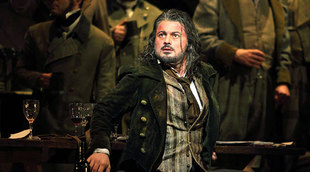 Vittorio Grigolo, Les Contes d'Hoffmann
ROH © Catherine Ashmore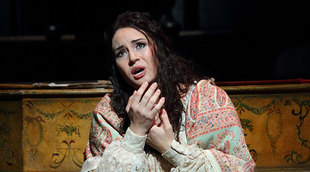 Sonya Yoncheva, Les Contes d'Hoffmann
ROH © Catherine Ashmore
The opera takes three stories by Hoffmann – 'Der Sandmann' (The Sandman) of 1816, 'Rath Krespel' (Councillor Krespel) of 1818 and 'Das verlorene Spiegelbild' (The Lost Reflection) from Die Abenteuer der Sylvester-Nacht (The Adventures of New Year's Eve) of 1814 – and links these together by making Hoffmann the protagonist.
The story begins in a tavern in Nuremberg with Hoffmann thinking of the prima donna Stella. She has sent a letter asking him to meet her, but this has been intercepted by the evil Councillor Lindorf who plans to take his place. The Muse is also present, and wishes to make Hoffmann become totally devoted to her and adjure all other loves, so she has taken the appearance of his closest friend Nicklausse. All this occurs in the Prologue and the three acts that follow recall in turn the great loves of Hoffmann's life.
These are Olympia, who Hoffmann does not realise is an automaton, Antonia, a musical talent who unfortunately will die if she sings too much, and the courtesan Giulietta. In each instance he loses his love as Olympia is destroyed as a doll can be, Antonia dies after singing too much and Giulietta leaves with the twisted creature Pittichinaccio after nearly stealing Hoffmann's soul. Every death (or in Giulietta's case damnation) is instigated in one way or another by Lindorf who appears as a different character in each story. The three women in turn are all facets of Stella, representing the young girl's, the musician's, and the courtesan's side of the prima donna. In the epilogue, Stella arrives to find Hoffmann, having just recalled these instances, insensible, and Lindorf takes the opportunity to step in and ensure she walks away with him. At this Nicklausse reveals himself as the Muse and offers Hoffmann the opportunity to be reborn in poetry.
In John Schlesinger's classic staging from 1980, revived here by Daniel Dooner, the order in which the three encounters are told is altered so that Giulietta's scene precedes Antonia's. This may be because the former features the most lavish staging, so placing it in the middle allows for the evening's two intervals (when lengthier scene changes can occur) to fall either side of it. It does, however, serve the purpose of ensuring that we see a progression in Hoffmann's relationship with each woman. Olympia is not even real, Giulietta may be but has no genuine feelings for him, while Antonia represents the only one who truly reciprocates his love for her. By the same token, the scenarios become sadder in turn because Antonia is by far the most real and sympathetic of the three, which makes her demise feel the most tragic.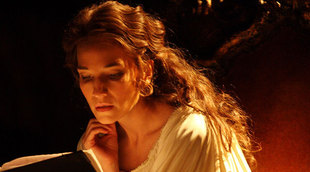 Kate Lindsey, Les Contes d'Hoffmann
ROH © Catherine Ashmore
William Dudley's set effectively captures the atmosphere of a Nuremburg tavern, with high backed benches and wooden gangways and stairways dominating the stage. This same basic structure then proves highly flexible as various adjustments and coverings see it form the scientist Spalanzani's laboratory and Antonia's father Crespel's house. The synergies created between the areas through this emphasise the interconnectedness of the stories, as do many other details. For example, the Lindorf-style character ominously appears in each scenario by stepping out from a cello case or coming through the headboard of a bed. The one scene that certainly feels different is Giulietta's, which is set in Venice and includes the famous barcarolle, 'Belle nuit, ô nuit d'amour' (Beautiful night, oh night of love). The music is highly evocative, and the staging generates a sensuous, decadent atmosphere as a columned arcade feels reminiscent of the city's Ca' d'Oro, and a gondola glides down a canal.
Evelino Pidò's strong conducting is complemented by an excellent cast. As Hoffmann, Vittorio Grigolo is on top form with his strong expansive tenor (Leonardo Capalbo sings the role for two performances), Kate Lindsey brings some thrilling hues to her mezzo-soprano as Nicklausse, while Thomas Hampson is stylish as Lindorf and his equivalent characters – Coppélius, Dappertutto and Miracle – in the various acts. The three women are also portrayed exceptionally well with Sofia Fomina as Olympia, Christine Rice as Giulietta and Sonya Yoncheva as Antonia revealing exquisite sounds as they play out their respective parts to great effect.
This production is also being broadcast live to cinemas around the world on 15 November 2016.
By Sam Smith
Les contes d'Hoffmann | 7 November – 3 December 2016 | Royal Opera House, Covent Garden
Photos crédit: Catherine Ashmore
the 09 of November, 2016
|
Print