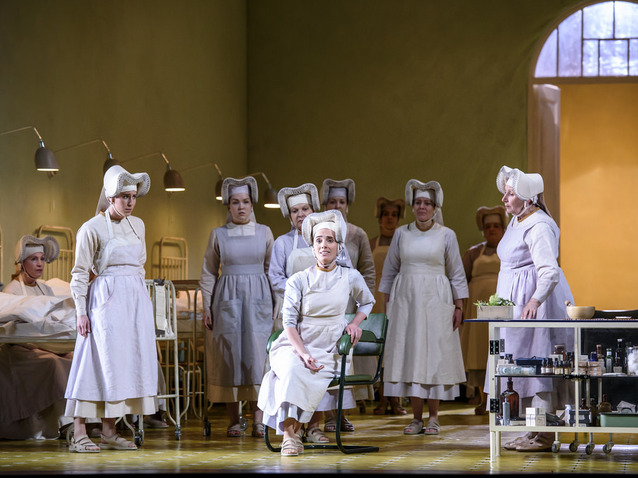 Giacomo Puccini's Il trittico, which premiered in 1918, is a triptych of one-act operas that were always designed to be performed together. The composer originally intended for each opera to reflect one part of Dante's Divina Commedia, although in the event only the final work is based on the poem. As a result, the only theme that really underpins the operas is that they all involve, in one way or another, the concealment of a death.
The Royal Opera's current production of Il trittico arrived in 2011, although the final opera, Gianni Schicchi, had already appeared twice in 2007 and 2009 when it was paired with Maurice Ravel's L'heure espagnole. The director is Richard Jones (although here the works are revived by Sarah Fahie and Benjamin Davis) and the joy of the evening lies both in the strength of the individual productions, and the way in which together they create an evening of varying textures and moods. Each opera has a different set designer, although paradoxically this highlights as many synergies as it does contrasts between them.
Set in Paris, Il tabarro tells the story of barge owner Michele and his wife Giorgetta. They live in poverty, and have suffered personal tragedy since their child has died. While Michele seeks to capture what they used to have, Giorgetta has fallen in love with Luigi, a stevedore (barge worker) in Michele's employment. Luigi finds himself unable to leave Giorgetta, and arranges to visit her that night when she lights a match. However, when he sees Michele light his pipe and assumes it is Giorgetta's signal, Michele realises what is happening and murders him. Michele then shows a cloak to Giorgetta who, to her horror, pulls it back to discover Luigi's body lying underneath.
Ultz's set presents a dark image of the bargeman's life, with the water (upon which the boat appears to sink as much as float) being pitch black. We are confronted with a deep set of factories and warehouses that create a continuous wall across the stage and imply entrapment. The only gap in it is an alleyway that leads to what appears to be a house of ill repute, suggesting that this hardly presents a means of escape.
At the same time, the introduction of human details such as passers-by and workers in the factories means that we avoid any exaggerated vision of hell, and instead believe that the protagonists really could live in this grim reality. This creates a poignant backdrop against which we can start to understand the individual characters. We can appreciate the sense of distress or claustrophobia that each feels, where the longing for escape can be as strong as either the physical or psychological barriers that prevent it.
Although the performances are perfectly respectable, the presentation of this opera feels the weakest of the three. As Giorgetta, Patricia Racette sings well, but as Michele, Lucio Gallo sounds strained as if he is having an off-night. Nevertheless, Carl Tanner's Luigi hits the mark, while there are a plethora of strong performances from the supporting cast including Jeremy White as Talpa (a stevedore) and Irina Mishura as Frugola (his wife). In Il tabarro Nicola Luisotti's conducting lacks a little of the sharpness that is paradoxically required to capture the intriguing nature of the score, although his style is seen to much better effect in the other two operas.
Set near Sienna, Suor Angelica tells of a nun who joined a convent after bringing disgrace upon her wealthy family by having a child out of wedlock. She fulfils her duties well in the pious establishment, but one day her Aunt, The Princess, arrives to instruct her to sign away her share of the family inheritance so that her sister who is about to marry may have everything. When Angelica refuses because she feels she cannot turn her back on her son, the Princess explains that he died two years ago. With nothing to live for, and wishing to join her son, Angelica signs the paper and poisons herself before realising that suicide is a sin. Before she dies, however, she believes that she sees the Virgin Mary with her son and that she has been forgiven.
Miriam Buether's set takes us to the convent's infirmary, a Spartan area with pastel green walls, where the sisters tend to sick children. This provides an effective dynamic to the opera, ensuring that there is always something to catch the eye as the sisters go about their business serving up food or changing sheets. When the nuns discover the dying Angelica their scurrying activity to hide the horror from the children provides a poignant lead into the final frozen tableau.
No less affecting is the scene in which The Princess and Angelica meet. This takes place against lemon coloured walls that create a sterile area that speaks of soullessness. It is also noticeable how complicit the nuns seem to be with The Princess's demands. As Angelica faints on hearing of her son's death, they lift and revive her with the clear intention of getting the signature out of her.
As Sister Angelica, Ermonela Jaho delivers the best performance across the entire evening. Her voice is immensely sweet, yet it has enough of an edge to ensure that it is perfectly focused, precise and ultimately very expressive. There is an effective cool, haughty detachment to Anna Larsson's tones as The Princess, while as the Abbess Irina Mishura's voice has great resonance. Suor Angelica involves a large cast of nuns and, with several of the principals drawn from the Royal Opera chorus, there are a multitude of very strong performances.
It says more about the other two operas that Gianni Schicchi, which still concerns death, greed and deceit, should provide the evening's light relief. It tells of the death of the rich Buoso Donati. His greedy relatives discover that he has left his best possessions to the local monastery, and so enlist Gianni Schicchi to help them. Schicchi, however, has an axe to grind because the Donatis refuse to allow their Rinuccio to marry his daughter Lauretta because he cannot afford the dowry. He therefore promises to help the Donatis by disguising himself as Buoso (whose death is not yet common knowledge) and dictating a new will. In it, however, he leaves Buoso's desired house, mule and mills to himself, and the family cannot say anything because they were complicit in faking a will, the punishments for which are very severe.
With John Macfarlane setting the action in the 1950s and making Buoso Donati's house a chintzy space with tasteless wallpaper, we have the perfect setting for the shenanigans that take place within. The wills and moods of the large, and mostly greedy, cast are played out through dancing and choreographed finger wagging that keep the humour bubbling at the surface throughout. Lucio Gallo excels as Gianni Schicchi, as we witness an intelligent and mischievous brain going into overdrive, and the image of him dragging back in the stolen bust of Dante while the lovers finish their duet is hilarious. Paolo Fanale is an accomplished Rinuccio, Susanna Hurrell gives a beautiful performance of the iconic aria 'O mio babbino caro', while Gwynne Howell's Simone, Elena Zilio's Zito and Rebecca Evans's Nella also stand out.
By Sam Smith
Il trittico | 25 February – 15 March 2016 | Royal Opera House, Covent Garden
Read also:
the 28 of February, 2016
|
Print