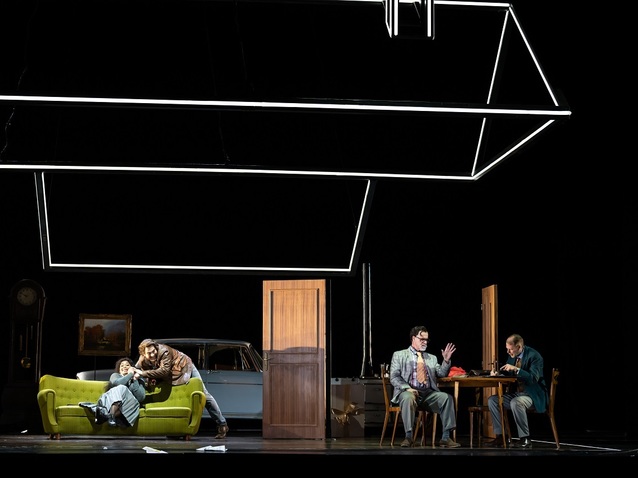 Gaetano Donizetti's 64th opera, Don Pasquale of 1843, represents both the zenith and the end of opera buffa since it stands as one of the finest examples of the genre, and yet there are practically none written after that date that are still in the standard repertoire. Set in Rome, it sees the ageing Don Pasquale disinherit his nephew Ernesto, who loves the young but poor widow Norina, for refusing the woman he had found for him. Even Don Pasquale's own doctor Malatesta thinks this is bad form on the older man's part, and hatches a plan with Norina whereby Malatesta will offer his own sister Sofronia for marriage to Don Pasquale. It is actually Norina in disguise, and Don Pasquale agrees almost immediately to marry her as she has apparently just come from a convent and seems very sweet and innocent.
As soon as they are married, however, she instantly becomes bossy and difficult, insisting that both the number of servants and their pay be increased, and on new furniture and jewellery. She also insists on going out without Don Pasquale, so that he ends up being willing to do anything to get rid of her. Malatesta says that if Ernesto were to marry Norina, Sofronia would leave because she hates her so much, and so Don Pasquale agrees to this. At this point, 'Sofronia' reveals that she is really Norina, and Malatesta that the wedding contract was a fake. Don Pasquale realises he has been duped, but the opera has a happy ending when he accepts the situation and gives the young couple his blessing.
Today the opera is recognised as being Donizetti's comic masterpiece just as much as it was in his own lifetime, but it is still not easy to stage effectively for several reasons. First, like Il barbiere di Siviglia and Der Rosenkavalier, it is the story of an ageing gentleman attempting to put himself between two young lovers. It does not, however, possess anywhere near as many twists and turns as, say, Il barbiere or Le nozze di Figaro because the plot to thwart the antagonist is executed with relatively few obstacles being thrown in the way, so this puts more onus on a director to do something with the work. Secondly, although the piece can be hilarious, any production still needs to focus on bringing the humour out without looking as if it is trying too hard to be funny. Thirdly, since there are only four principal roles (a fifth of the fake Notary, played superbly here by Thomas Barnard, is very small), there is a tension between the need for them to draw us in to this fundamentally intimate piece, and the requirement for the staging to fill a large venue such as the Royal Opera House.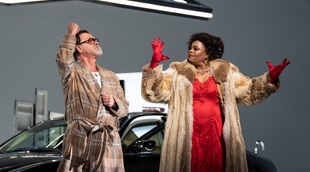 Pretty Yende (Norina), Lucio Gallo (Don Pasquale), Don Pasquale © 2022 ROH. Photograph by Bill Cooper
Given these competing demands, Damiano Michieletto's 2019 production for the Royal Opera, which represents a co-production with the Opéra National de Paris and Teatro Massimo di Palermo and is revived here by Daniel Dooner, does a good job of meeting them. If it does not get the balance right at every single point, it certainly hits the mark many more times than it misses it. The setting is actually modern day Italy, as revealed by Norina brandishing a Euro note, but one would be forgiven for not realising this at the start because Don Pasquale's house looks firmly grounded in the 1960s. This, however, is merely making the point that he is stuck in the past, and it also provides great scope for Norina to get rid of his outdated upholstery and replace it with modern furniture when she is in her bossy phase as Sofronia.
In Paolo Fantin's set, the house is not shown literally but is manifested clearly enough as overhanging neon lights outline its footprint, roof, chimney (complete with smoke at the beginning) and garage, below which actually stands a car. There are no walls, so that we can see everything clearly, but doors stand in all the right places, and the whole house can rotate so that the bathroom becomes more prominent when Don Pasquale is scrubbed up in anticipation of meeting Sofronia. In fact, this compartmentalisation of space enables some scenes to become more sophisticated so that people can be in different rooms for various parts of the 'marriage ceremony'. This provides the same sense of visual unity as usual since the walls are not physically there, but enables private conversations to take place without the relevant people having to huddle as much in a corner. In fact, throughout the evening the performers are very good at acting and reacting as if they can only see and hear the things on their side of the invisible divisions.
Not all of the action takes place in Don Pasquale's house, however, and we are first introduced to Norina working in a photographer's studio, which gives her ample opportunities to don the beautiful dresses that are used for shoots. A video camera that is first seen here also becomes integral to the staging as it is sometimes used to film the characters and project the resulting images live onto a huge screen, courtesy of production company rocafilm. This device works because it is used sparingly, and always to highlight certain things. For example, when Malatesta is getting Norina to perfect her demeanour in anticipation of meeting Don Pasquale as Sofronia, this enables us to see her various, and often amusing, expressions to a degree that would otherwise be impossible.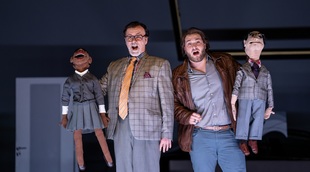 Lucio Gallo (Don Pasquale), Andrzej Filonczyk (Malatesta), Don Pasquale © 2022 ROH. Photograph by Bill Cooper
When the servants are both alarmed and amused at all of the comings and goings in 'Che interminabile andirivieni!' three puppets play out the relationship between Norina, Don Pasquale and Ernesto. These inanimate objects are quite small in real life, but by the time they have been projected and skilfully operated, it really feels as if they have been imbued with life and character. Other modern twists include Norina receiving a text when Ernesto sends her a message, and references to cars in the English surtitles, even though the performance is in the original Italian.
The production could hardly be described as being heavy on infrastructure since the house is presented as a skeleton frame, but it does place a great emphasis on props and visuals. If it therefore risks putting these above any form of subtle characterisation, in the event that risk seldom materialises. This is because the tools employed such as camera close-ups are the very means whereby we can hone in on certain details. As a result, the staging itself helps the portrayals to become large enough to fit the venue without becoming too exaggerated or silly.
The performances are certainly strong, as we genuinely feel sorry for Lucio Gallo's Don Pasquale. This is absolutely crucial because if we do not find ourselves sympathising with the person who is on the end of an ultimately cruel trick, then there is little for us to engage with emotionally. Gallo may be helped by us actually seeing the wife and children that he pictures yet lacks, but it is the strength of both his baritone and acting that ensures he prevails so handsomely in the role. Pretty Yende, fresh from her triumph as Violetta in La traviata last month, proves equally effective as the very different character of Norina. Her soprano scales some extremely impressive heights, and she throws herself completely into the part without delivering too hyperbolic a performance. Xabier Anduaga reveals a brilliantly large and expansive tenor as Ernesto, and Andrzej Filończyk a warm, secure and effective baritone as Malatesta.
Servants always feature in the opera, but this production includes one who is on stage for the majority of the evening. Jane Evers may never sing a note, but she thoroughly commands the proceedings as a downtrodden Maid who has to scuttle around after Don Pasquale, yet still shows her own sense of spirit. Whether she is jumping up and down in anger as a door is closed on her, quietly revelling in Ernesto vandalising his uncle's car, or conversely looking genuinely sad after he leaves the house, it is impossible to take our eyes off her. Donizetti's score may generally be seen as jovial and light-hearted, but Giacomo Sagripanti's especially fine conducting brings out all that is really in it. In this way, parts of the Overture are made to feel genuinely monumental while several of the arias stand out as the absolutely beautiful pieces of music that they are. Sir Bryn Terfel plays Don Pasquale and Zuzana Marková sings Norina for the performances on 12, 18 and 20 May.
By Sam Smith
Don Pasquale | 3 - 20 May 2022 | Royal Opera House, Covent Garden
Photos by Bill Cooper
the 05 of May, 2022
|
Print