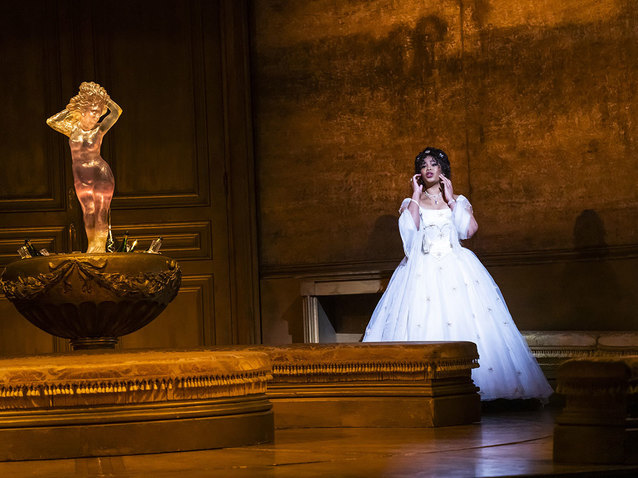 Giuseppe Verdi's La traviata of 1853 is one of the most frequently performed operas in the world today, and the Royal Opera has been putting a special focus on the work in its 2021/22 season. By the end of this month no less than six different singers will have taken on the main role with Lisette Oropesa, Kristina Mkhitaryan and Anush Hovhannisyan having sung it across a dozen performances last autumn. The opera now returns for thirteen outings in April 2022, as well as a live cinema screening, with Pretty Yende, Angel Blue and Hrachuhí Bassénz sharing the lead between them. Other parts are also being played by several people over the course of the run, while conducting duties will be assumed by Giacomo Sagripanti and Renato Balsadonna.
Based on Alexandre Dumas, fils's play La Dame aux camélias, La traviata tells of Violetta Valéry who is a famed Parisian courtesan. Beneath her apparently carefree exterior, however, she is suffering from tuberculosis and her world is shaken when she meets Alfredo with whom she falls in love. They run away together and live off the sale of her goods, but one day Alfredo's father Giorgio Germont appears and begs her to leave him. This is because Alfredo's behaviour has brought disgrace on his family, which is impacting on the ability of Germont's daughter to marry and be happy. Despite loving Alfredo deeply, Violetta shows compassion towards the family and agrees.
Alfredo, however, does not discover the real reason why Violetta has suddenly walked away, and everything comes to a head when he angrily confronts her at Violetta's friend Flora's party. He eventually discovers the truth as his father also regrets pushing them apart, but by this time Violetta is terribly ill and, though the pair are finally reconciled, she dies in his arms.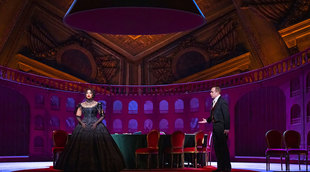 Stephen Costello (Alfredo Germont), Pretty Yende (Violetta Valery), La traviata (c) ROH 2022 Tristram Kenton
Richard Eyre's production for the Royal Opera, revived here by Bárbara Lluch, began life in 1994, and many subtle touches are to be found within its curved walls. Designer Bob Crowley works virtually every scene around a semi-circular set, with each one employing its own tools and techniques to shed light, and provide commentary, on the action. In this way, Act I takes place in a sumptuous Art Deco interior, revealing Violetta's role as the archetypal fashionable Parisian, but the telling detail is the doors. When these are open, and people are free to enter, Violetta assumes her frivolous, sociable persona, but once they are closed she becomes a far more introverted character. There are, however, exceptions to this rule with Alfredo and Violetta's one to one encounter beginning with the doors still open (and Flora and the Marquis D'Obigny peering in on it), thus revealing how difficult it is for her to keep her public and private lives completely separate. Similarly, Act II's gambling scene features a red bullring and a casino table that lies beneath an ornate, and peculiarly angled, gilded roof. It is not to be taken as an entirely literal space, but clearly the bullring alludes to the antics of Gastone and his friends as matadors, and creates an appropriate arena for action that all too readily alludes to gladiatorial combat.
Since it has already proved its staying power, the strength of the production can be somewhat taken for granted. Even allowing for this, however, some scenes are particularly sharply observed here, not least Flora's party all the way from the dancing of the gypsies and the matadors through to the final tableau, in which the dynamics and emotions are rendered extremely astutely. The principals on the occasion I attended were also outstanding, with those lined up to do the other performances clearly being in the same league as well. Pretty Yende is a commanding Violetta from the outset. She snaps open her fan to move from the ailing courtesan seen during the Prelude to become the 'belle of the ball' in Act I as she proceeds to dance with several men at her party and leave each of them breathless. However, it is the way in which her portrayal becomes increasingly sensitive and emotional across the evening as a whole that makes it so special.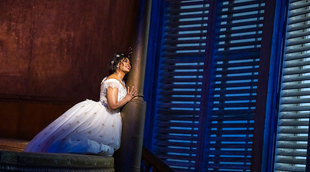 Pretty Yende (Violetta Valery), La traviata (c) ROH 2022 Tristram Kenton
Her voice is notably rich and full from the start, but it initially seems to lack the alacrity to carry off some of the lines with the necessary lyricism. She also seems more at home in portraying the free and easy socialite in 'Sempre libera degg'io' than the deeply disconcerted person in the preceding 'Ah, fors'è lui', although she does manage the transition from one mood to another in an interesting way. She does not just change in one single moment but rather begins 'Sempre libera degg'io' clinging to a door as if she is having to persuade herself to be more carefree. After this, however, Yende is never short of captivating as she really looks as if she is bleeding inside as she writes her farewell letter to Alfredo in Act II. Her Act III performance of 'Addio, del passato bei sogni ridenti' is utterly heartbreaking, but while there is a certain poetry to the frailty she portrays in the aria itself she subsequently shows how she really is at death's door and how there is really nothing beautiful about this at all, even as she tries to maintain her spirit and fight against it as much as she can.
Stephen Costello is also an excellent Alfredo, and while his tenor is not necessarily overwhelming it is expansive enough to ensure that the smoothness and lightness that he also brings to it generate a sufficiently powerful and exceptionally pleasing sound. Although he does not match Yende for sheer presence, this is surely deliberate in that Alfredo is an arguably weaker character who is somewhat awestruck by Violetta so that the interaction between the pair works well. His portrayal is also very sensitive so that following his angry confrontation with his father in Act II's first scene he ends up on the ground and genuinely looking like a distraught and broken man.
There is also strong support from Angela Simkin as Flora, Jeremy White as the Marquis D'Obigny, David Shipley as Doctor Grenvil and Andrés Presno as Gastone. Germán Enrique Alcántara stands out for the detail in his characterisation of the Baron Douphol as he is so disgusted by the end of Violetta's party that he rejects her goodbye, while, as Annina, Kseniia Nikolaieva's mezzo-soprano proves to be extremely sumptuous and effective.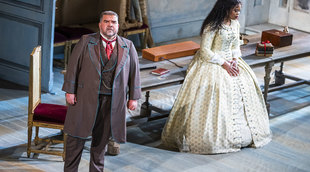 Dimitri Platanias (Giorgio Germont), Pretty Yende (Violetta Valery), La traviata (c) ROH 2022 Tristram Kenton
Portrayals of Germont can range from making him totally harsh and expectant to making him highly sensitive and completely heartbroken at the sacrifice Violetta is making for him. Most opt for a point somewhere between these two extremes but the cleverness in Dimitri Platanias's interpretation is that he gives so little away, and in doing so tells us everything we need to know so that we see the full range of facets to his character. As Violetta continues to plead with him to let Alfredo know of her sacrifice, he looks as if he just wants to get out of the place. However, this is not necessarily because he is callous now that he has got what he wanted, and may be because he genuinely finds it too painful to hear of her plight. His baritone is masterly and his performance of 'Di Provenza il mar, il suol chi dal cor ti cancellò?' particularly appealing.
This revival stages Act II's first scene quite differently to usual with the characters spending less time walking the length of the long table that it features and more of it sitting on chairs. My guess is that, with COVID-19 still around, this is designed to minimise the amount of time that the performers have to sing directly at each other, but while reducing the interaction between the characters might sound detrimental to establishing emotional connections, the decision proves to be eerily effective as it says something about their detachment in terms of their differing circumstances. Indeed, having a person sing towards someone else who typically gazes outwards helps to reveal the recipient's private reaction to what can be so uncomfortable for them to hear.
Giacomo Sagripanti's conducting is also extremely interesting. It does not elicit a particularly sweeping or lyrical account of the score, but is very much focused on punctuating certain elements to emphasise the associated emotions. As with the staging of Act II, it is not how I would wish to experience this production in every subsequent revival, but it works very well on this occasion as it proves to be an immensely effective way of rendering the drama.
Full details of the cast and conductor for each performance can be found on the Royal Opera House website. This production featuring the singers described here will be broadcast live to selected cinemas around the world on 13 April 2022, with some venues also showing encore screenings on subsequent days.
By Sam Smith
La traviata | 2 - 18 April 2022 | Royal Opera House, Covent Garden
© Tristram Kenton
the 05 of April, 2022
|
Print