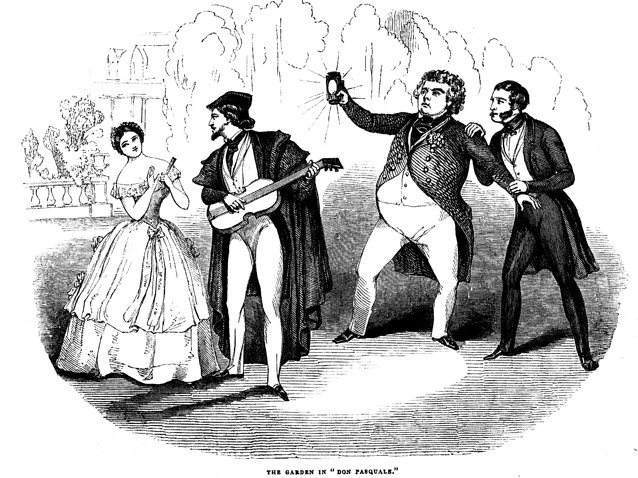 General informations
Composer:Gaetano Donizetti
Librettist:

Giovanni Ruffini

Creation date:

1843

Creation place:

France

Acts number:

3

Original language:

Italian

Opera House of original production:

Théâtre Italien de Paris
Work description
To silence the audience, or to sum up, in just a few seconds, the madness that is about to take over the stage, Donizetti unleashes a cataclysmic sound as the curtain rises. Then, suddenly, the orchestra calms down and gives flight to superb melodies - the first melancholic, the second lively and mischievous - that will be reprised later by the two lovers, Ernesto and Norina. Since all good comedies need a foil, Donizetti introduces an old curmudgeon, Don Pasquale, to the love interest, one of the most hilarious roles ever written the composer.  His blustering lines and his retorts to Norina are delivered with contagious energy. On a limpid music, wavering between elegant half-tones and sudden surges of energy, Don Pasquale has the power and precision of the best comic operas, offering a farce worthy of Feydeau.
Summary
Don Pasquale is very demanding of his nephew Ernesto, who he prefers to disinherit rather than see marry a woman he finds "unsuitable". He decides to marry himself and produce his own heirs. Dr. Malatesta agrees to help him. He suggests Don Pasquale marry his sister, a shy convent girl named "Sofronia". In fact, Sofronia is Norina in disguise, who Malatesta convinces to go along with his plan in order to be closer to Ernesto. Married to the elderly curmudgeon, she soon turns into a shrew and Don Pasquale soon regrets his decision. Convinced that Sofronia has a secret lover, Don Pasquale tries to trick her, but in fact he is the one who is duped. Realising he has been manipulated, Don Pasquale recognises that marriage is not for him and consents to the union of Ernesto with Norina. 
Act 1
The old curmudgeon Don Pasquale informs his physician, Dr. Malatesta, that he plans to wed in order to produce his own heirs and disinherit his nephew Ernesto, whose fiancée does not suit him. Marriage? The doctor suggests his sister, a convent girl, as a bride.
Malatesta's "sister" is really Norina, Ernesto's fiancée, in disguise. The clever Doctor has convinced Norina to marry Don Pasquale so she can be closer to Ernesto. In the middle of reading a romantic novel, Norina accepts to play the role of a perfect wife…
Excerpt: « Quel guardo il cavaliere… So anch'io la virtu magica »
Act 2
Cut off from his inheritance and betrayed by Malatesta, who he believed to be his friend, Ernesto, who is not in on the plan, sings in despair - he has lost his beloved Norina, who is about to marry his uncle!
Malatesta introduces Norina as the shy convent girl "Sofronia", who changes into a complete shrew the moment she marries Don Pasquale,demanding money, jewellery and generally turning his life upside down.
Act 3
Don Pasquale starts to regret his marriage…But his worries have just begun. "Sofronia" drives him crazy, goes to the theatre alone and even slaps him in the face!
Convinced that Sofronia is unfaithful, Don Pasquale cooks up a plan with his (false) accomplice Dr. Malatesta, in a duet where the voices of the two baritones seem to be playing hide and seek. At the end of this new plot, Don Pasquale discovers he has been duped and that marriage is not for him. All is forgiven after he consents to Ernesto and Norina's union.